Time To Read: 6 Mins
Sleep is one of the most vital things for human beings and in today's busy world, a good night's sleep is a bit difficult to achieve. Work-from-home culture has made this even more difficult as it has changed our routines. However, we can use these Best Sleep Apps for Android to help us improve our sleep quality.
BetterSleep
This is a well-made sleep app for Android that consists of various sleep-related functions. Firstly, the user interface is easy to use and does not contain any type of ads. However, getting started can take some time as it asks a lot of questions while setting it up. Also, a lot of the features are locked behind premium subscriptions. Moreover, you can find almost all the relaxation and sleep-related options such as meditation, bedtime stories, sleep sounds and more.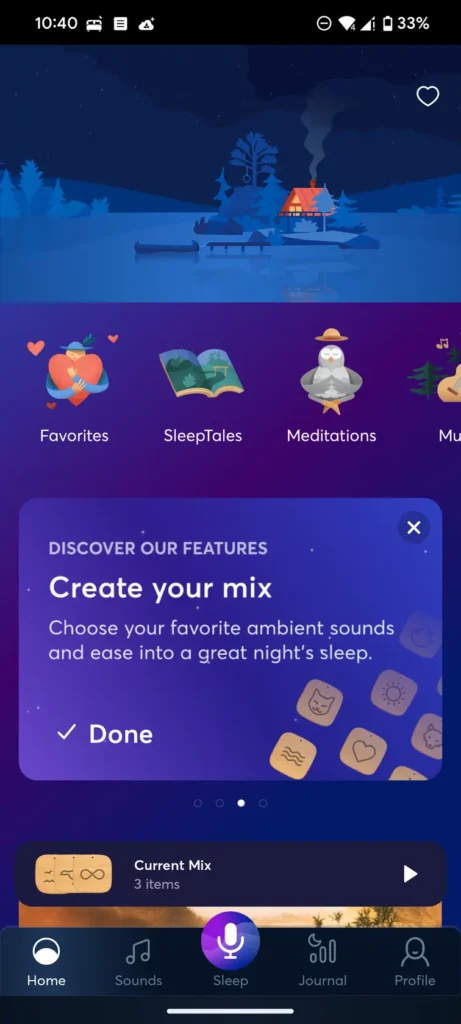 The sleep tracking feature uses our smartphone mic to capture sounds like snoring, breathing, coughing and surround sound. This helps in analyzing the quality of our sleep and presents it in a graphical interface. Additionally, the sleep and relaxation sounds have multiple options both free and paid. We can have elements such as rain, ocean, trees, fire, etc. and even mix them for a soothing experience. However, we need to sign up to use the app and access our sleep data. Overall, the nice interface and functions definitely make it one of the best sleep apps for Android.
Sleep As Android – Best Sleep Apps For Android
This is one of the best sleep apps for Android because of its great interface and features. Firstly, we need to know that it grants us a 14-day free trial of its premium features without any payment details. The free version has a limited sleep-tracking feature and also has ads in the interface. All that aside, we have a quick shortcut for various alarms for sleep and naps. On the left swipe, there are multiple options such as graphs, charts, tips, alarms, lullabies, etc.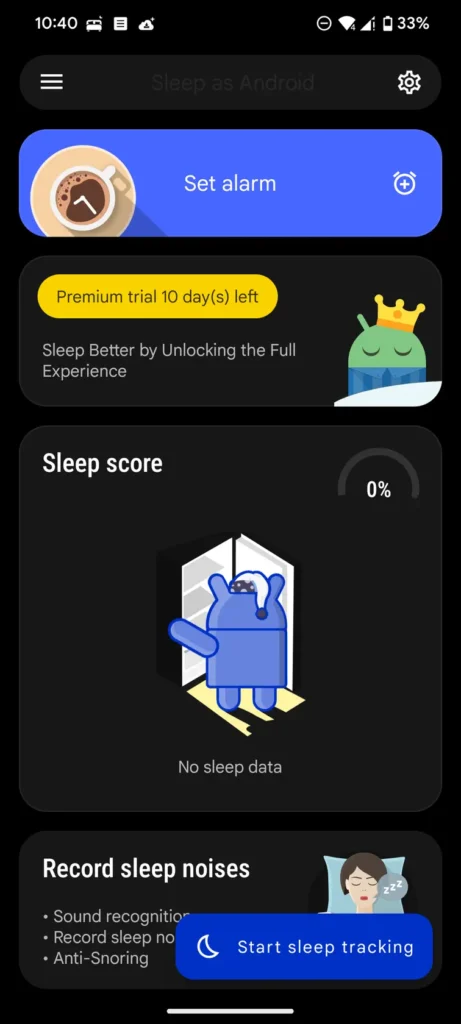 Moreover, apart from sleep tracking, we can also access the lullabies and noise options from the side menu. Lullabies feature relaxing music & sounds with the option to upgrade to get even more. Additionally, we can connect to Spotify and even listen to online relaxing radio stations. The sleep tracking screen is minimal looking and has tips, shortcuts and graphs. We can either use the alarm or shortcuts for sleep and naps or directly start the sleep tracking. The app can also detect snoring and then use vibration or sound to try to make you stop. Overall Sleep Like Android has the features and functions for a great sleep app for Android.
Sleep Tracker
This is another great sleep app for Android as it mostly focuses on sleep tracking. The interface of the app is simple and easy to use but it has ads here and there. Additionally, the ads can be removed for a single price which is better than a monthly subscription. The app has a big sleep tracker widget on the default page with an edit option for alarm. Also, before we start tracking, we can edit the type of purpose of sleep. There is even an option to connect our Google Fit account for easy data sync.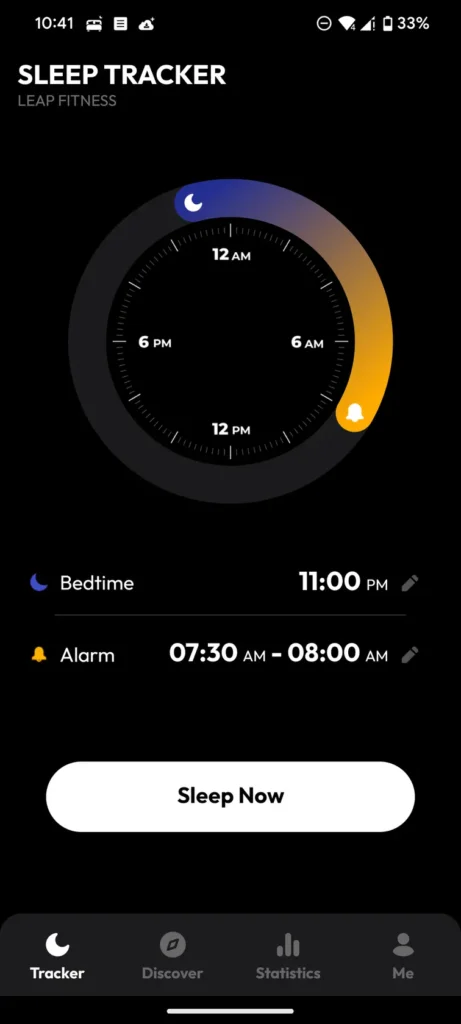 Moreover, the sleep tracker interface is minimal with options for sleep sounds, alarm, noise detection, etc. Noise detection can help record various sounds like breathing, snoring, coughing, etc. for sleep analysis. Additionally, the statistics provide well-detailed information about the quality and quantity of our sleep. The sleep sounds have tons of different relaxation music across various genres. Additionally, we can create our own mix using various sleep sound elements. Overall, Sleep Tracker provides a good experience and is one of the best sleep apps for Android.
Slumber – Best Sleep Apps For Android
This app works as both a sleep sound and a sleep tracker app for Android. The user interface is well-designed with easy to use layout and relaxed animations. Unlike normal sleep sound apps, this one features various mixes of sound, audiobooks, ASMR, stories, etc. However, we need to pay to unlock subsequent chapters but there is a free category as well. Moreover, we can enable the sleep-tracking functionality while listening to these soundtracks.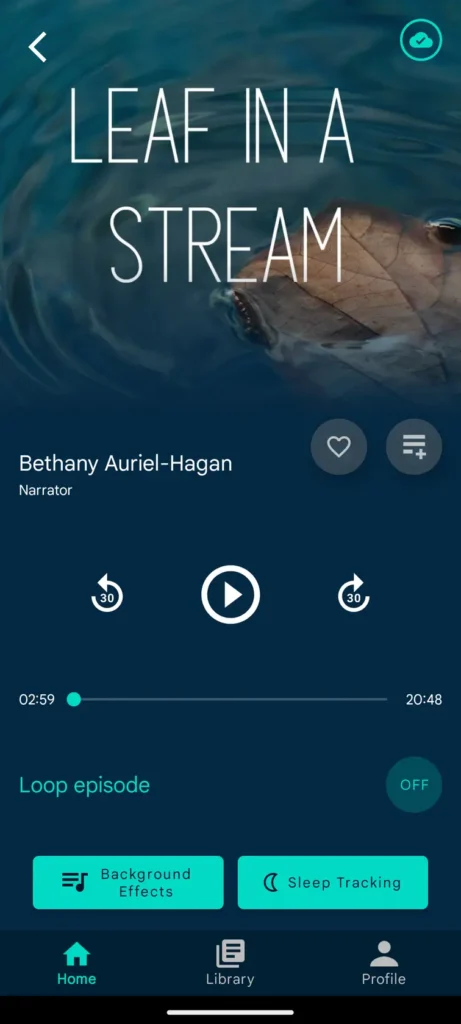 The listening interface has basic options like play, pause, add to favourites, create a queue, etc. We can even add or change the background sound effects like birds, rivers, fires, nature, etc. Additionally, we can toggle the sleep tracking option from here as well. Sleep tracking can show data sorted weekly or monthly with detailed sleep analysis. In the settings we can add our bedtime schedule and the app will adjust itself to help us sleep better on time. Overall, the app has a lot of quality narrations which are pleasing to hear and make it one of the best sleep apps for Android.
Tide
This is one of the best sleep apps for Android and that is because of its great design and features. Firstly, let's talk about the interface and it's just so minimal and pleasing to look at. We can swipe between multiple home pages, which changes the sound and ambience. Now coming to the features, there is sleep tracking, focus timers, breathing, etc. Additionally, the timers have pomodoro mode which is useful for productivity. We can also change the background and sound for these timers and modes. The sleep tracking can detect noise and we can check all the sleep-related data on the statistics page.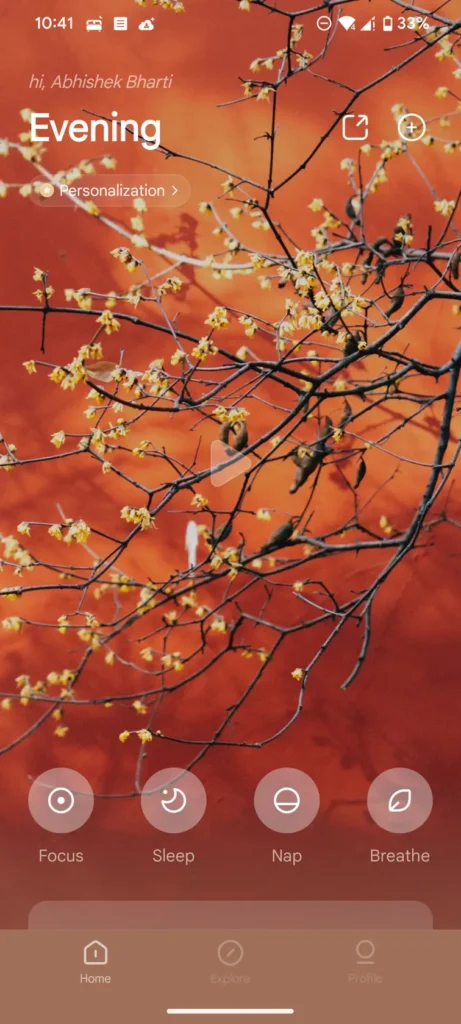 Moreover, there's an explore page with various guided meditations and podcast-like series. These cover various topics from sleep, lifestyle, goals, growth and more. However, most of these sessions are paid but still, there are some free ones as well. Additionally, there are sleep sounds and relaxing music that can help us to sleep and focus. There are pleasing visual animations for music, sound, meditations and more which makes it even better. We need to sign up with an account to use the app but overall one of the best sleep apps for Android.
Best Sleep Sounds Apps for Android
Sleep Sounds by Eternal Sounds
This is one of the best sleep sound apps for Android as it contains tons of various sleep sounds. Firstly, the interface might not be the most minimal looking but it is quite easy to use. Additionally, we can change the theme of the app from the given good-looking backgrounds. The app has tons of different sounds ranging from rain, ocean, city, forest, lullaby, instrument and more. Moreover, there are preset mixes and we can create our own as well. There is also an option to set a sleep and wake-up alarm in the app. Overall, this app has it all when it comes to sleep and ambient sounds and is one of the best sleep sound apps for Android.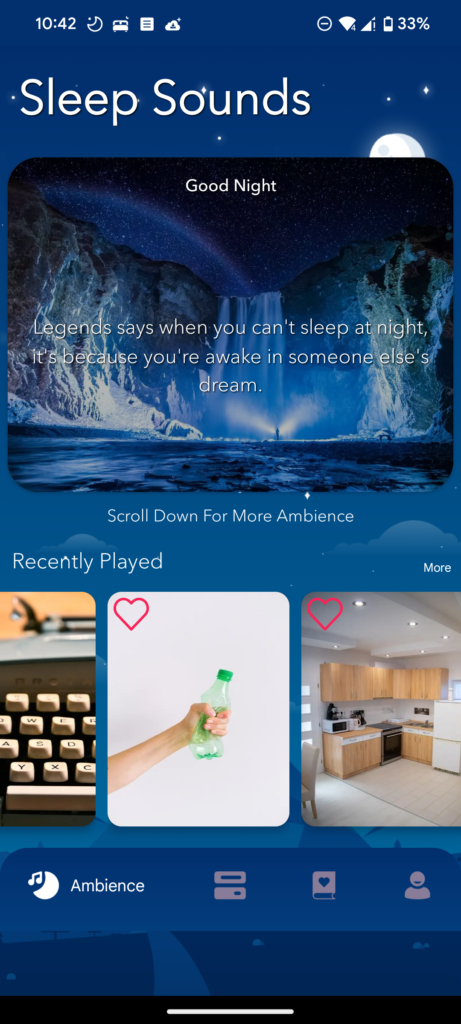 Sleep Sounds by Beforest – Best Sleep Apps For Android
This is a very well-designed sleep sound app for Android. Firstly, the user interface is one of the best looking due to its material design language. We have preset mixes of different sounds like rain on the window, forest, night camping, train travel, etc. Additionally, we can manually play various sounds and create our own mix. There are separate volume sliders for individual sounds and a single master volume as well. Like the previous app, there are a lot of different sounds like nature, city, room, animals, etc. but there are no instruments like piano or violin. We can change the theme between light and dark mode from the settings. We can get the pro version for a low price to remove the ads, although I didn't see any.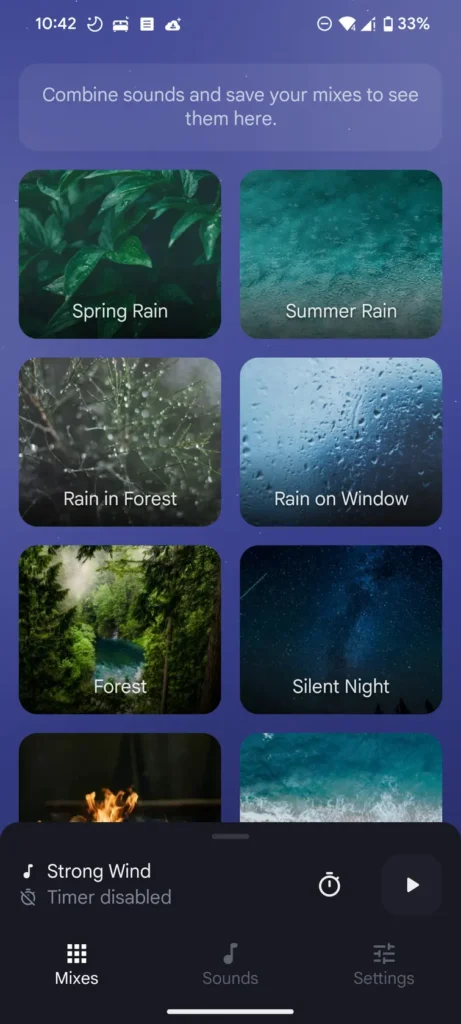 Verdict
Sleep apps for Android have helped a lot of people get better sleep and even track their sleep. Famous apps like Tide and Slumber have a lot of quality stories and sessions. Also, apps like BetterSleep and Sleep as Android provide a detailed sleep report with many sleep-related features. For sleep sounds, we have apps from Eternal and Before Sounds that provide a good range of sounds.