Time To Read: 6 Mins
Google Play Store is the default Android app market for Android smartphone users. However, sometimes due to a policy or terms change, apps are taken down from the app store. In such scenarios, if we need that one particular app then these Best Google Play Store Alternatives can help you out.
Aurora Store – Best Google Play Store Alternative?
This app is one of the Best Google Play Store alternatives available as it hosts a large number of Android apps and games. Additionally, Aurora Store is only available as an app so using it feels similar to using the Google Play Store. The design is very much like Google's Material You and is ad-free and minimalist. There are tabs for apps, games, and updates which are further divided into categories and top charts. 
After installing the app, we get three options to sign in, it is recommended to use the anonymous option. To take full use of the app use a burner Google account.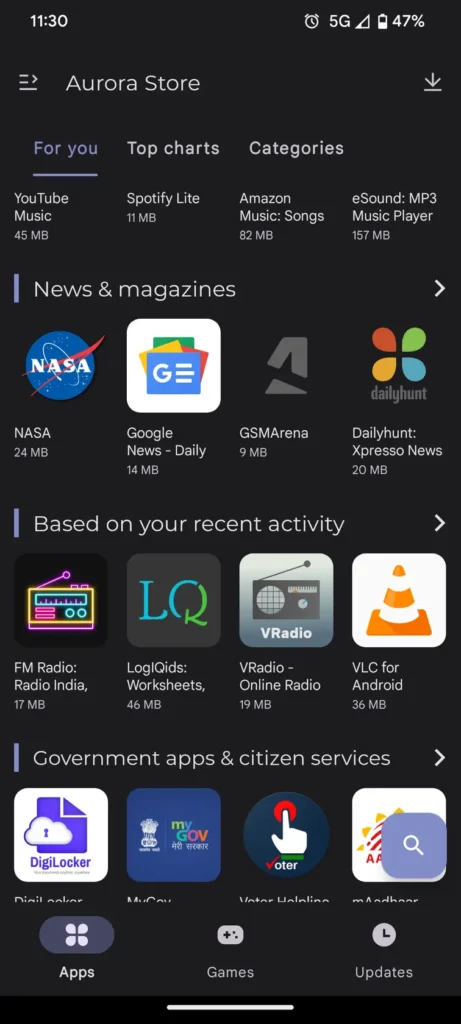 Moreover, the installer page for apps and games is well-designed with a lot of information. You can see the app size, ratings & reviews, changelog, etc. Additionally, there are related apps and also the number of permissions required by the app. Some unique features of this app are the option to spoof devices and the app blacklist. Spoof Manager allows us to download apps that are not available for our current device. Overall, the app works well and makes it easier to download and manage our apps.
(DOWNLOAD via F-Droid)
F-Droid
Now this by no means is an ordinary Google Play Store alternative. The library of apps it has are all open source and most of them aren't available on the Google Play Store. Moreover, F-Droid is specifically popular for hosting only open-source Android applications. However, you will not find your typical Android apps that we see everywhere. On the contrary, there are a lot of Alternatives and substitutes for those apps available. There are many unique apps like the ones from the science, educational or development categories.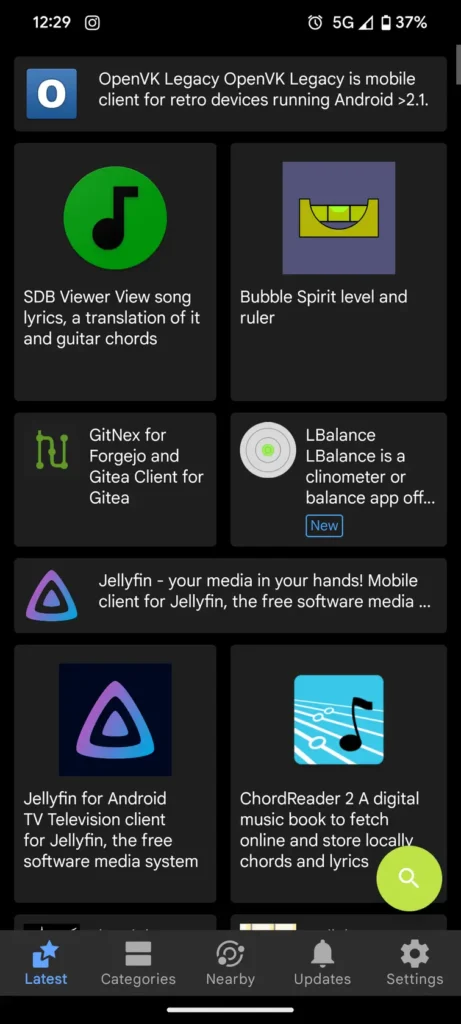 The app has a clean and well-designed interface with apps organized in categories. Moreover, there are tabs for updates, categories, latest, settings and a unique nearby option. This option can help share apps with another F-Droid user without the internet. Additionally, the settings have advanced options like proxy, data limit, managing repositories, etc. For ordinary users, this app can be a bit overwhelming. However, its unique collection of apps surely makes it one of the Best Google Play Store Alternatives.
(DOWNLOAD)
APK Mirror – Best Google Play Store Alternatives
This is one of the most popular destinations for all the Android apps and games. APKmirror is a website but you can use the Add to home screen option to install it as a Progressive Web App using Chrome browser. Additionally, it has a simple interface but there are a lot of ads and even the pop-up full screen ones. The diversity of apps isn't limited to one region or language and it hosts almost all the apps and games available. Moreover, there are categories for different apps but it'll be hard to browse through them all because of how vast it is.
Installing apps from a third-party source will require you to enable the install from an unknown source in the Android settings.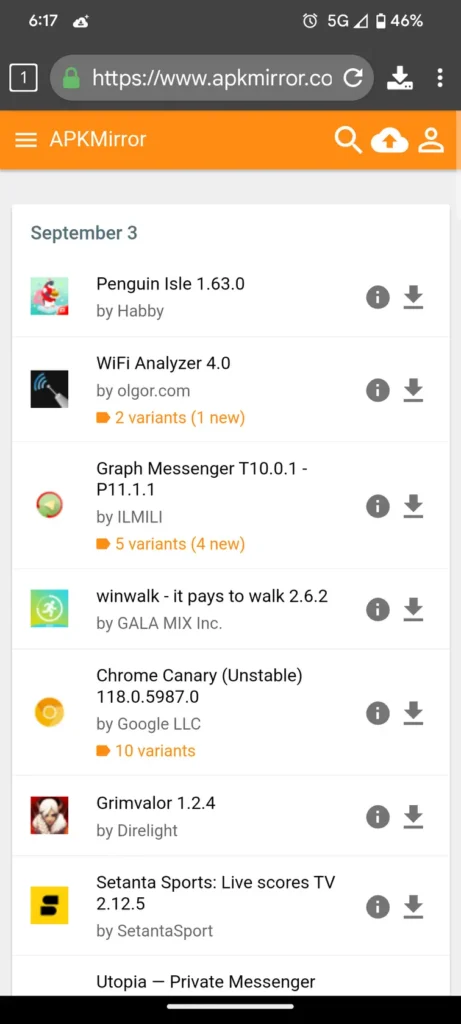 Additionally, we can view apps sorted by the latest uploads and popularity. In addition to normal downloads, we can view and download all the versions of a particular app. Another unique offering is the ability to download an app that isn't available on the Google Play Store or sometimes even before release. Moreover, all the apps are verified and secure as stated by them on their website FAQ. Overall, a must-use source to download and install Android apps and one of the Best Google Play Store Alternatives.
(DOWNLOAD)
APK Pure
This is another popular source to download and install or side-load Android apps and games. APK Pure has been around for quite some time and is mainly popular for downloading various games. Additionally, they also have their website but we need the app to download large-size games. However, you need to be careful while using this app as not all apps are safe to install. The interface of the app is filled with categories, rankings, graphics and lots of ads.
Make sure to not allow any unnecessary permissions and beware of any unknown apps or games.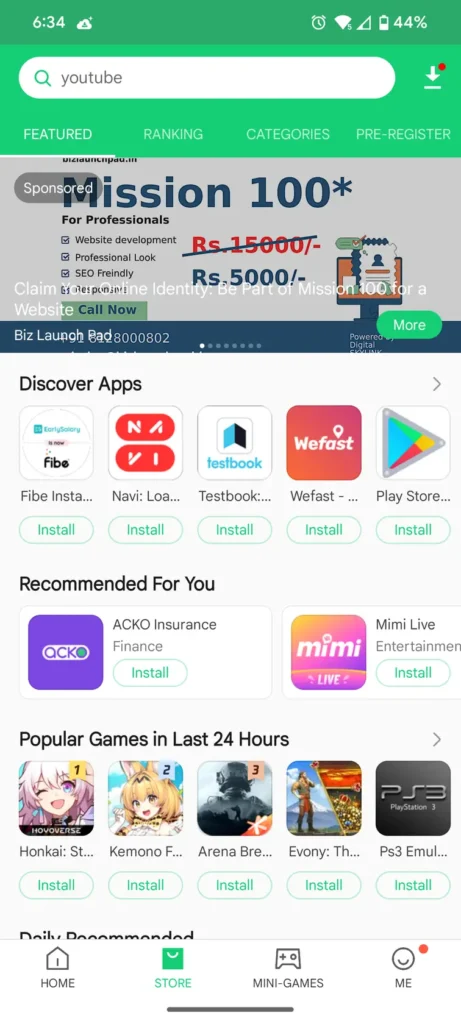 Moreover, there is a mini-games section that is similar to Google Play Store's Instant games. We can play the listed games without the need to install them. Additionally, for large games, there is XAPK which includes the game's resources and data and can be only installed using the app. Another unique feature is the ability to change regions to download various apps. There is even a community section where we can write a review or follow other topics. Overall the app does a decent job as a Google Play Store Alternative but the intrusive ads and unnecessary permission do make it a bit harder to recommend.
(DOWNLOAD)
UpToDown – Best Google Play Store Alternatives
UpToDown is one of the Best Google Play Store Alternatives available as it is like a mix of APK Mirror and APK Pure. Additionally, it is available as a website as well as an app. The app interface is well-designed and ad-free with four main tabs. The home screen has the trending and latest games with top apps from various categories. Moreover, we can log in via Google or anonymously (recommended), although there isn't any specific advantage to that.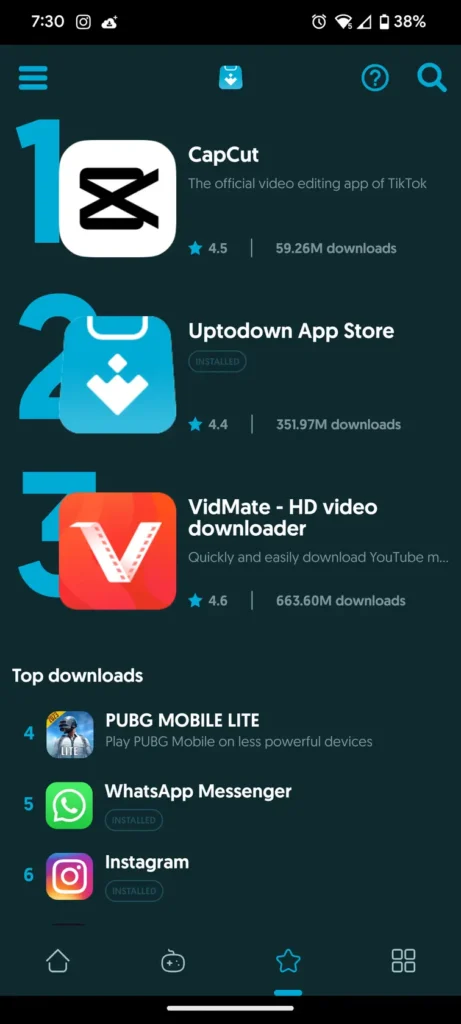 Another good thing is the apps and games listed have a shield icon which signifies that they are malware and virus-free. Additionally, there is an option for upcoming releases and we can add those apps on our watchlist as well. On the app Page, we can view all the information like permissions, app size, architecture and more. Moreover, we can view and even download old versions of the app which can be quite helpful. UpToDown is not only limited to Android but their website also includes Windows and Mac Programs. Overall a great mixture of the apps mentioned above and one of the best Google Play Store Alternatives out there.
Verdict
Google Play Store is probably enough for normal users to download all the apps and games they need. However, third-party sources are required for specific needs like when an app suddenly is taken down. But usually, they have a good reason for removing those apps, and you should avoid installing them unless you are very sure. I would recommend using the sources like APK Mirror to download a specific app. For an app store, you can use the UpToDown store and get all your games apps and games.