Time To Read: 6 Mins
The most important feature of a phone is to make and receive calls. Most Android phones come pre-installed with a default dialer app. But it gets boring to use it after a while, maybe we don't like the caller screen or the contacts management. Let us explore some of the Best Phone Dialer Apps for Android to make calling fun.
ACR Phone – Best Phone Dialer Apps for Android
This is another quite popular phone dialer app which also best known for call recordings as well. However, the Google Play Store version doesn't allow the call recordings to take place. So we need to download the app from another source to get it working. Additionally, the user interface is clean and well-organized. We get four tabs for dialer, contacts, recent calls and lastly call recordings. Moreover, when on a call there's an option to write a note from the dialer screen which is quite useful.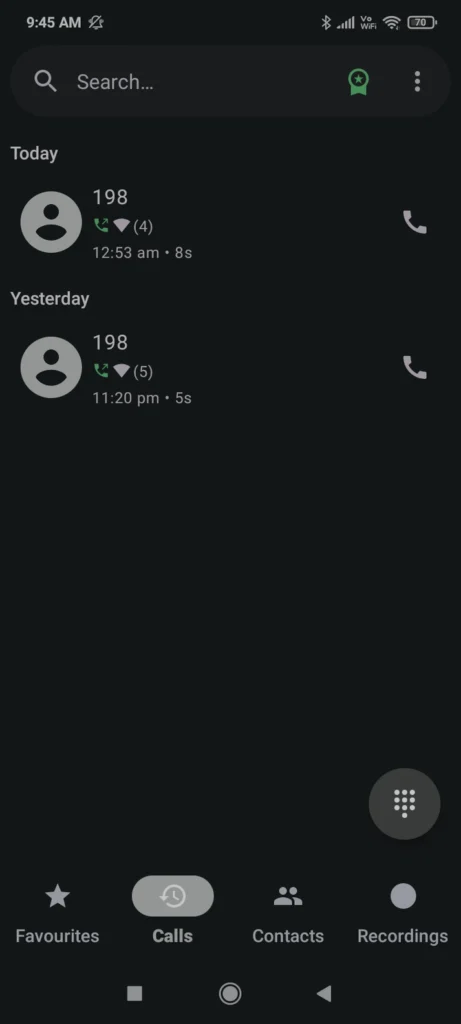 For customization, we can change the app icon color and switch between light and dark themes. We even have useful options like call announcement, caller ID, and blocking with advanced blacklist management. Additionally, there's an option to create local backups and something called call reporting. The latter can send all the call-related logs to a set server for maintenance and management.  Apart from manual call recording, we even have an automatic call recording option with advanced settings. Overall a must-try and one of the best phone dialers, caller ID, and call recording apps for Android.
(DOWNLOAD)
Right Dialer
This is a very simple and minimal Phone dialer app for Android. The app takes inspiration from Apple's iOS style which can be seen in the user interface. The phone dialer as well as the call screen look like the iOS style. Additionally, we can also use the Android's Material UI design too if needed. We get the basic three tabs for contacts, a dial pad, and recent calls.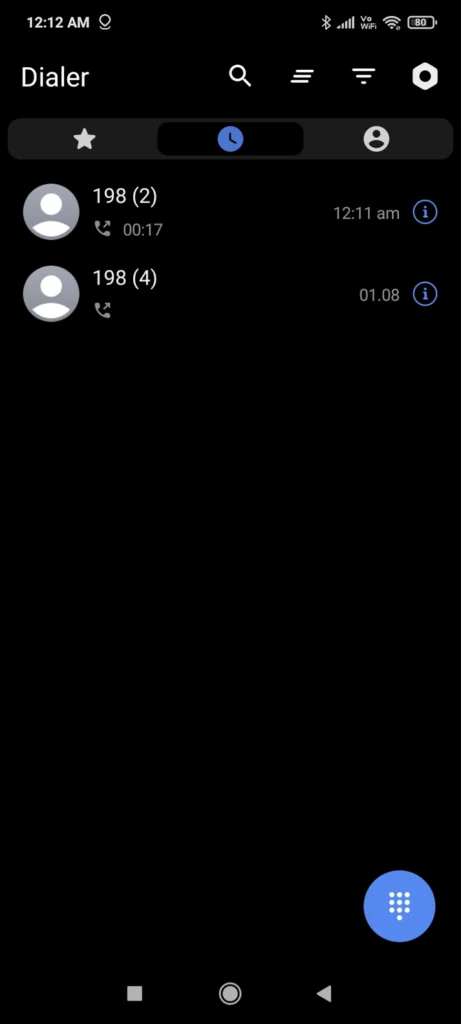 Moreover, we also get some customization options for the appearance, tabs, calls, etc. We can set the default screen when we open the app, edit the tabs and choose their placement. Additionally, there's an option to clear recent calls as well. We have the option to block calls and create speed dials. Another great feature is the option to customize the call screen background. 
(DOWNLOAD)
Make sure to not allow any unnecessary permissions to any of the apps mentioned.
Truecaller – Best Phone Dialer Apps for Android
This app is probably one of the most popular and best phone dialer and caller id apps for Android. Truecaller is used by millions across the globe to identify and block spam calls. Moreover, it can also be used as the default dialer as well as the messaging app for our phones. Apart from the caller id, the app also has some other interesting features as well. Although, to access these features we do require to get a subscription, which also removes the ads from the app.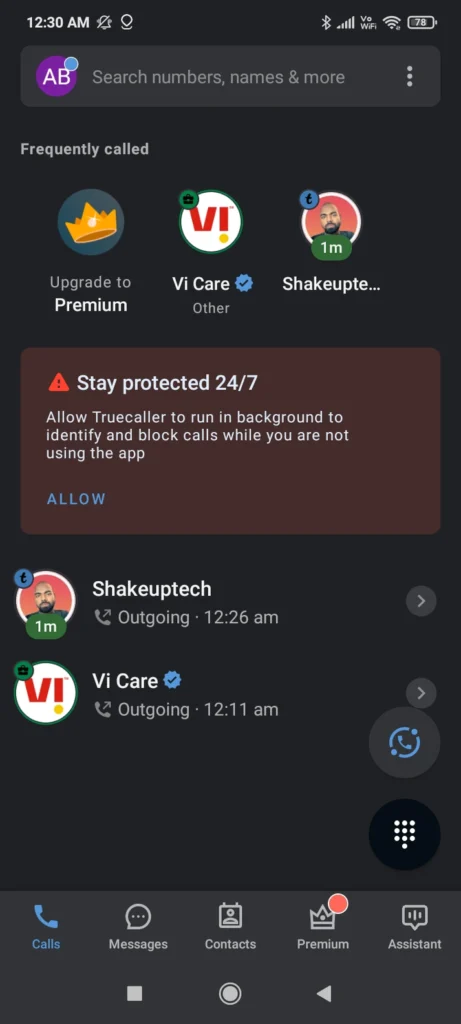 For customization, we can only set the light and dark modes for the app. Additionally, we can customize the sounds, caller id, messaging, etc. We can even set a caller ID for the WhatsApp calls which is very helpful for safety. Another great feature is the backup option for the calls as well as the messages. Moreover, it automatically blocks any spam calls, as it has a built-in database for the spam lists which is frequently updated in real-time. Overall if you're looking for a reliable caller ID and phone dialer app then Truecaller can be a good choice for sure.
(DOWNLOAD)
Talk
Now this phone dialer app for Android is very different from the ones mentioned before. The user interface has a very quirky design with various stickers at various points. Even the caller ID shows a random sticker avatar. Moreover, there's even a store to buy more of these avatars for a cheap price. The contacts tab has an alphabet at the top which makes it easier to find a contact.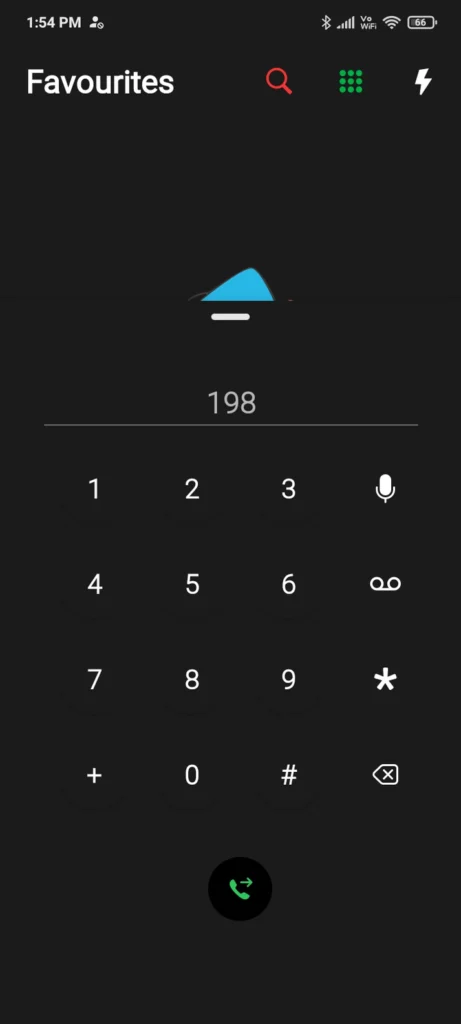 We don't see options to customize the theme or colors but the user interface by default looks colorful. Additionally, there is an option for a 5 minutes reminder when on call and also a health option. These options are helpful in reducing our call time via earpiece to reduce the risk of certain health conditions.  Moreover, there is also a call insight option to keep track of our call time. Overall quite an interesting design language as well as health options.
(DOWNLOAD)
Jolt – Best Phone Dialer Apps for Android
This phone dialer app for Android has the best call screen options among the ones mentioned. Moreover, these are the options that many are looking for in a dialer app. We can change the caller screen style to look like Apple iOS, Asus, Samsung, Google, etc. Additionally, we can customize the layout, ringtone and even add custom images and videos as backgrounds. There's an option called call status, it lets other users on the same app see your current activity status when they call you.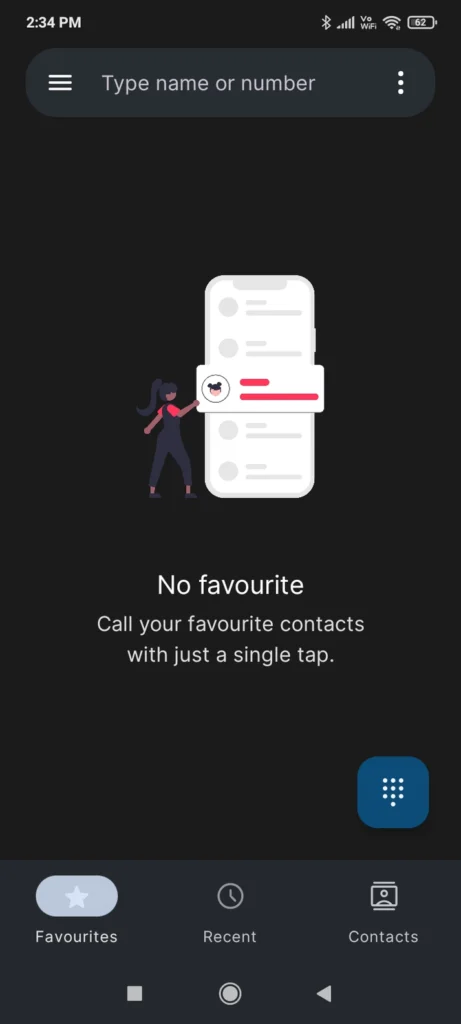 Additionally, there are some call profiles like meeting, driving, etc that can be activated to mute or reject calls automatically. We can even create our own profile as well for personalization. For customization, we can change the accent color and switch between light and dark themes. Additionally, there are options like auto redial, blocked numbers, call bubbles, etc. The app runs in trial mode automatically after installing so there may be ads when the trial ends with limited features. Overall the various caller screen styles make it one of the Best Dialer Apps for Android.
(DOWNLOAD)
Google Phone
If you are on this post then most probably you have a Google Phone dialer on your phone. This app comes pre-installed on most Android phones by default. Moreover, for most users, this should be enough for making and receiving calls. It has also basic call options including the ability to record calls. However, with Google's new policy, the call recorder will announce that the call is being recorded before initiating. the user interface is simple and minimal and the colors change with the Material You wallpapers. Additionally, we have caller id and spam protection for privacy.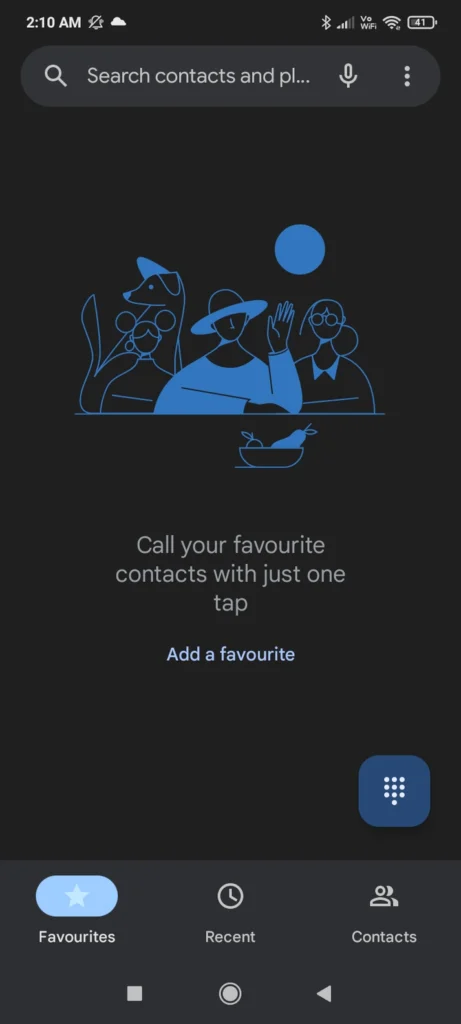 (DOWNLOAD)
Why Use Third-Party Phone Dialer Apps
If you are using an Android phone with a custom skin like from Samsung, Xiaomi, Vivo, etc. Then the default dialer that comes with it is from the manufacturer. Usually, these dialers have more features compared to Google's one. For starters, we can customize the caller screen background by adding images or even add videos. Additionally, we can record calls without letting the other party be notified of it. Moreover, these apps suit better with the whole custom skin aesthetics.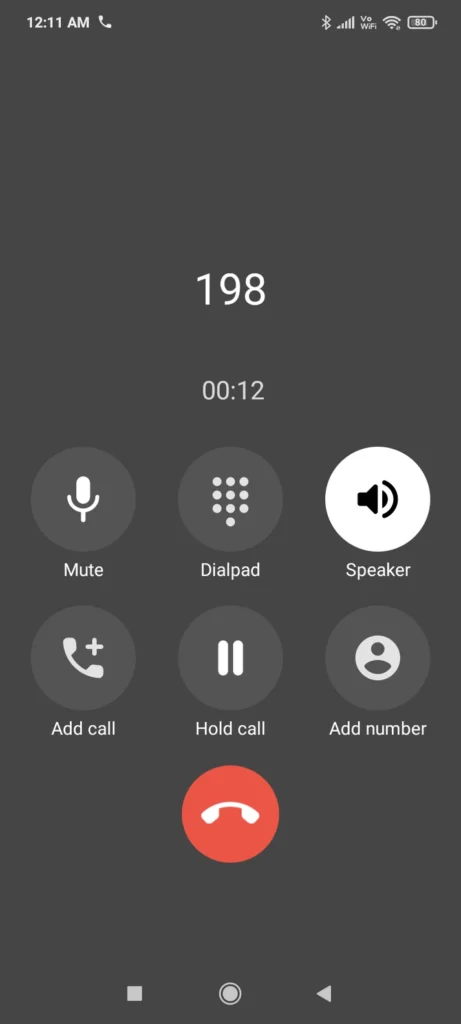 That is why users who have Google Phone dialers in their smartphones miss a lot of these features. This is where third-party phone dialer apps can be useful. As they provide customization options and even some additional features as well. Apps like ACR can be a good dialer app that also provides an option to record calls if you don't have one on your phone. While apps like Jolt or Right Dialer has custom phone dialer design that many users are looking for. And for the best spam protection and caller lookup, Truecaller is still the best choice.