Listening to songs and music is an integral part of our lives. With the Internet getting cheaper and more accessible we can now take advantage of many online services. While we can freely stream media on Wi-Fi because it's much cheaper and almost unlimited. On the other hand, Mobile data is still not that cheap and not even unlimited. And in this scenario, you might want to listen to songs and music that you have downloaded on your device. Google Play Store has a tremendous amount of music player apps available. So let's take a look at the Best Offline Music Player Apps for Android.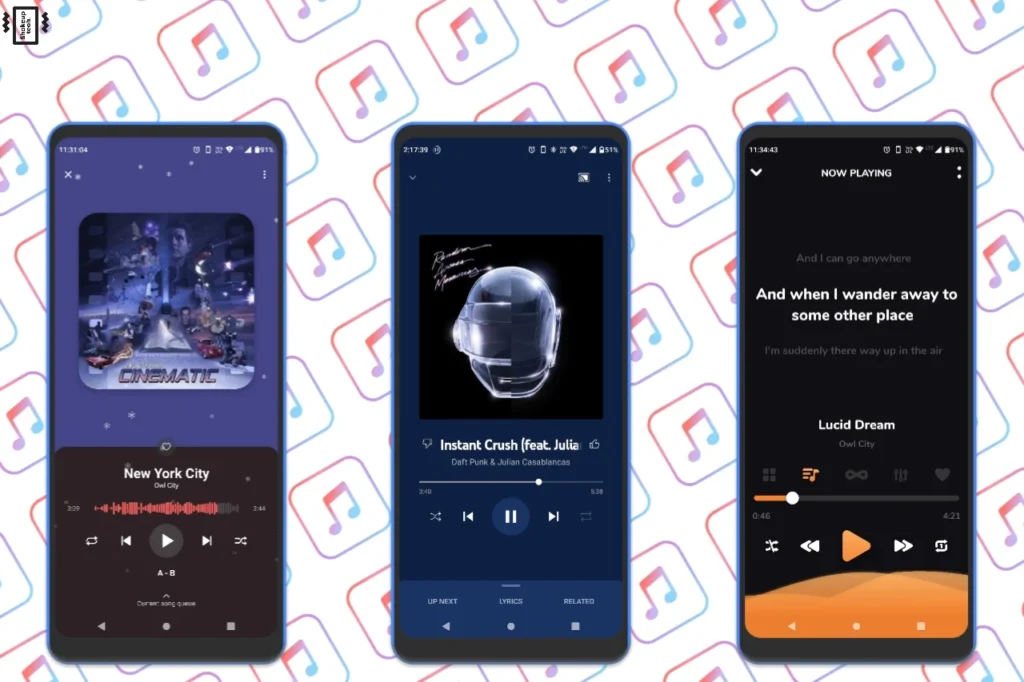 Poweramp Music Player
Now this offline music player app in particular has been part of my app library for a long time. Poweramp Music Player was released back in 2010. Since then the app has gotten more modern and feature-rich. What really got my attention was the user interface of the app. It is super smooth and with fluid animations. The transitions between the music player to the song list and settings are pleasing to see.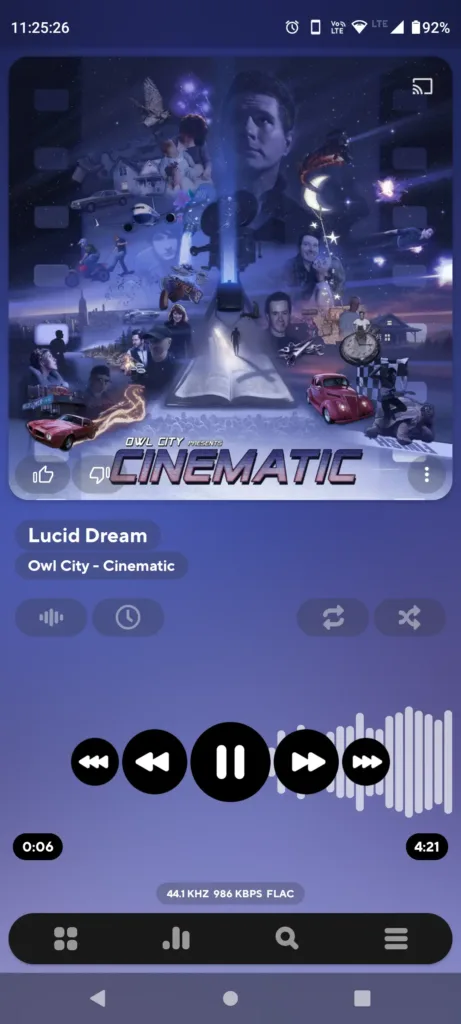 Note: On Android 11+, to listen to your songs, you'll need to give permission to the folder you have your songs downloaded. You can add multiple folders, as the app doesn't scan your entire storage for music.
The customization options are also quite extensive in this offline music player app. We have options to choose different skins and even download third-party skins! They look absolutely stunning and take the experience and customization to the next level. Additionally, we have several advanced options. We get 10 Band Equalizers, Direct Volume Control, Hi-res Audio Output (FLAC), multiple Visualizers, and much more. We can cast our songs to Chromecast and Smart speakers.
Poweramp Music player is available as a 15-day Trial version. There is no free or ad-supported version. The Pro version is quite inexpensive around $2 or ₹150. This is not a promotion but you should definitely try out the Trial version. Because of the features and fluidity, the Pro version is definitely worth it in my opinion.
Frolomuse
So reading that name, it might sound different and mouthful. But let's see why it is on my list of Best Offline Music Players apps. First of all, compared to Poweramp, this is much simpler and minimal looking. After Google's Material You design update, developers have been integrating that into their apps. The whole user interface is very minimal and quite fluid too.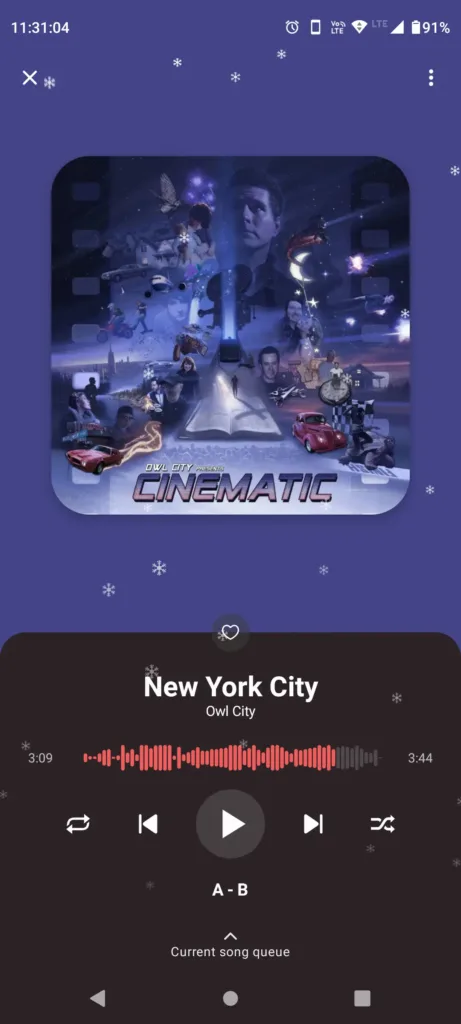 What got my attention was the smooth gestures due to the app's fluidity. The swipe transitions from music player to songs queue to library felt super smooth. Additionally, we have 5 Band EQ support with Bass, Loudness, and Virtualizer support. It can play Hi-res audio files (FLAC) without issues.  Furthermore, we have multiple app themes support which looks amazing. Additionally, we can even add a snowfall effect to give a nice ambiance feeling.
Frolomuse is free to use with the option to donate to the developers. The app doesn't even have ads which is an advantage. Definitely check this offline music player out.
Nyx Music Player
Nyx music player is very different from the rest of the apps mentioned here. The app doesn't try to be super minimal or super complex. It has a good balance of both aspects. The user interface is nice but the gestures aren't smooth enough. There's a noticeable lag when swiping up or down. The music player has a carousel feature to change tracks. We also see a wave-like Visualizer at the bottom, which looks quite intuitive. You can change its color by changing the theme of the app. The options on the Music player are large and interactive.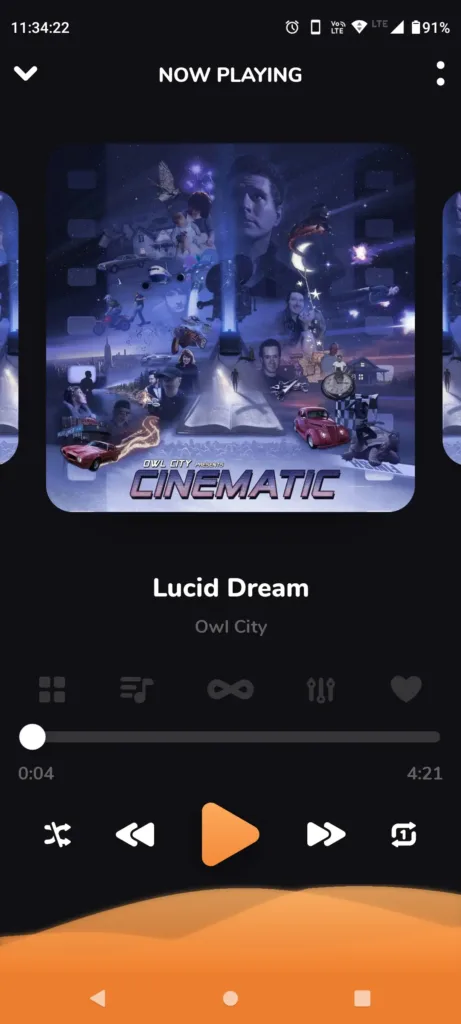 The standout feature of this offline music player app was its lyrics sync. Like many music streaming apps, this can too show lyrics synced to the song. It automatically detects searches for the song online when you select the lyrics option. Additionally, we have 5 Bands EQ with bass and volume booster, treble, and Virtualizer control. It supports Hi-res (FLAC) audio playback as well. Apart from the playlist, here we can create something called Moods. A collection of songs for our ever-changing and vibrant moods. 
Nyx is an excellent offline music player with awesome lyrics sync features. It is available for Free as of now but that might change in the future. Apart from not-so-smooth gesture control, it is a good and feature-rich offline music player app for Android.
Note: If you have smart speakers or Chromecast-enabled speakers, then make sure to choose a music player app that supports casting audio.
OTO Music Player
So after trying similar-looking music players like Musicolet and Retro Music Player. I selected Oto Music as my choice. The app design is minimal looking like the rest. But this feels so close to what a music player app made by Google will look like. This offline music player has a very nice and fluid user interface like Floromuse we saw earlier. The gestures are smooth and the animations are nice too. We have good customization options for various UI tweaks.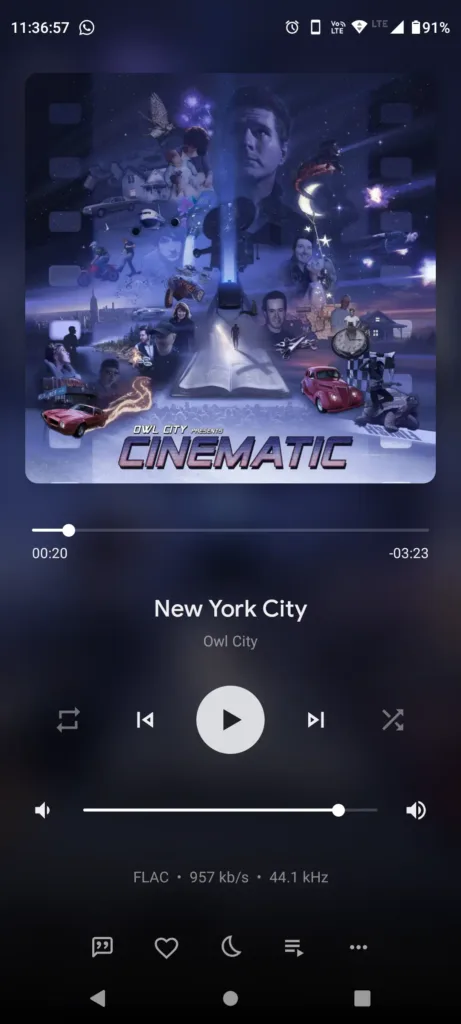 Additionally, we have a 5 Band EQ with Bass boost and Surround sound support. We can enable gapless playback, fade music on play/pause, etc. The app can play Hi-res audio (FLAC) which is always nice to have. We can even cast our songs to Chromecast and Smart speakers.
Oto Music Player is free to use with no Ads..but we can buy a Pro version for 10 Bands EQ, more Material You designs, and more options. The app's Material You design definitely puts it among the best Offline Music Player apps for Android.
VLC for Android
Now this one might surprise many as it's not a dedicated offline music player app. VLC is already well known as one of the best media players for various platforms. On Android as well the app is quite popular and rightfully so. VLC for Android user interface isn't the most minimal looking like the rest. But it gets the job done and is not old or weird looking. We have gabs for audio, video, folders, etc. We can play almost all media formats using this app.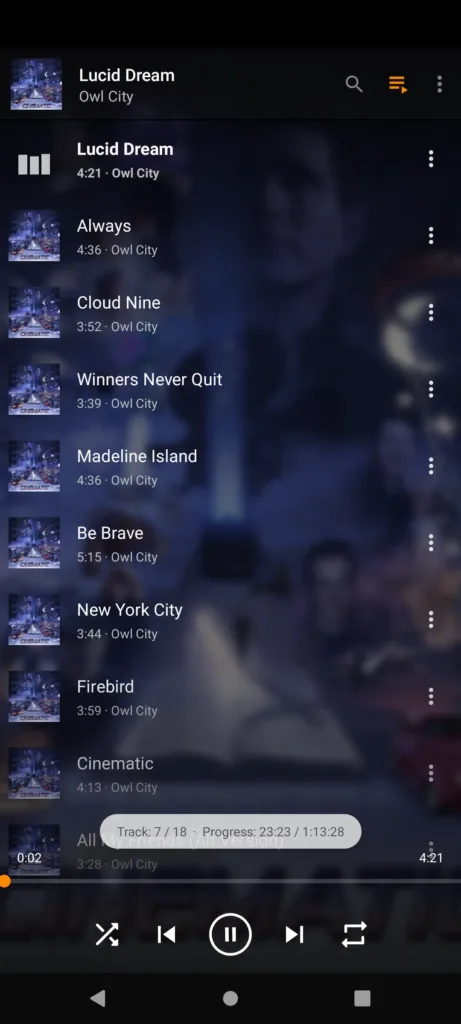 Additionally, the app has playlist support, and 10 bands Equalizers with built-in presets. It can play Hi-res audio like FLAC and even stream via Google Chromecast. But we do not see any traditional music player with album art.
VLC for Android is free to use with no Ads or Premium purchases. This is an all-in-one app for multimedia consumption. If you're looking for a good video as well as an offline music player app, then this can serve both purposes.
Bonus Best Offline Music Player App For Android
This post was about Best Offline Music Player App for Android but there is one more app I wanted to include. This app is an online streaming music app but it can also play your offline music without issues.  YouTube Music is the app I'm talking about. It's a nice addition they have, to be able to play your offline music. It may be because we could also do that with Google Play Music.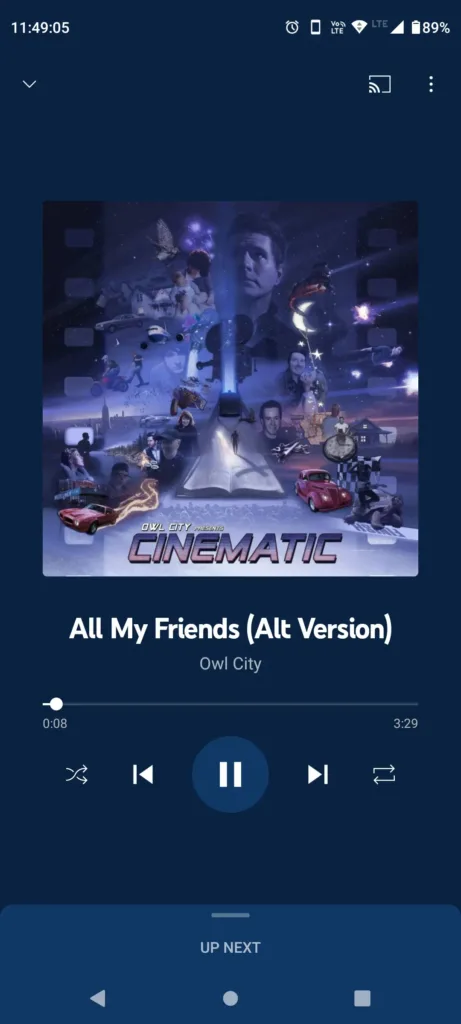 Moreover, we can play your Hi-res audio files and create playlists. But that's about it, there isn't much you can do with the device files mode. We can download songs from YouTube Music for offline listening but that's a different topic.
Offline Music Player App vs Online Music Streaming App
A few years back, online streaming was not as big as today. Apple was pushing iTunes and Google had Google Play Music and a few more. But in countries like India, where the internet was not cheap. Made online music streaming not so favorable.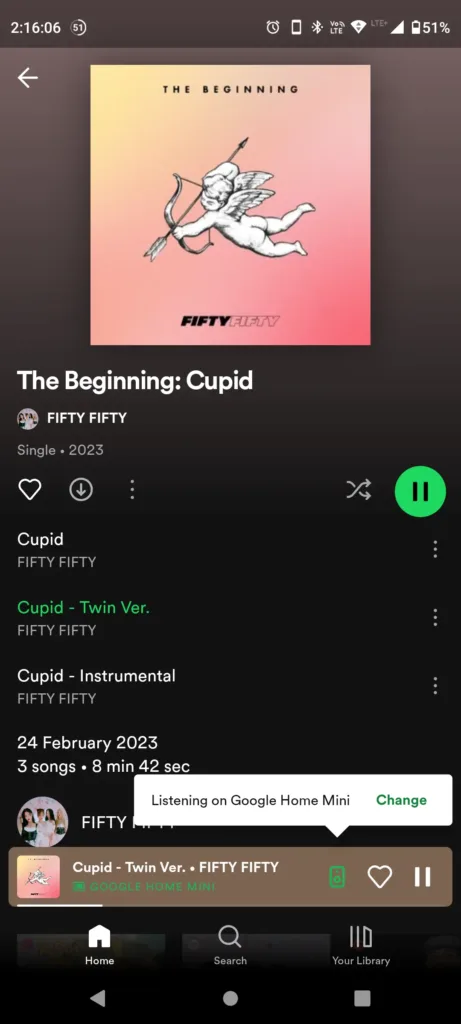 Also, music piracy and downloads from various sites were a big craze. Most smartphones used to come with a default offline music player. This shows how much downloading and keeping music and songs offline was ongoing.
After the advent of the 4G revolution by Reliance Jio, and other companies following up. Mobile data became cheaper than ever and now we can stream music without issues. Music streaming apps like JioSaavn, Gaana, and Spotify quickly started gaining popularity.
Why is Offline Music Player still so popular?
The reason behind this can be the users who do not want to pay for the subscription to the streaming platforms. Or they are fed up with the ads in the free-to-use version of these apps. With a subscription, we can download songs for offline listening which is an awesome feature. Usually, the subscription for music streaming services is quite low.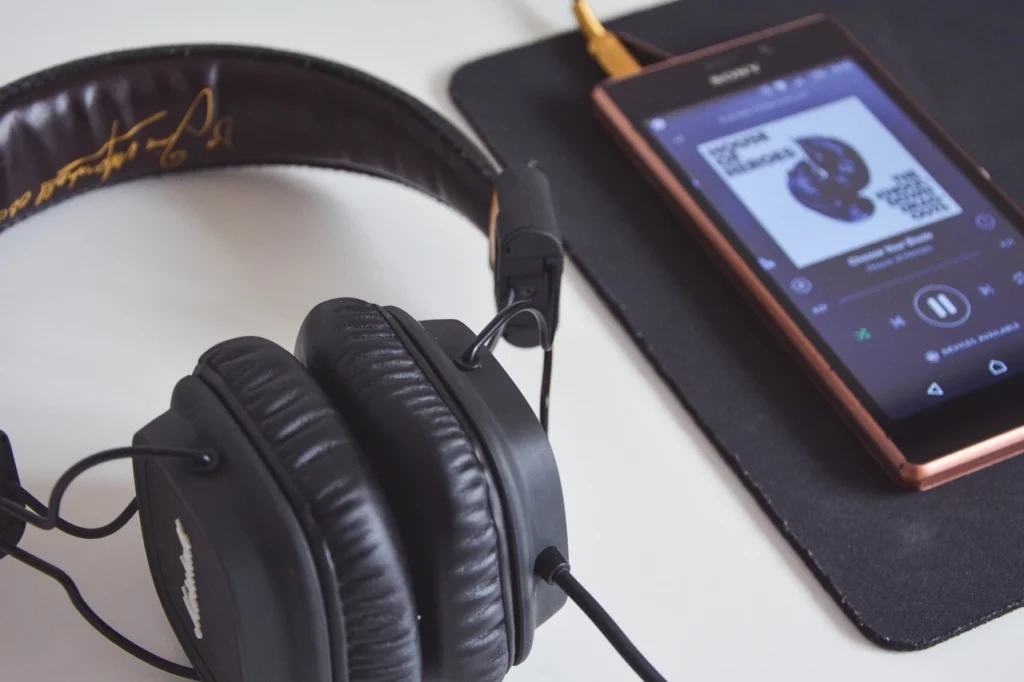 Another reason can be that many still have all the songs downloaded from years. And they just want to listen to it as it is. Or they might be recording their own songs or different voice notes and want a player to listen and organize.
Which One To Choose?
You can use both of them, as it depends if you have songs downloaded or not. If you can afford the subscription, then definitely choose the streaming platforms. Unlike offline music players, you have access to millions of songs.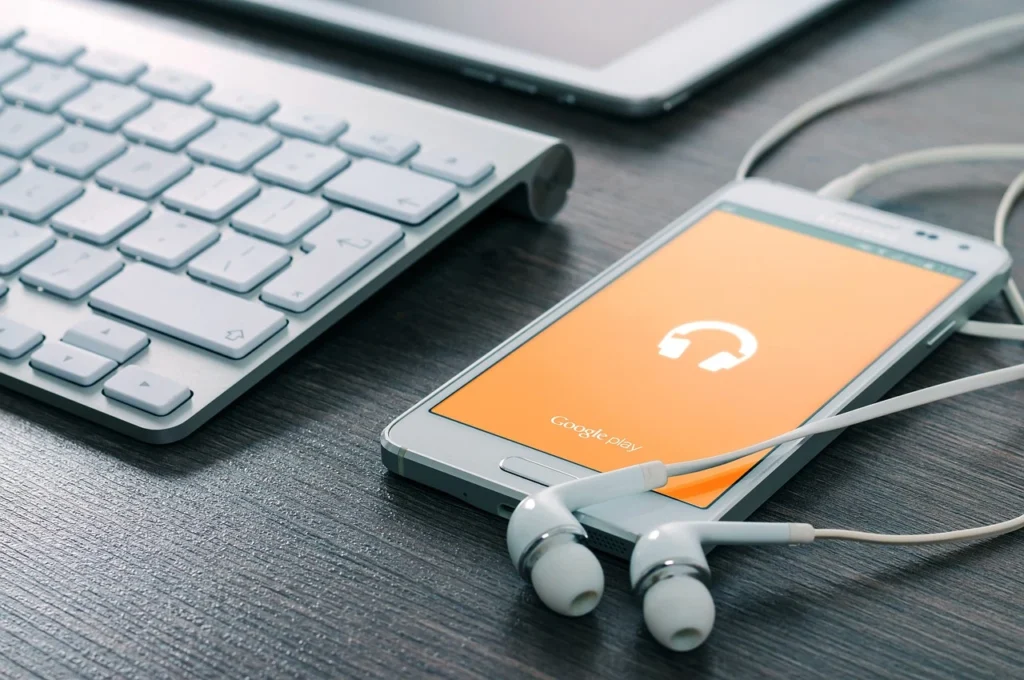 Another biggest advantage is that the songs do not take up any storage on your device. But if you want, then you can download them for offline listening. This also supports the artists that are creating these songs. With new updates, now we are also seeing the advent of Lossless quality songs. We no longer need to rip CDs and DVDs to listen to lossless quality audio.
Which is the best offline audio player for Android?


The best depends on your personal preference but apps like Poweramp, Frolomuse, and Oto Music are all good offline audio players for Android.
What is a good offline music player?


A good offline music player supports multiple audio formats, has a built-in Equalizer, and has clean UI and customization options.
Which music player is best for Android?


The best depends on your personal preference but apps like Poweramp, Frolomuse, and Oto Music are all good offline music players for Android. Spotify and Youtube Music are good options for online music streaming.
How can I listen to music offline on Android?


You need to have audio and music files downloaded to your device storage or external storage. Many sites provide audio and music files available to download but you may need to pay for it.