In this article, I have downloaded and tested some Best File Manager Apps For Android. We all want our files stored on our devices to be easily accessible. The files should be easy to locate and manage. Basic options like cut, copy, paste are found in all the file manager apps. What separates these is the functionality and the additional advanced options. So let's begin…
Best File Manager Apps For Android
Files by Google
This one was previously known as Files Go. This advanced file manager is made by Google. It features multiple useful features in one app. What made it one of the best file manager apps for android was how it clears the junk files lying around in the phone. Files by Google automatically detect duplicate files and suggest you get rid of them.
It can also sort the files by size so you can delete the files that are taking up the most space. Files by Google can also clear the cache of various apps that have been collected over time. For example YouTube videos cache, WhatsApp cache, etc.
The app is divided into three sections i.e. 1. Clean, 2. Browse and 3. Share
Clean
The clean section has one primary function and that is to keep your device free from junk and duplicate files. The interface has these cute cartoon figures all around. On the top, It shows your device storage space information and how much space is free or in use. it will ask you to clean some temporary files that are mainly app cache and such.
Secondly, it detects duplicate images and files and gives you the option to select them manually and delete them. You can also just tap on the delete duplicate to auto-delete the duplicate and keep the original file intact. Using the e top-right icon you switch between grid view or detail view. so you can inspect the files better.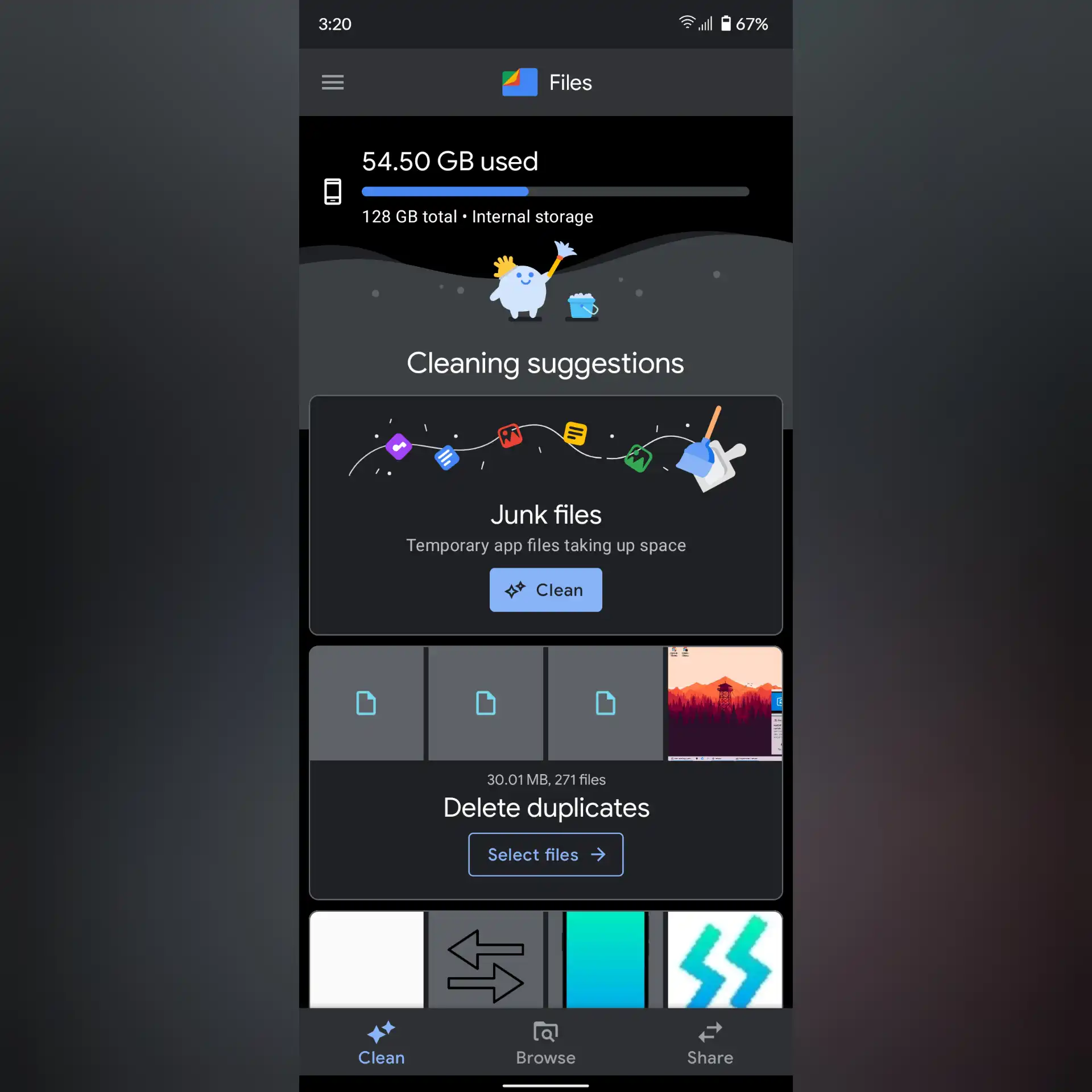 Next, it shows the blurry images options. Yes, it can detect images that are not legible or are of low quality. this mostly contains thumbnail images or icons.
Rest it shows all the folders in decreasing order. so the folder that is taking the most space will be shown here followed next in order. If you can manage through this much your phone will definitely feel much lighter in terms of storage management.
Browse
The browse section is for general file manager usage. On the top right there is a search icon to help you look for a particular file. Then there is the recent carousel-like gallery which shows all the recently active folders. you can click on them and view them right from there.
After that, there are the different categories, Starting from downloads. It shows all your recently downloaded files and everything else in the download folder. The folders residing in the downloads are arranged in a side-by-side format. you can swipe to view all the different folders. Also using the top right option you can view the contents in grid format or details format. There is also a three-dot menu from there you can select all the files at once or sort them by different criteria.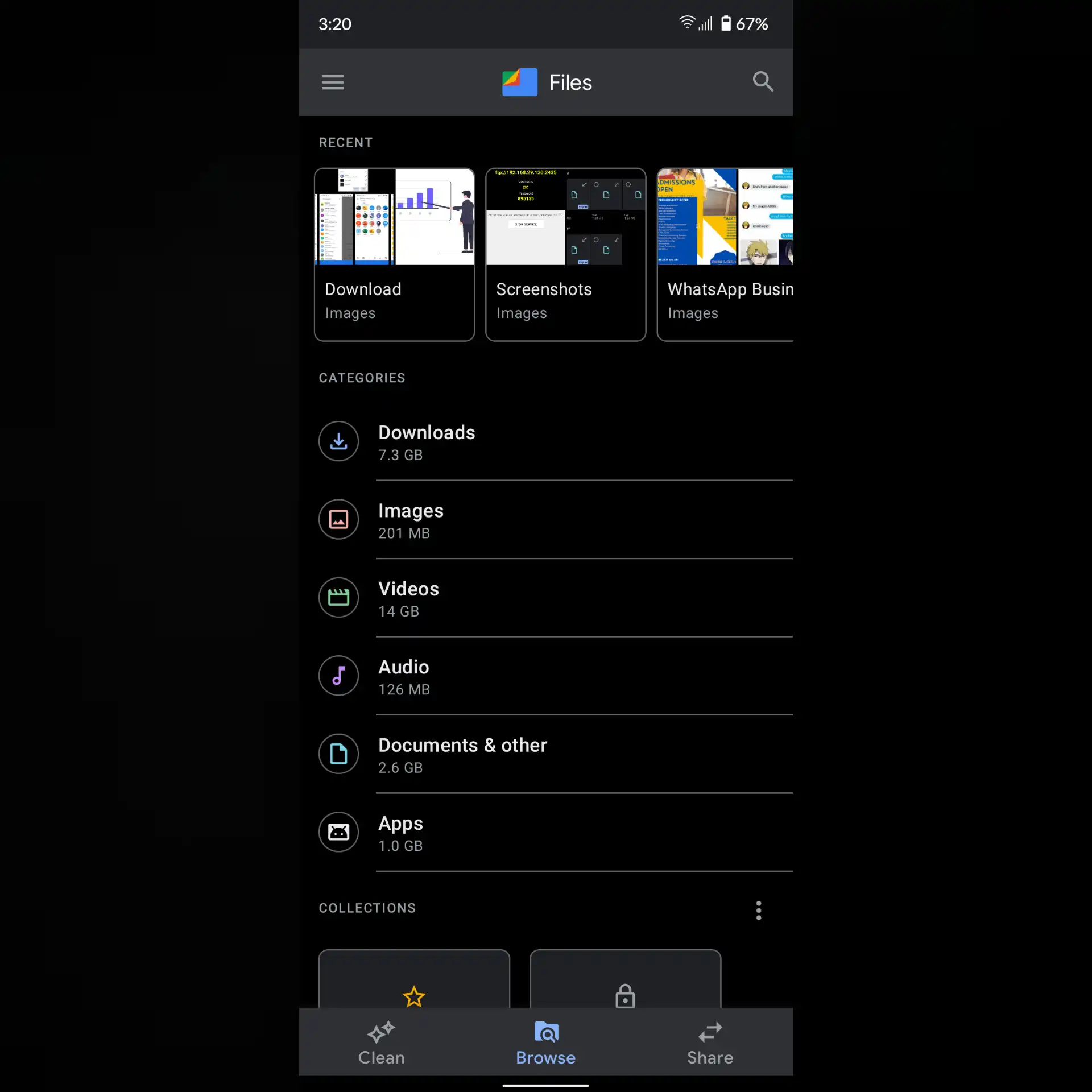 Best File Manager Apps For Android
After downloads, there are images, videos, audio, documents, and apps. All have similar functions as I mentioned in downloads. It is very easy to view and manage using these options, When you long-press a file there is an option on the top right like share, delete, and a three-dot menu. In that menu, there are more options like select all, open with, rename, add to favorites, move to safe folder, back up to Google Drive, and file info.
Safe Folder
After categories, there are two icons. They are favorites and Safe Folders. In favorites, all our favorite marked files and images will show up. The Safe folder is one of the best file manager apps features, here you can keep all your personal files and images that you do not want anybody else to see. When you first open the safe folder it will ask you to set a pin or a pattern lock option. Once you register the pin or pattern then you can start adding the files to the safe folder. So now you do not have to install a third-party app just to hide your files.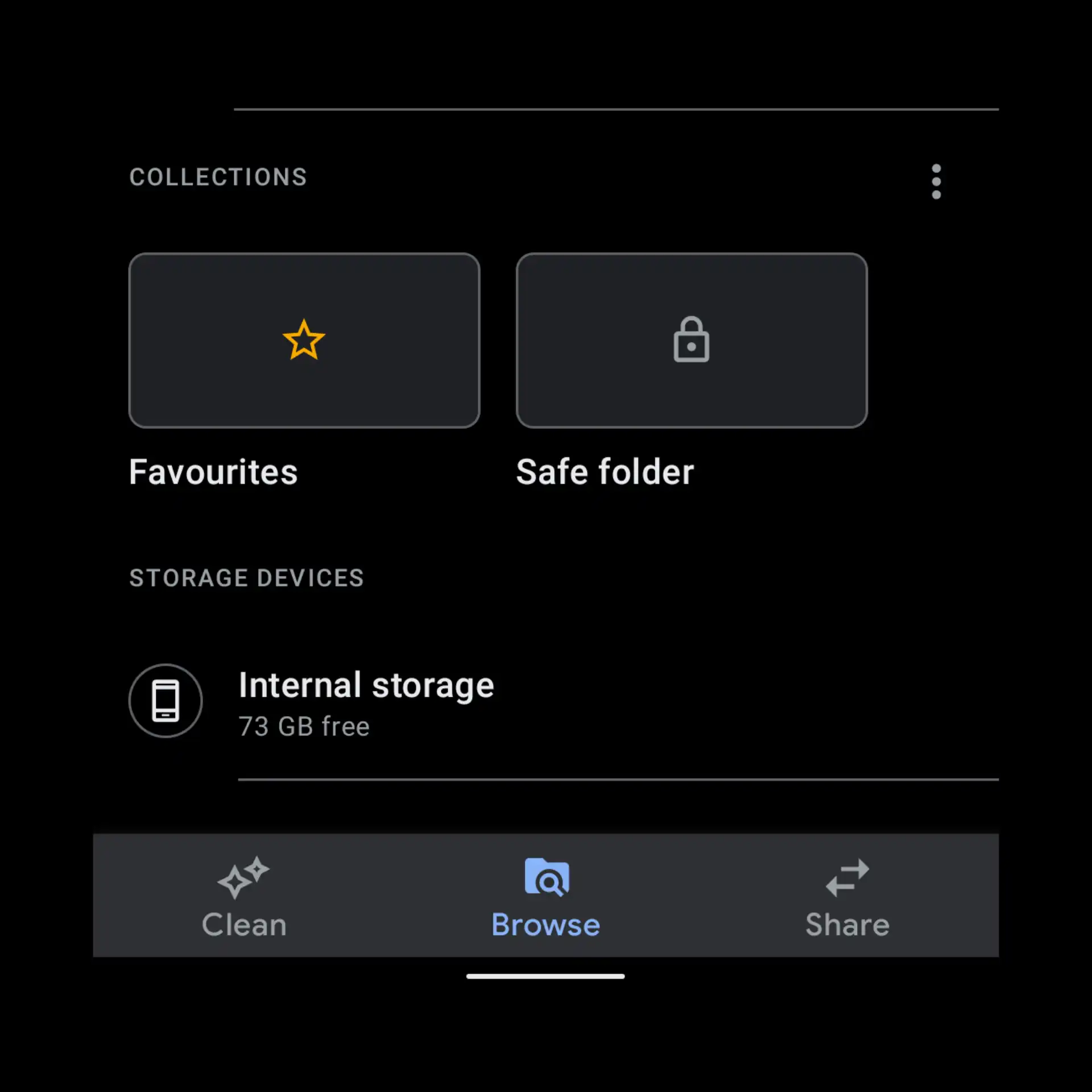 The last option is your storage devices. It will show all your files and folders in the hierarchical format. So you find the files that are not visible anywhere else using this manager option. It also has all the features we have seen above.
Best File Manager Apps For Android
Notifications
This has an inbuilt notification service that will send notifications for various storage-related events. For example, it will send you a notification if the storage space on your device is running low. If there are unused apps taking up space and have not been used in over 30 days. if you have kept various content in the "downloads" folder and it is taking up a lot of the storage then also it will send you a reminder.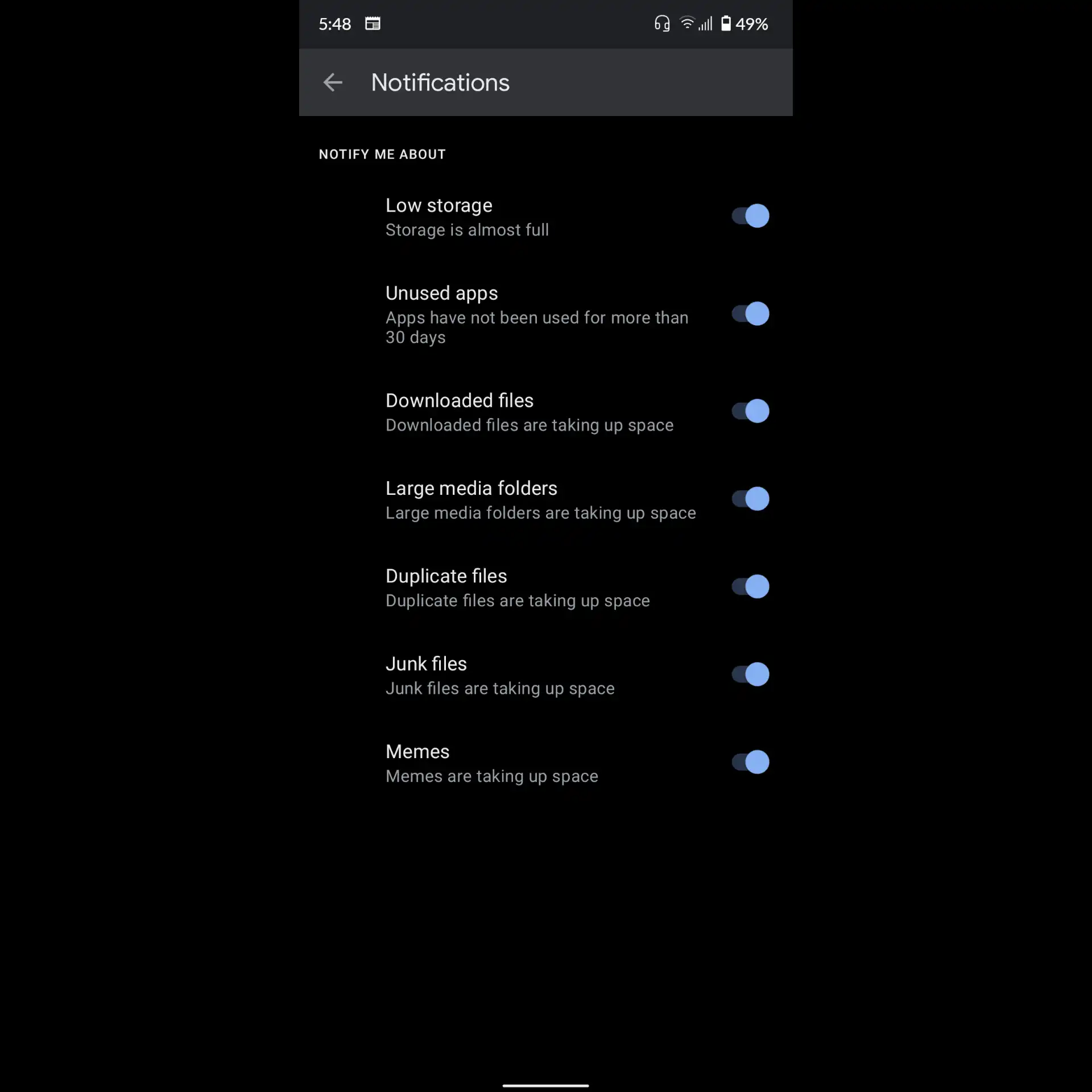 Files by Google also detect the large media files and will ping you if they are occupying a major portion of your storage. Other than that it can also detect duplicate files which maybe be hidden and hard to find. There is a dedicated memes option, if you are downloading memes mindlessly it could take up a huge part of the storage as they are literally endless.
Share
One extra great feature of this file manager is that we can share files between devices. For this feature to work both devices should have the app installed. When you first open the send option it will ask you to enter your name and grant some permissions. After that, you have to ask the other party to tap the receive option in the "share" area of their application. Then you can both share files back and forth easily. But I will still prefer to use Google's Nearby Share feature to this one. Overall a great and one of the best file manager apps from Google.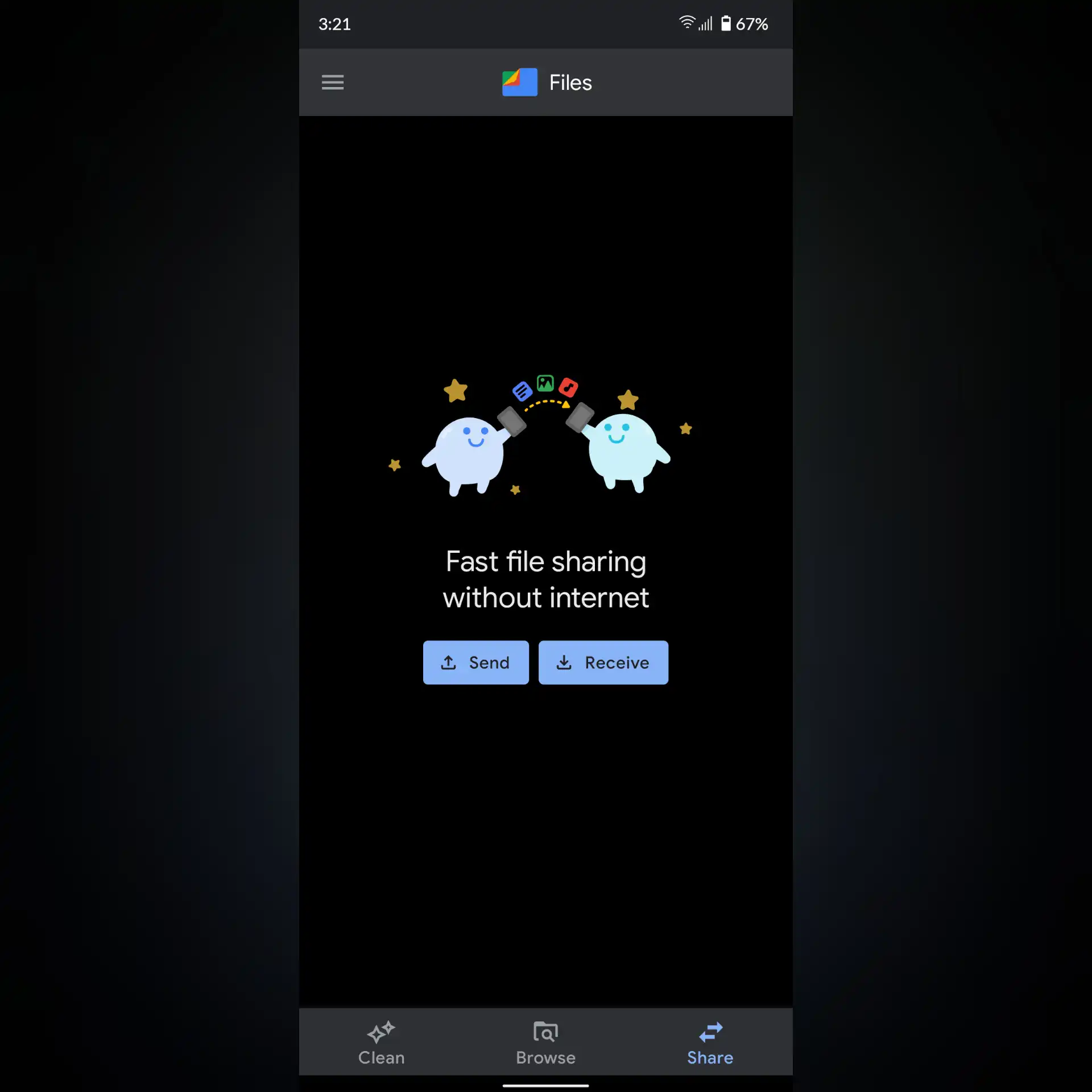 Best File Manager Apps For Android
CX File Explorer
The next advanced file manager is my favorite on this list. CX File File Explorer is considered one of the best file manager apps for its easy and lightweight interface. All the useful features are available in this file manager. Some of these features are not even available in the Files by Google app.
Storage Analyze
On the home screen, the half area is taken by a storage analysis option. It shows your used up storage and available space. It also shows you a quick summary of the space consumed by images, audio, and video files. You can access all these media in different categories by swiping left. It will show four rectangles with their respective names. Going back, below the storage summary, there is an analyze button. Pressing that will give you more details of different files using up the internal storage.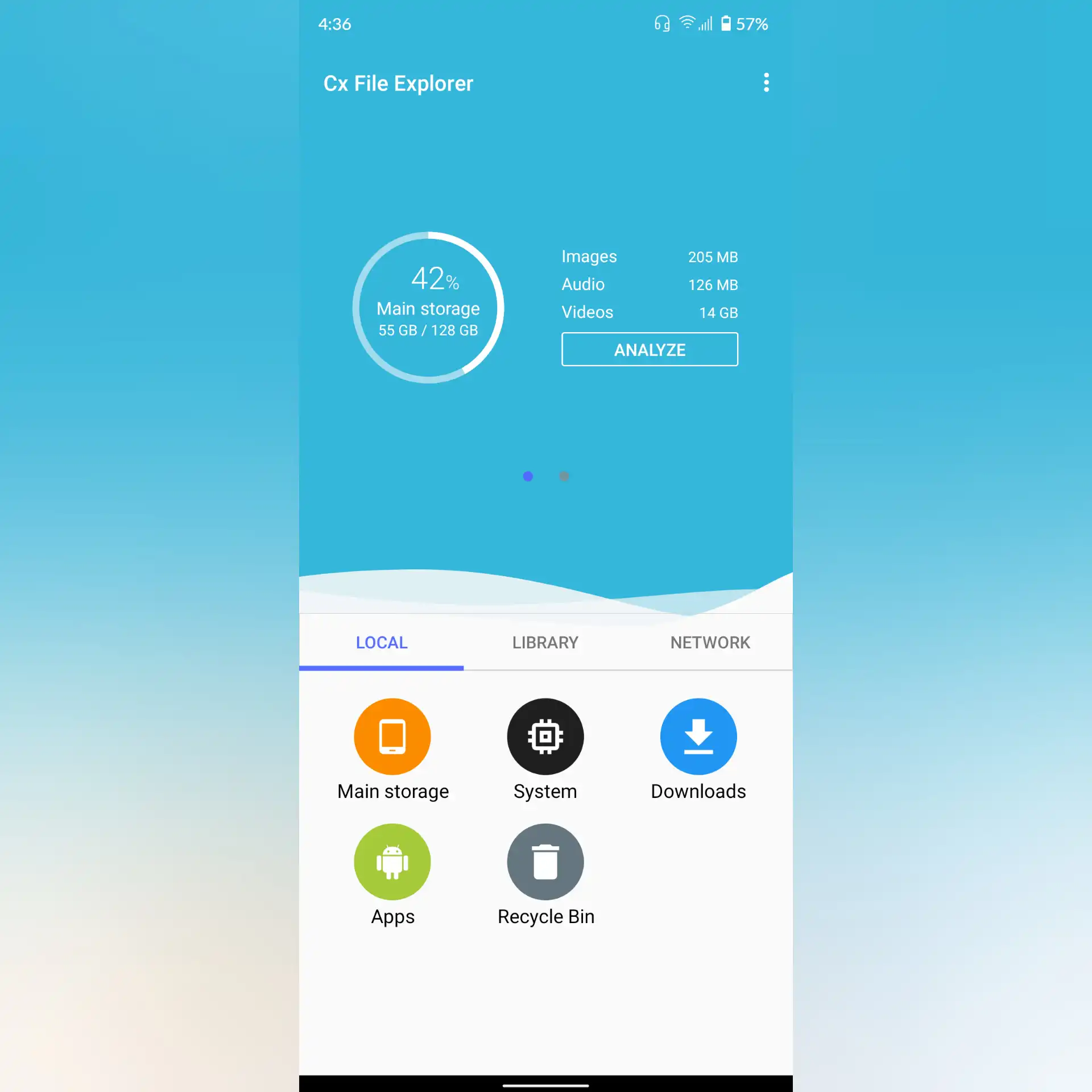 Apart from the images, audio, and video; there are documents, archives, and another section as well. You can expand this report by tapping on more and it will take you inside the internal storage itself. Here you have all the folders taking up space lined up in descending order. You have to manually look and find the useless junk files and delete them. They are not sorted by duplicate files or junk files by themselves. Interacting with the files here is similar to the rest of the file manager. Let's continue with the main storage.
its interface is sorted into three sections i.e. Local, Library, and Network.
Local
The Local section has five options i.e. main storage, system, downloads, apps, and recycle bin. In the main storage option, you can explore all your files and folder. When you long-press a file or a folder, there are a couple of options visible. On the top left panel, there is a drop-down menu showing the internal storage and when you tap it shows other folders in the main storage like pictures and audio.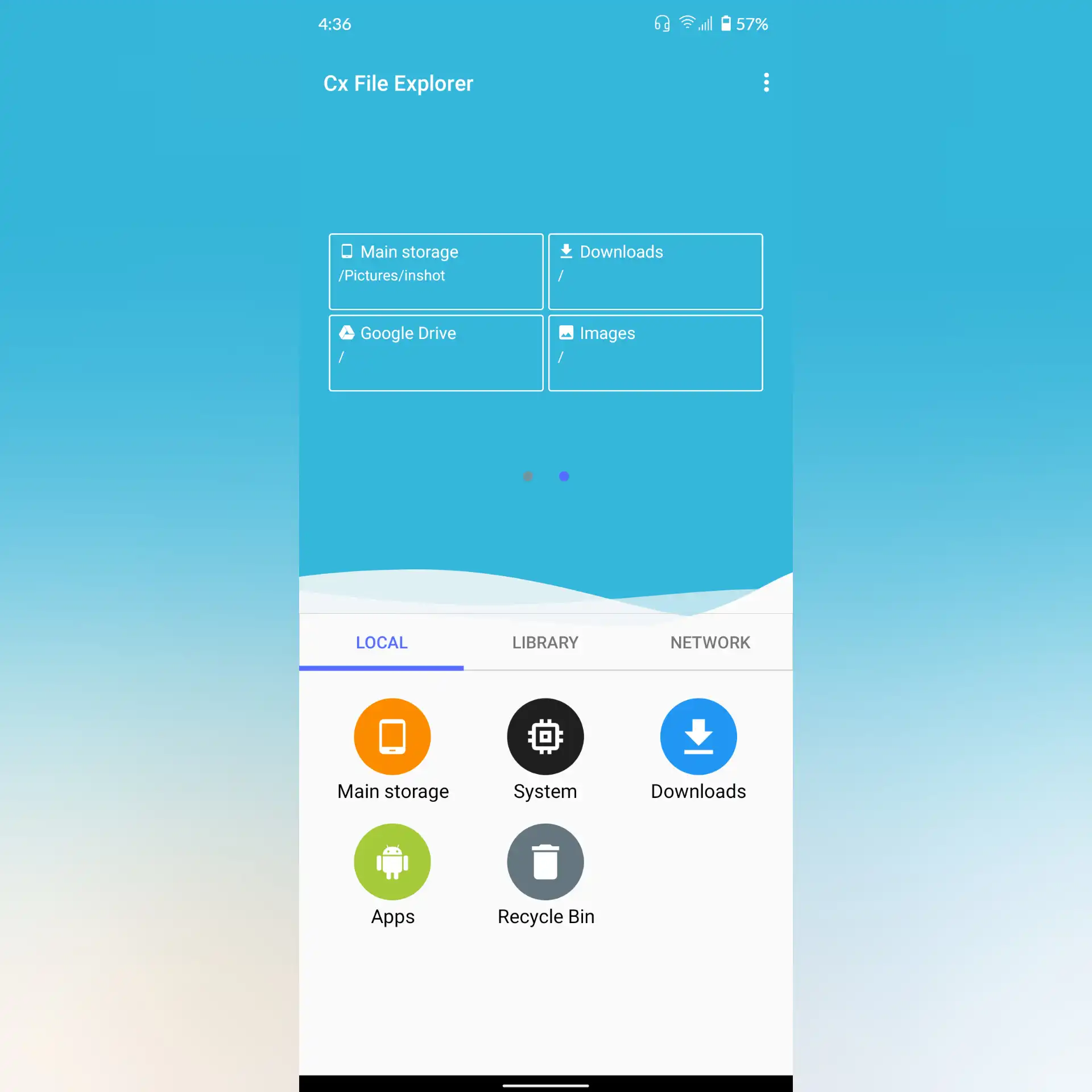 To the right there hamburger icon which when pressed shows options to view the folders in a grid, detail, or gallery format. below that there is a sort function and below that there is an option to enable to show hidden files. To the right of the hamburger icon, there is a three-dot menu. Which has options like creating a new file or folder, a search option, and a refresh option. There is also a little pie graph icon showing your storage usage just under the three-dot menu option.
Best File Manager Apps For Android
Long Press Menu
When you long-press a folder or a file then it will show the options like select all, select range, and a gear icon. When you press the gear icon, you get more options for that particular file or folder. Here you can enable recycle bin by default, add the file to the home screen by creating a shortcut, hide or unhide the file and open the file in a different format. The changes you make to this settings option are applied to all the files and folders.
At the bottom panel there are typical file manager options like copy, move, rename, delete, and a three-dot menu. In the menu, there are five more options. Like share, compress, open with, open as and properties.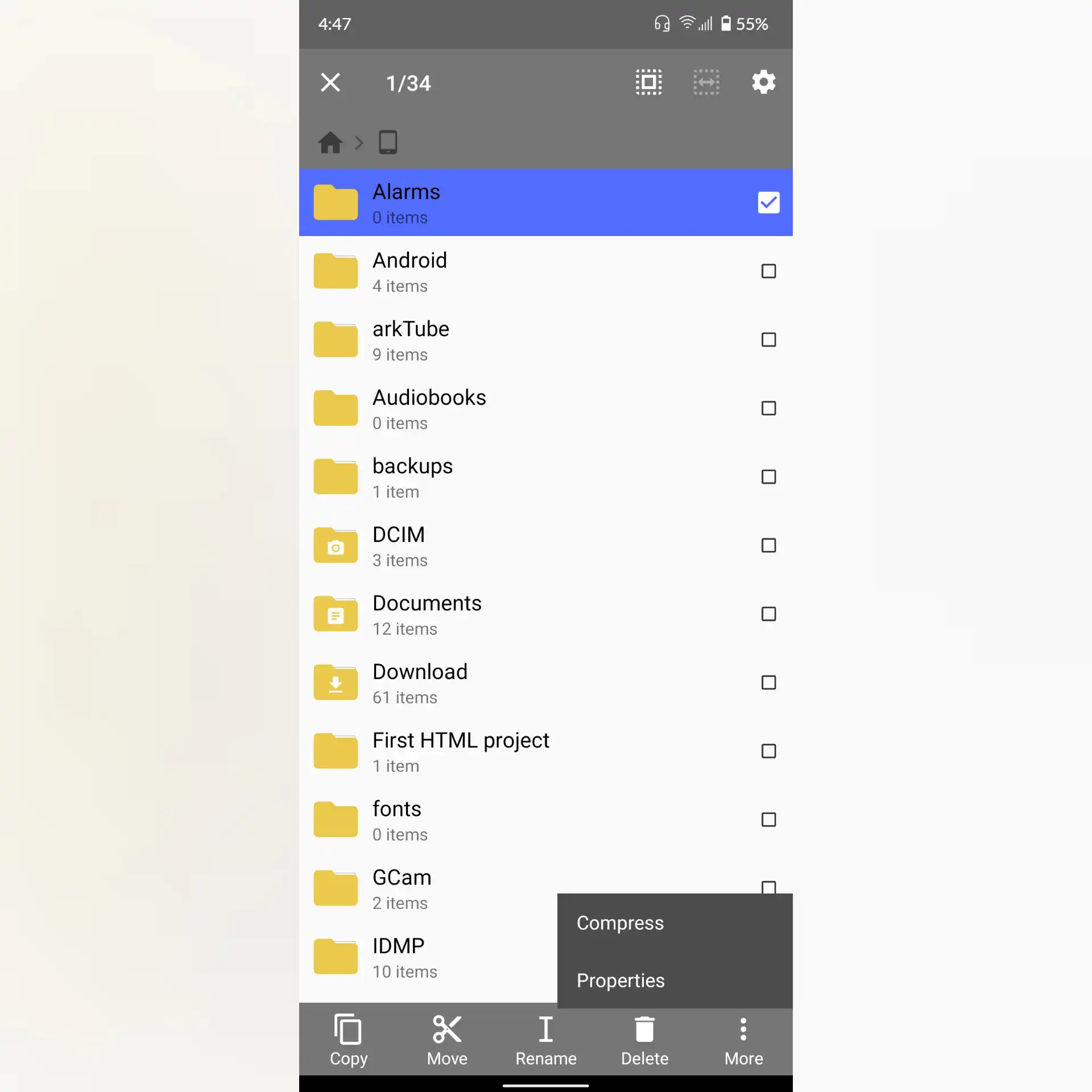 Open with is to open the file with another player or application. And open as is to open the file in a format that is different from its original format.
The system option will only be visible if your device is rooted. You can access the device's various system files that are otherwise hidden from the users. Even though it's not meant for everyone.
Best File Manager Apps For Android
More options
Download option has all the files stored in the download folder. Basically, anything you download from the internet goes into this folder. Usually, this folder takes up the most space in your internal storage. Then there's the apps option which shows you all the apps that you have installed on your device. When you long-press any of the apps there are a couple of new functions available. You can create a backup of the app, uninstall, share, open, and lastly open the app page in the Google play store.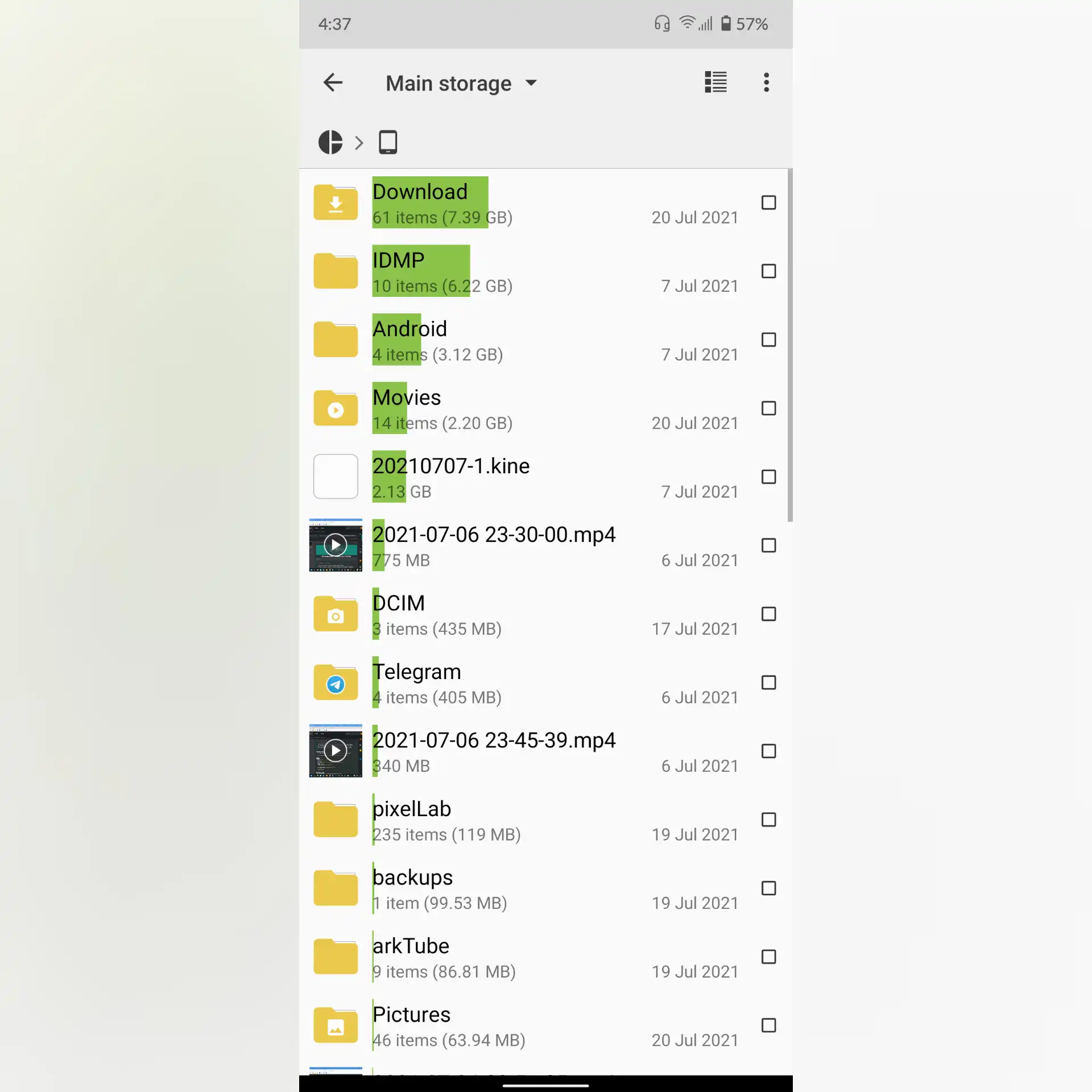 Recycle Bin is a really cool function that saves your deleted files in case you ever want to retrieve them back. You can enable or disable the recycle bin by default using the gear icon that we have seen previously. Otherwise, when you delete a file there will be a check box asking you to either permanently delete the file or move the file to the recycle bin.
Library
The Library option consists of your files categorized into images, audio, videos, documents, and new files. All these categories have similar options and tools like the main storage option. It's nice to have our files sorted out for easy access. The new files option has all our recently modified or downloaded files inside. There is a clear option on the top right inside of the new files option. You can clear all the stored files if they are not relevant to you. This will not delete those files just remove them from this section.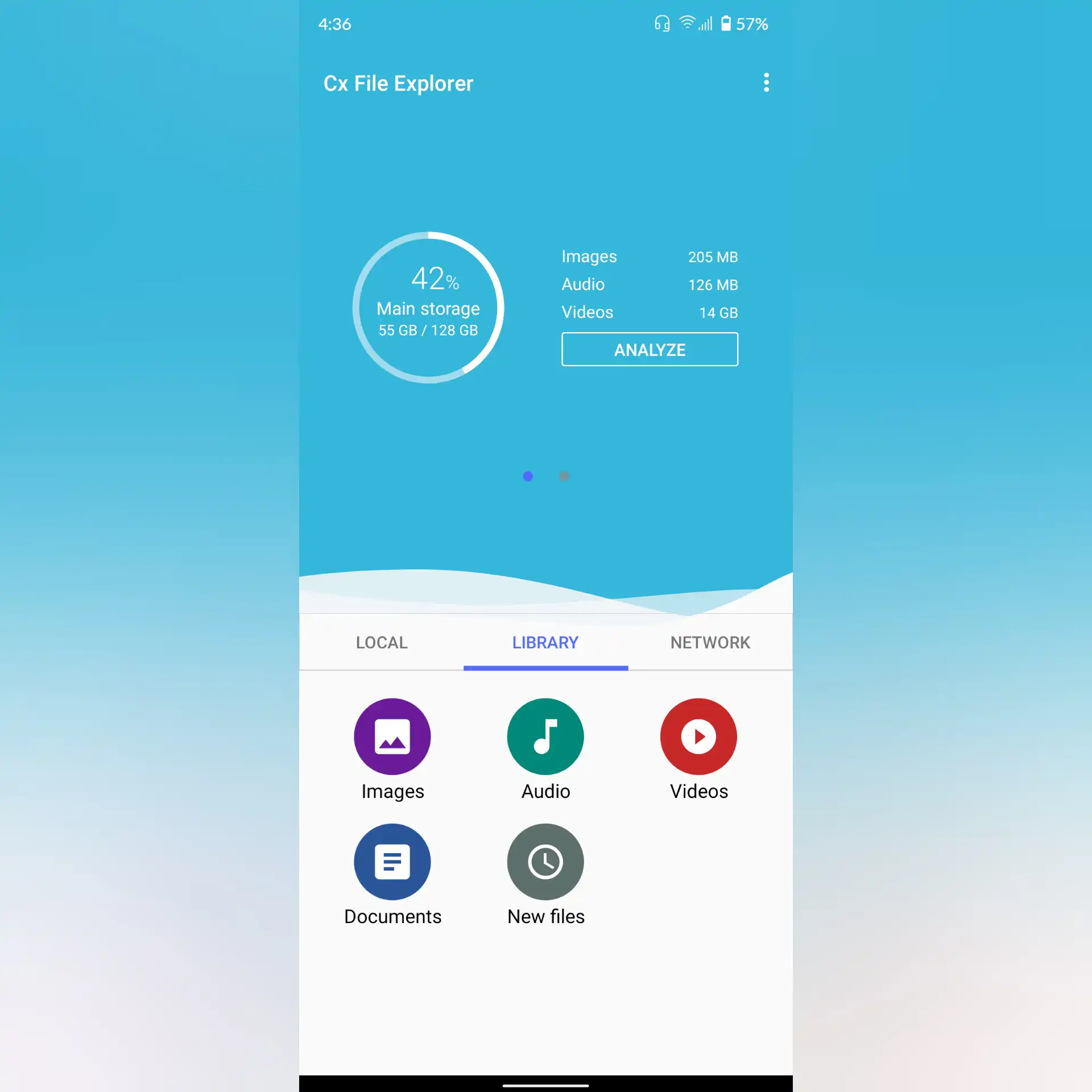 Network
In the Network option, you have access to the files that are not on your device. You can access the files on your cloud service or on the devices that are connected to your WiFi network. The first option is "access from the network", here you can see the port and password of your network. Once you hit start service it will show you an FTP address, username, and password. Enter the address in the file explorer address area on your PC and access your phone's files on your PC. This ease of accessing files cross-platform makes CX File EXplorer one of the best file manager apps in my opinion.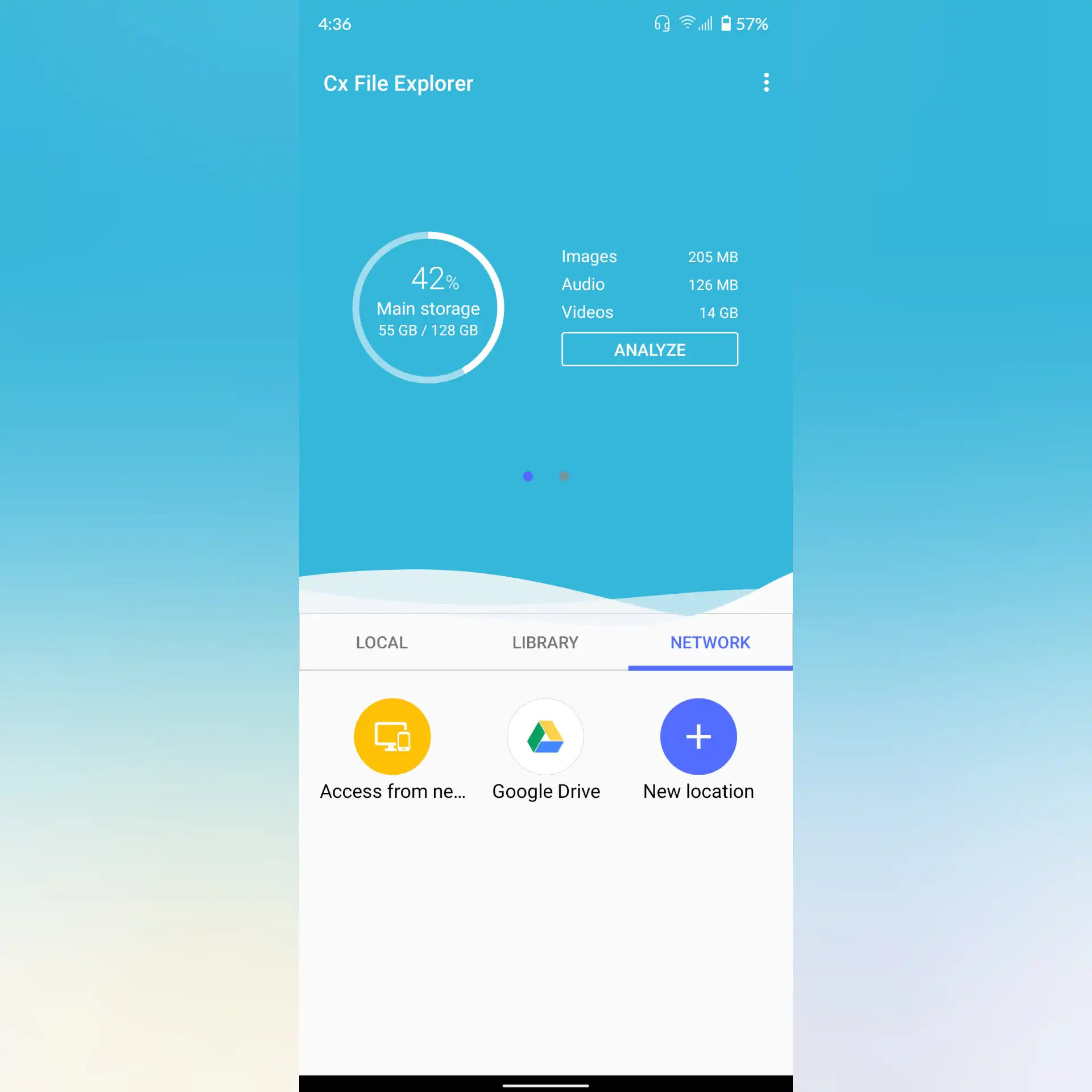 The plus icon to the right can be used to add your cloud services to it. You can add Dropbox, Google Drive, OneDrive, and Box accounts. Besides the Cloud option, there is a remote sharing option. This one requires you to configure settings from your PC. You have to set your folder on your PC to be accessible over the internet.
Best File Manager Apps For Android
Settings
In this settings option, you can clear the defaults if CX File Explorer was set as a default app for any file. You can enable or disable built-in media viewers of this app. For example, image viewer, video player, music player, and text editor. There is a notification option for reminding when storage space hits a certain percentage. We can change this value from 85 to 99 per cent.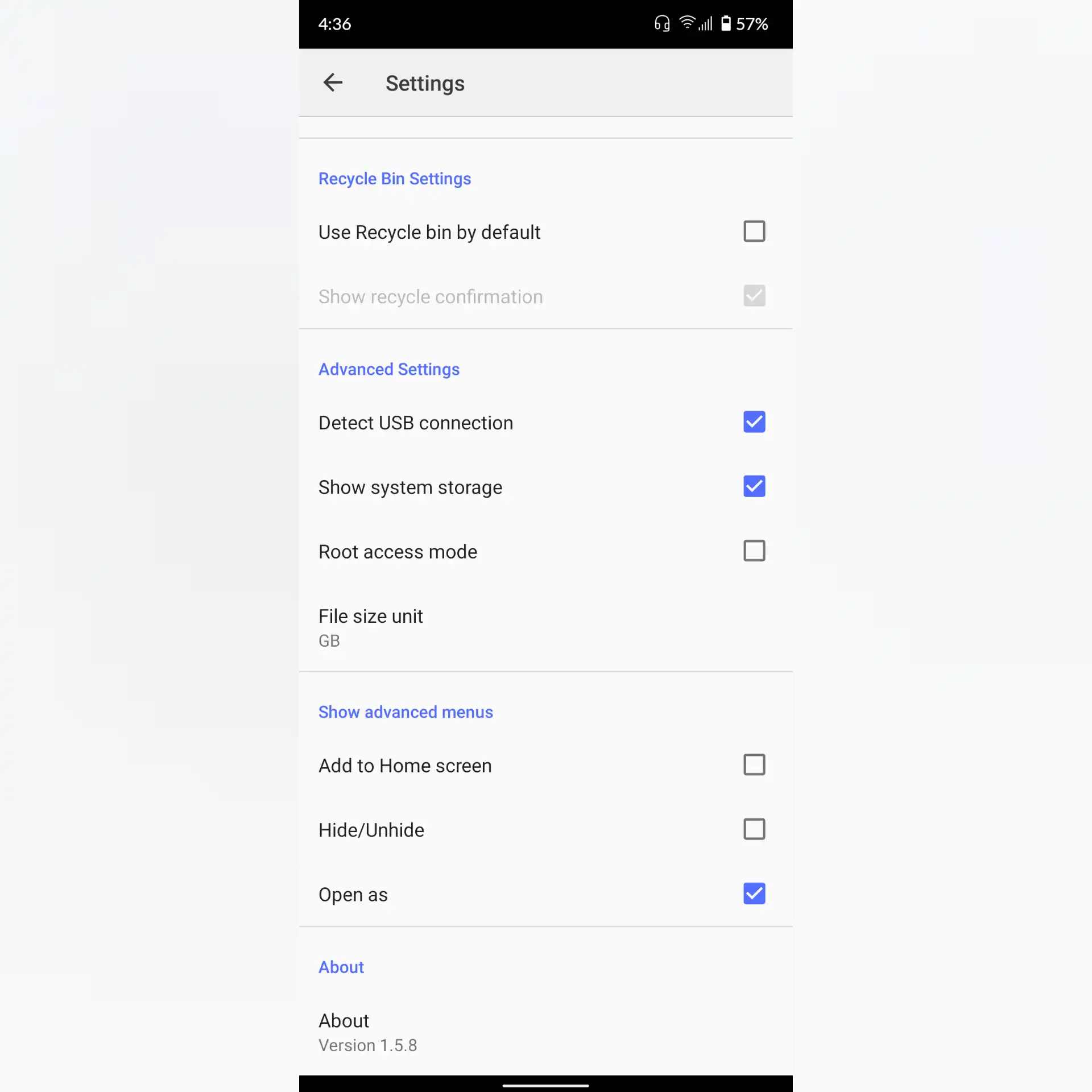 You can enable the recycle bin from here as well. In advance settings, we can enable the USB OTG detection, show the system storage, and grant root access. We can set the file size units as gigabyte or gibibyte. Other options are similar to what we have seen previously, Like add to the home screen, hide/unhide and open as.
Overall CX File Explorer is a great all-rounder and one of the best file manager apps for Android. It still lacks the dark mode which is crazy to think about and I hope the developers will incorporate it in the app as soon as possible.
Best File sharing Apps between Phone and PC. Check here.
Best File Manager Apps For Android
MiXplorer
MiXplorer file manager is one of the most feature-rich and best file manager apps for Android in my opinion. On top of the default file manager, it has hosts of add-ons and plugins that we will talk about later. So let's start with the interface first.
Interface
When you first open the app you get your files and folders laid out in front. On the top left, you have a drop-down menu that shows your internal storage and other storage if you have it. It also shows the number of files and folders that you have at the root of storage. Below that there is another drop–down menu which when expanded shows options: to add a new tab, reset tabs, and save tabs.
Yes, we can have multiple tabs open with different folders at once. When you add a new tab this drop-down menu will show a couple of more options i.e. close tab, close others, and close right tabs. So if we are working with multiple tabs, we can save them, and even if we close the file manager the tabs won't get reset.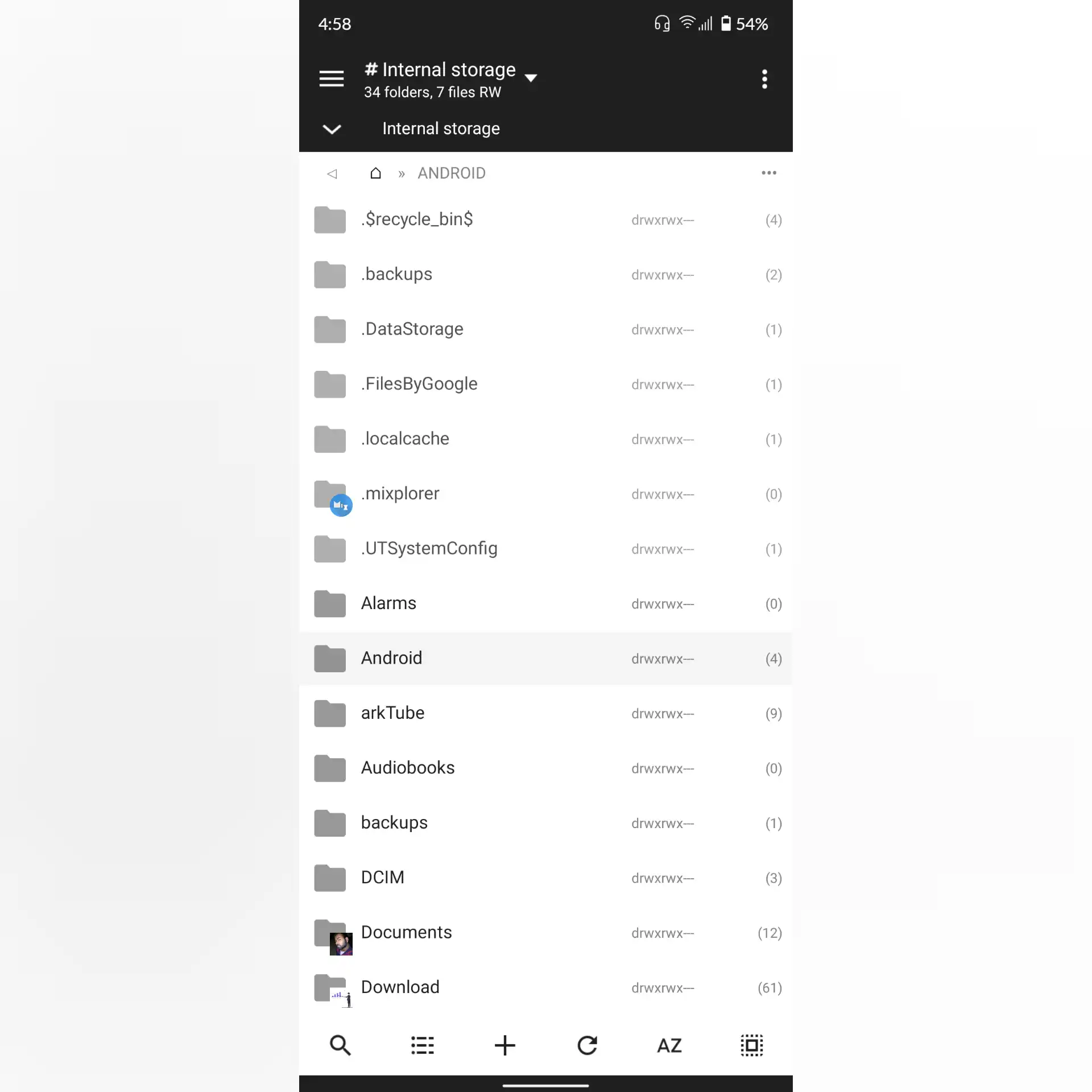 More options
Below the tabs strip, we have a small back and home button. And storage info to the right of that. Then on the top right there is a three-dot menu There are ten options inside it. The first one is Lock, we can set a pattern lock or a key to lock the app. The second is Tools, from here we can run services like Duplicates and App remnants. Duplicates will find all the duplicate files in the directory and you can view and manage them. App remnants find all the leftover app files in the storage.
Then there's the Filter option which will filter all the files according to categories like images, audio, videos, documents, etc. After that, there is a Servers button, from where we can start FTP server, HTTP server, and TCP server. Next, there is an Execute option, from here we can execute terminal commands, send logs and open it in a particular terminal app. it's all meant for advanced users. All these features make one of the best file manager apps for Android.
Settings
Then there is the Settings menu. Here firstly we have Skins. We have two options, Aztec, and Gray but we can add more from the web. Open the link in a browser, choose any theme and download it. Open the downloaded file and import it to MiXplorer file manager and then go to the skins option and choose the first option. The themes and skins are beautiful. Next, we have a language option. We have so many languages to choose from. It even has the Hindi language which is pretty nice.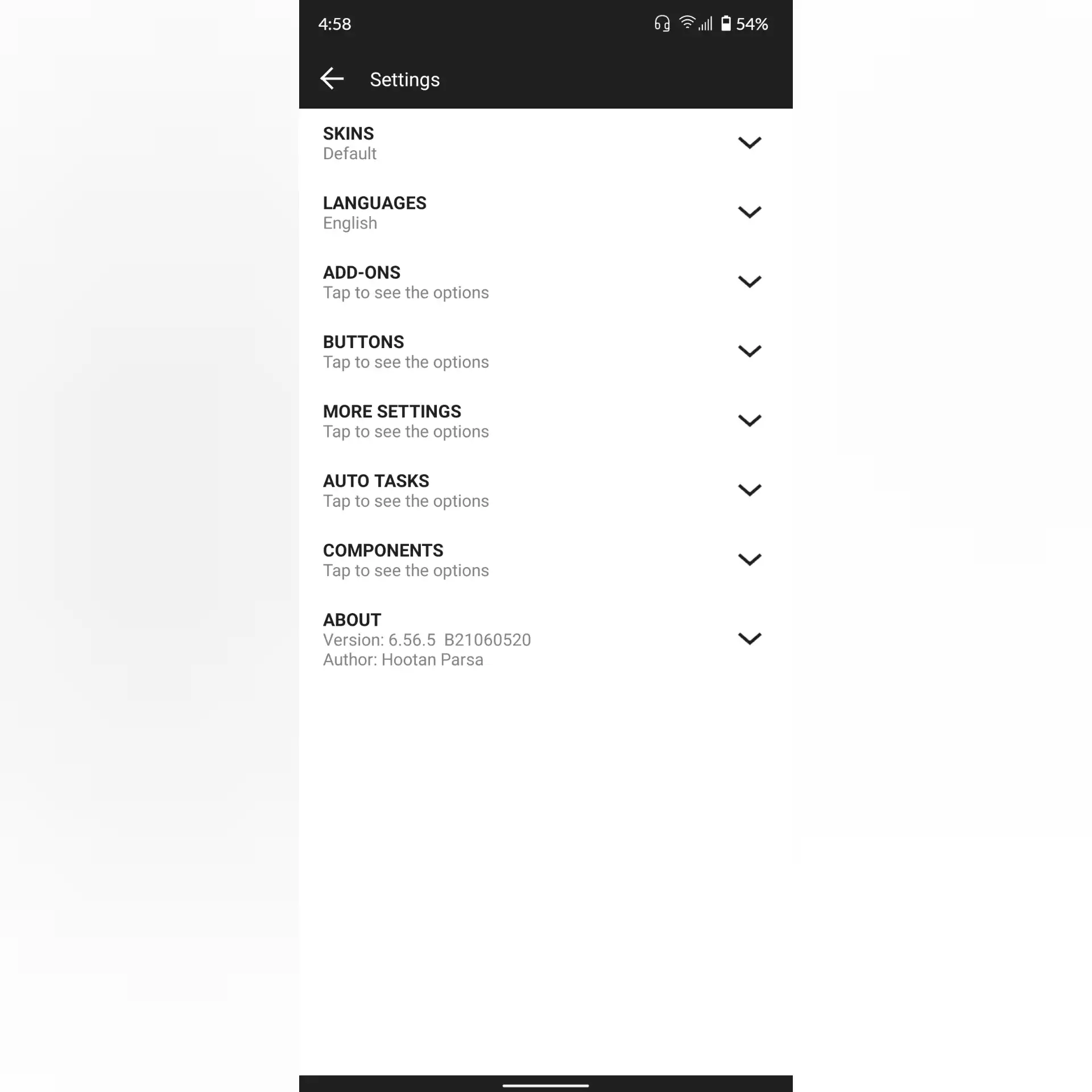 Add-ons
Next, we have add-ons from which we can download and add different plugins. For example, Archive for compressing and unzipping different ZIP files. It supports a lot of extensions like 7Z RAR ZIp ZIPX UEFI ISO and lots more. It's fully like PC's WinRAR and 7Zip alternative. Really powerful add-on. After that we have Codecs, to add VLC Player codecs to the app's default video player "Mix Player". We can then play videos of all formats using this codec. Rally is helpful when you want to watch an MKV format video.
We can also have an Image, add-on, and a PDF add-on, to view all those documents super easily. A tagger plug-in to edit tags of images and audio files, and also an Autotagger to automatically tag MP3 files with the artist name and album name. We usually have to download separate apps to get these features. It is quite great seeing these advanced features in a file manager.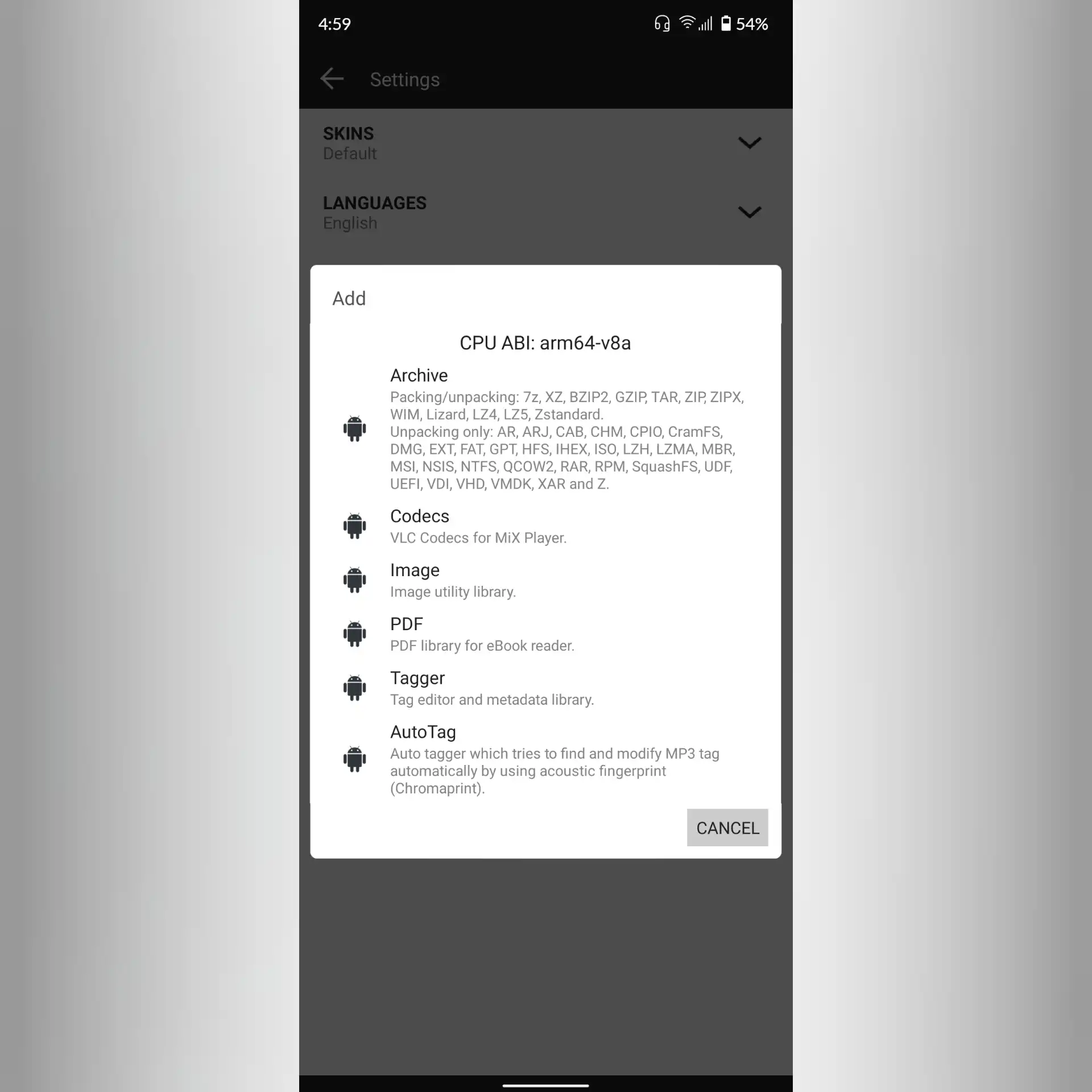 Best File Manager Apps For Android
More Options
After add-ons we have the Buttons option, from here we can enable and disable all the options that we see in the different file locations. Like the Main menu, Navbar menu, Tool menu, and many more. We can check the options we want to show and uncheck all those we wish to not see. It really is for cleaning the interface and keeping only those menus you use on a daily basis. Really high deep-level customizing option. You reset all if you want everything to be back to normal.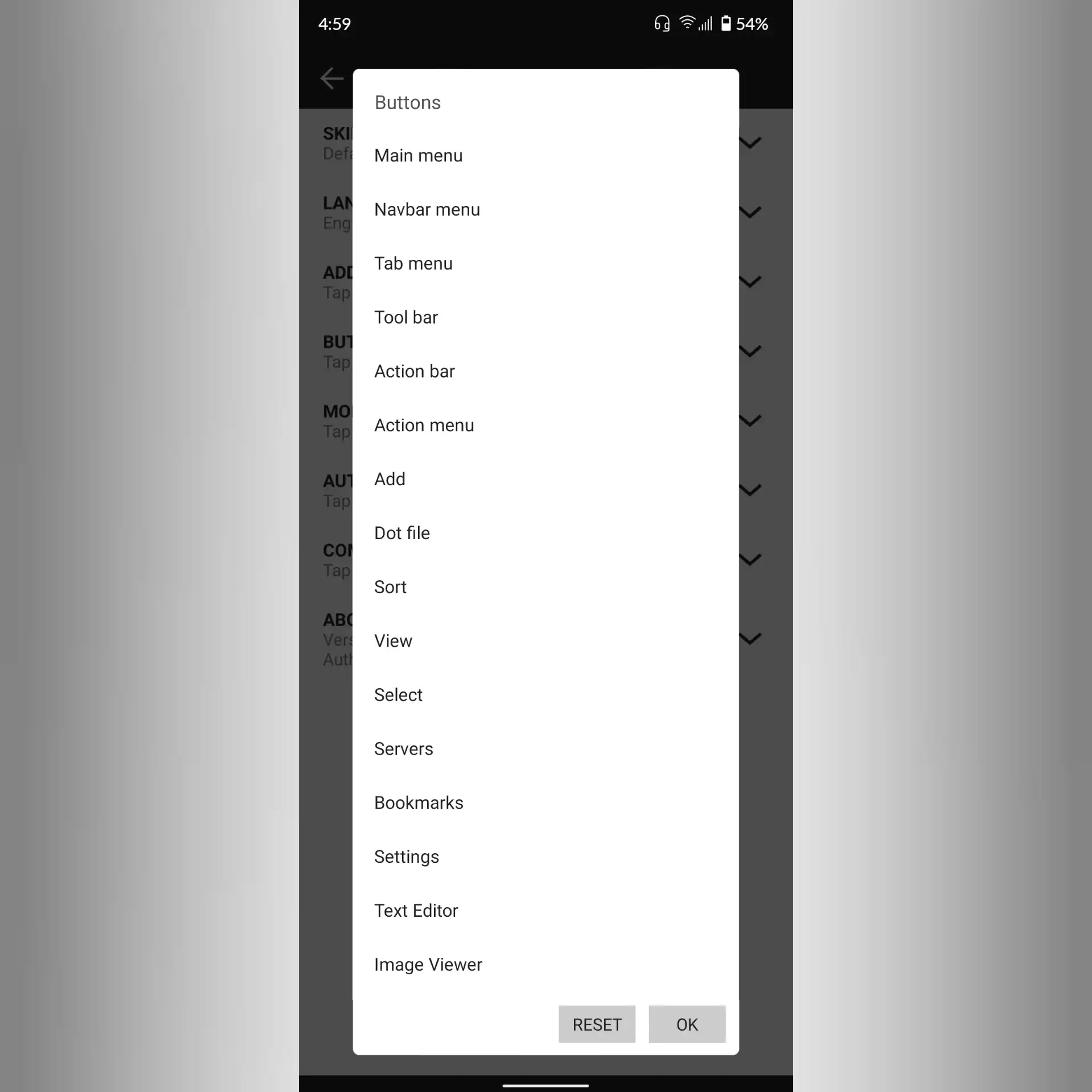 Then we have More Settings, which's similar to the Buttons option. It has different options to be checked enabled or keep as disabled. We have the option to check for updates on the app launch, allow root, and enable the lock option to protect the app. We can also enable the OTG detection option, hide animations, export the settings for future use and reset to set to default. There is much more to explore but that will take hours to explain.
Auto Task
Next, we have the Auto Task menu. This is next-level stuff, we can schedule tasks for copying or moving files. If we have a particular folder that we want the contents to be moved daily to another folder we can do it using this option. We can set the interval of the action as daily, weekly, every 15 mins, 30 mins, hour, 12 hours. You can use this to move video files before the backup starts (to save data) or statuses in the WhatsApp folder before it gets deleted. Lots of possible scenarios. Next in the Components option, we can enable or disable different components like Archive, Clipboard, Copy to, Extract to, and many more options. Never seen before advanced features in a file manager that also makes it one of the best file manager apps for Android.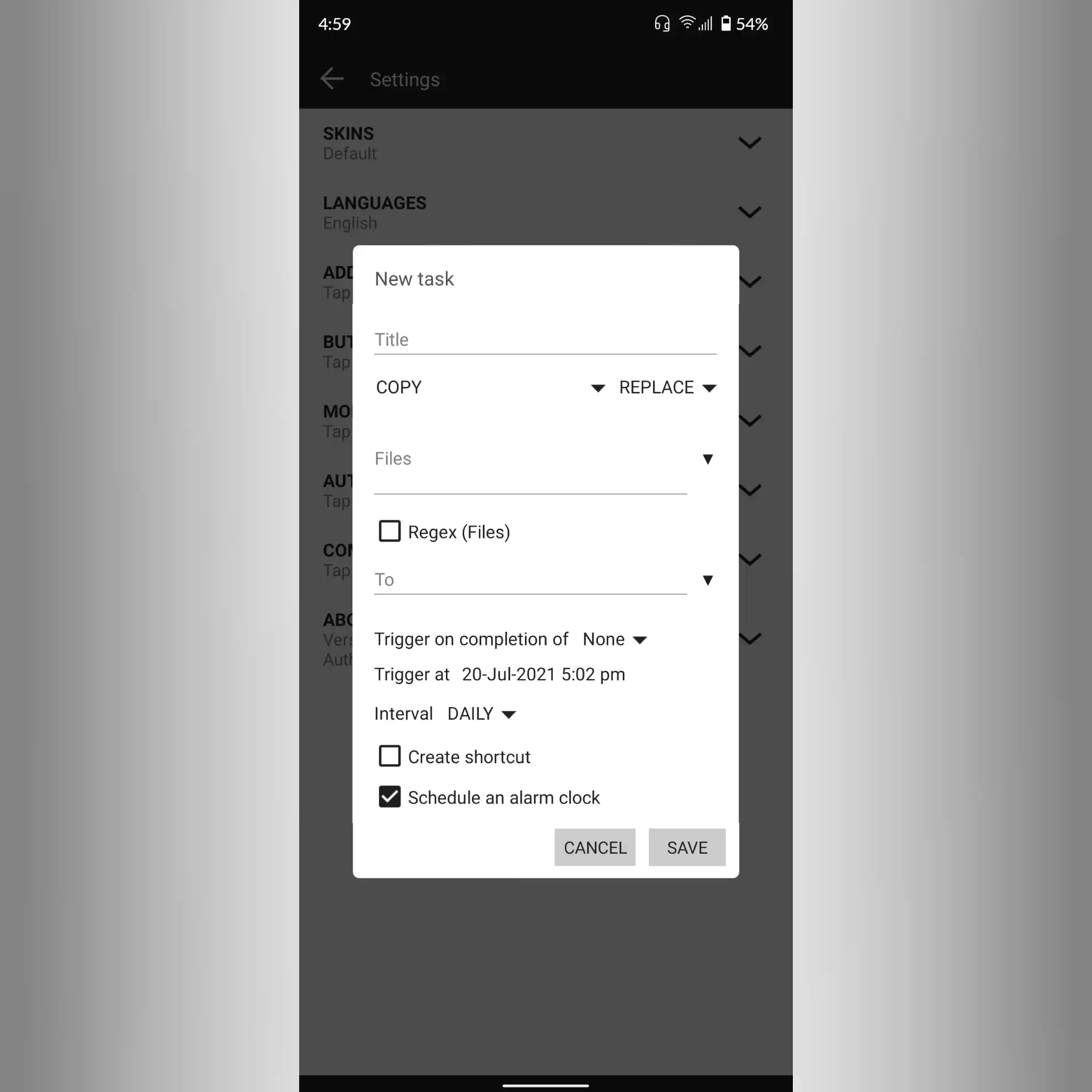 Bottom Panel
At the bottom bar there are six options; search, view, add, refresh, sort, and select all. The View option has the layout menu like grid, detail, gallery, compact, columned, wrapped, and minimal. But after that, there is an options menu that has twenty more settings.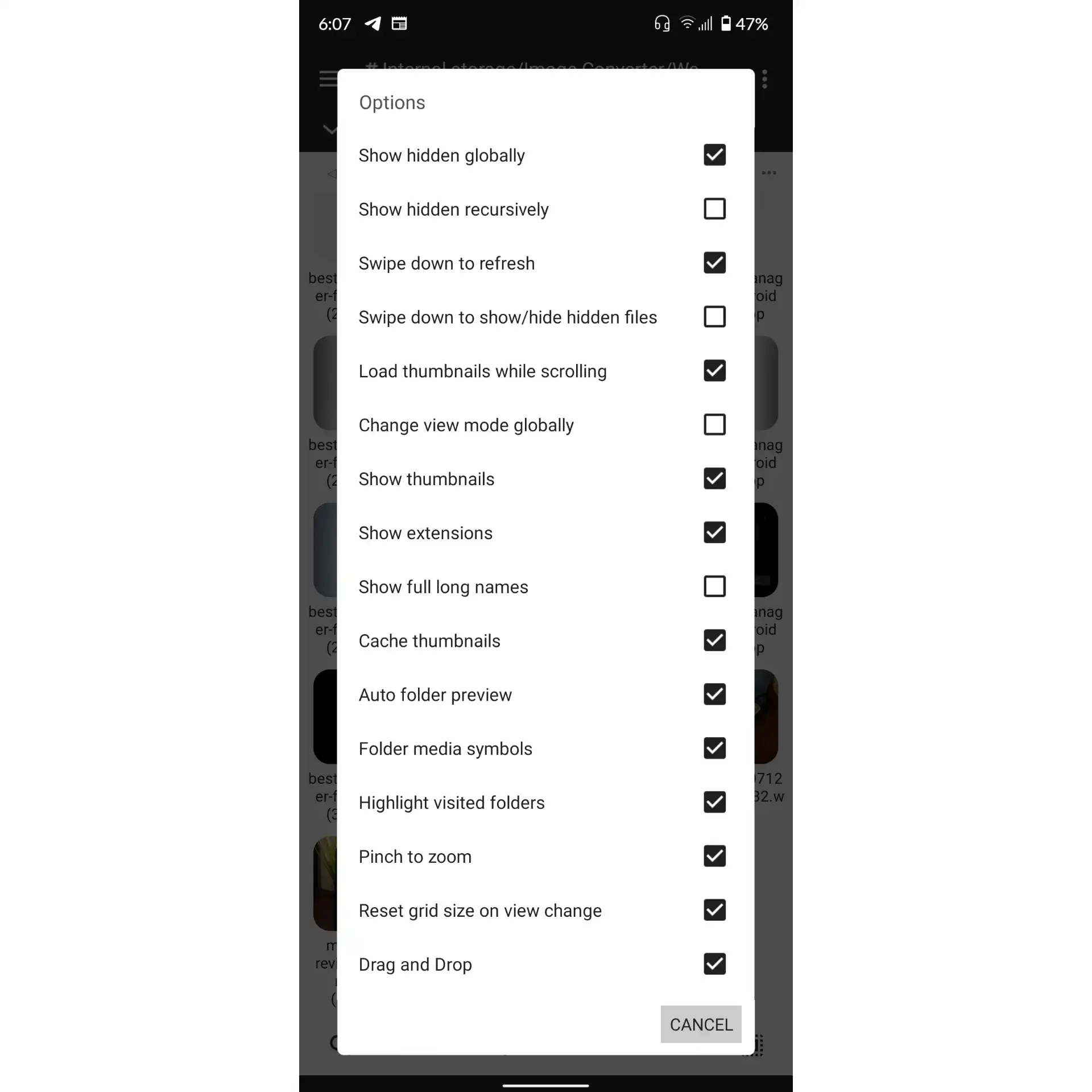 You can change interface elements from here. These options are to show hidden files globally or show them recursively, Swipe down to refresh the interface, or swipe down to show or hide the hidden files. Load thumbnails while scrolling, to have the view mode change globally, to show thumbnails and extensions names. Show full long names, cache thumbnails, auto preview folders, and show media symbols on folders. Highlight visited folders, pinch in to zoom, or reset the grid size on change of view. We can enable the drag and drop option, and show or hide bars when scrolling. We can enable dual panels in landscape mode or force dual panels by default and enable more details.
Encryption
Next, we have the Add menu, with which we can create a new file or a folder. But that's not it, we can create an EncFS folder. It is an encrypted folder, which asks to set a password when created. You can change the permission of this folder to remove all the read and write permission. So when you want to access the folder you would have to enter the password to decrypt the folder. It's great for safekeeping important documents.
After that, there is a Keystore option. With this, you can create an encrypted file. It can create RSA and DSA certificates used by developers to encrypt or sign documents or apps. It's an advanced option and great to have it here in a file manager.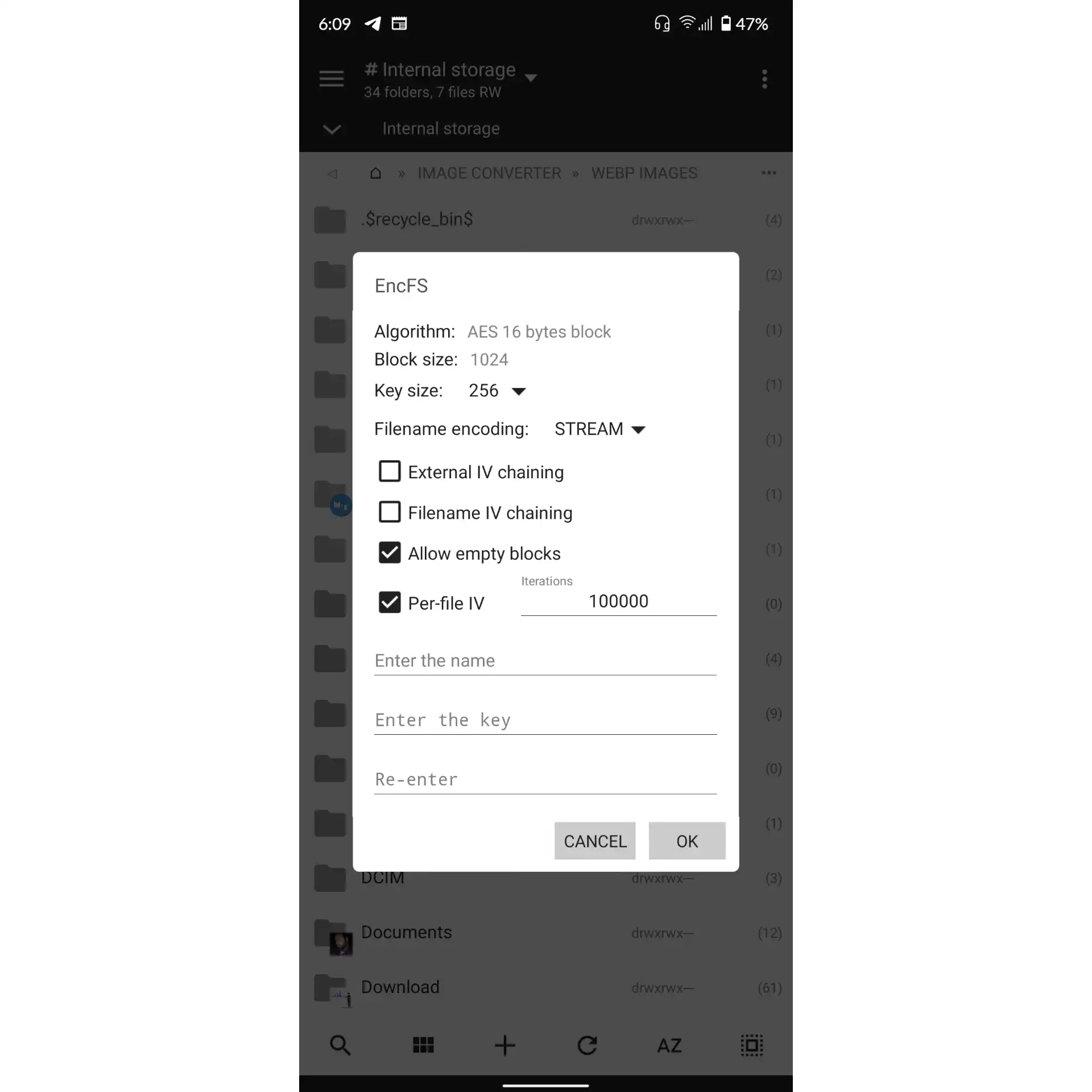 After Keystore, we have Symbolic Link, with this we can create a link to another folder or file inside a particular directory. WE can set the target file or folder and create a link to that using the Symbolic LInk function. Next, we have the option to create Dot File. These types of files are usually hidden by the system. They are used mostly by developers to hide the system files from general users.
Best File Manager Apps For Android
Documents Option
We can use the ".NOMEDIA" file to hide files in a folder. Simply create a dot no media file in a folder you want to hide contents of, and it will not show up in any gallery application.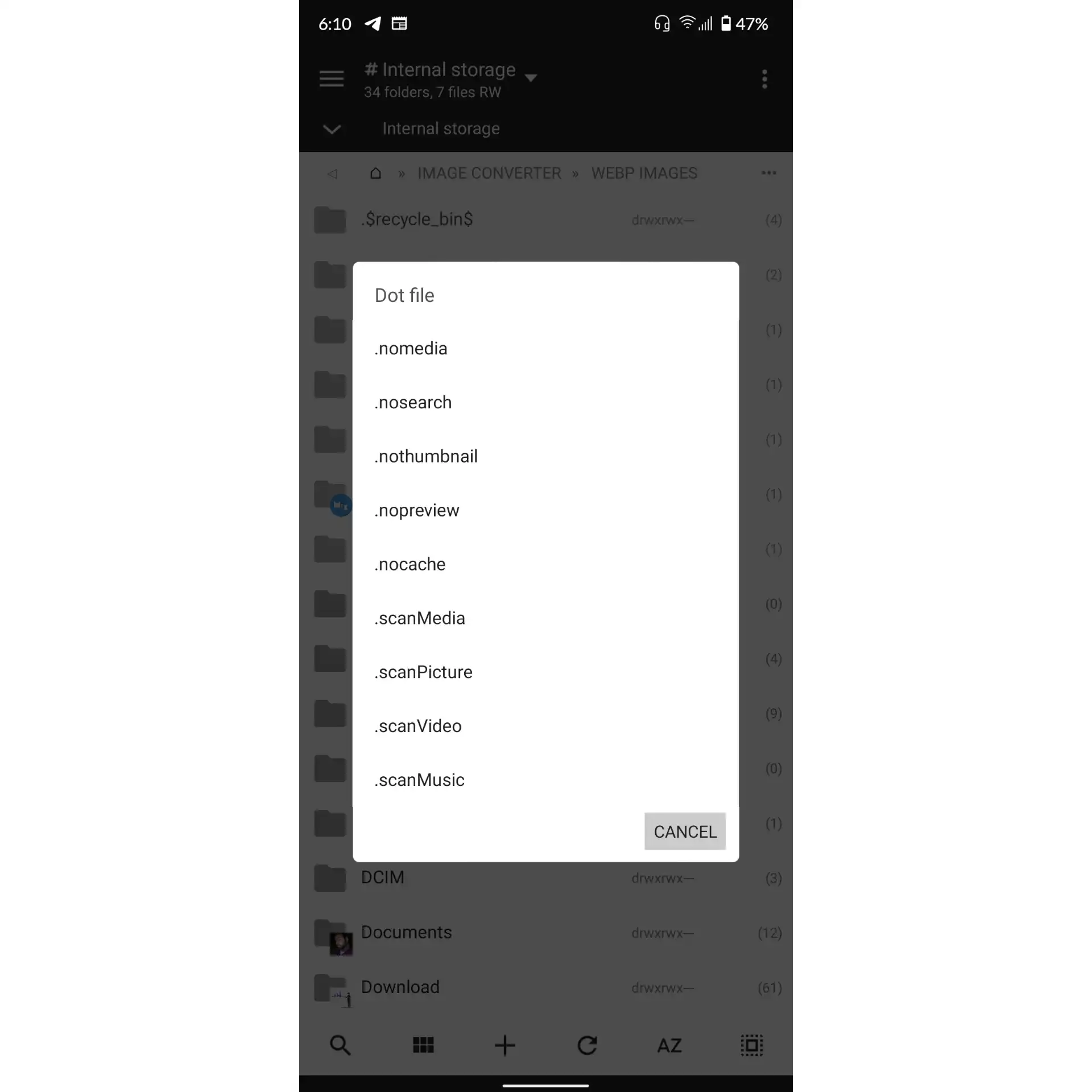 After Dot FIle, we see a storage option. In this option, we can add different cloud services like Google Drive, One Drive, etc to our file system. We can also start an FTP server or a Samba server to access files on and from the PC. Aside from usual big cloud storage names it also gives the option to add providers like Mediafire, 4shared, pCLoud and more companies, which is really a good thing.
The last option is a Document Provider, which just asks to make a default document folder for the MiXplorer to access directly. After Add menu, we have a refresh button, sort by option, and select all buttons.
Top Panel
When you select a file or folder you get some options. On the top panel, you get options like a drop-down menu with options related to selecting files. We have some really different options when it comes to selecting files. For example, select alternate files, inverse selection, so it will select every file except the one selected. Select the previous file to the one marked, or select the next file to the marked one. We can select only files and not folders or select the same file type only. We can deselect by tapping none or select all.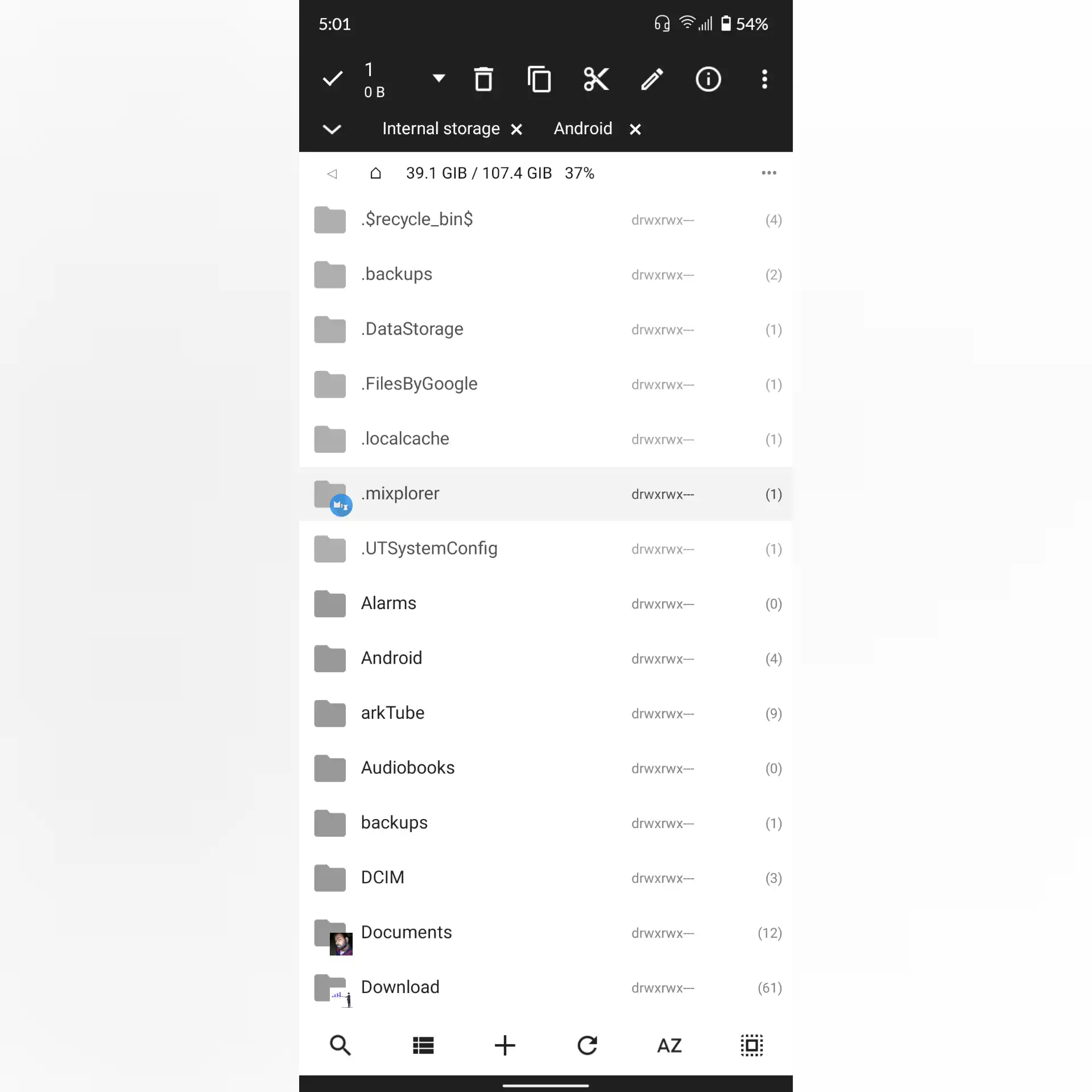 Next to that, there is a delete button, copy, cut, rename, properties, and a three-dot menu. In the rename option, we can rename the file name or the extension. In advance rename settings we can lower case, uppercase, or capitalize the name. We can batch rename and set the start number or the prefix name as well.
In the three-dot menu, we have like fifteen more options. First, we can share the file, send it to another server, open the file, open with another app, Archive the file, encrypt it with a password. We can add the file to the home screen or bookmark it. The file can be pinned on top of the screen as well. We can even hide the file from here. If the file is an image we can set it as wallpaper and look at its metadata. Edit the file in any photo editor app. Copy or move the file to some other directory. We can create a Share Link and access the file from any browser, as it creates an HTTP server.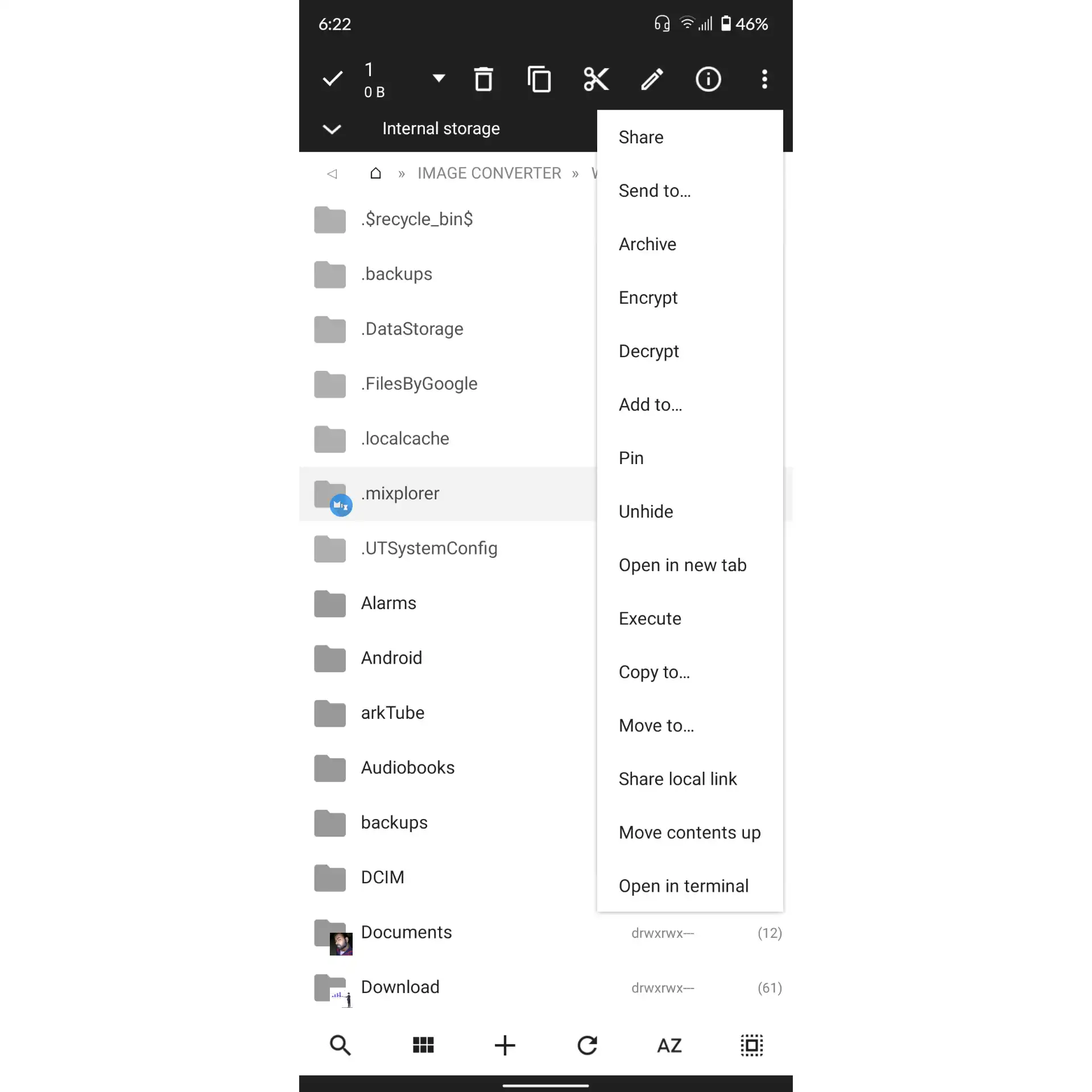 Best File Manager Apps For Android
Side Menu
The side menu has a host of options. It's called bookmarks and it shows all your directories and also all the media files in different categories. it also shows recent files, all files, recycle bin, and apps. On the top left, it has to drop down the menu, clicking it switches the menu into history searches. It shows all the recently open files and directories. You can also clear all the search history.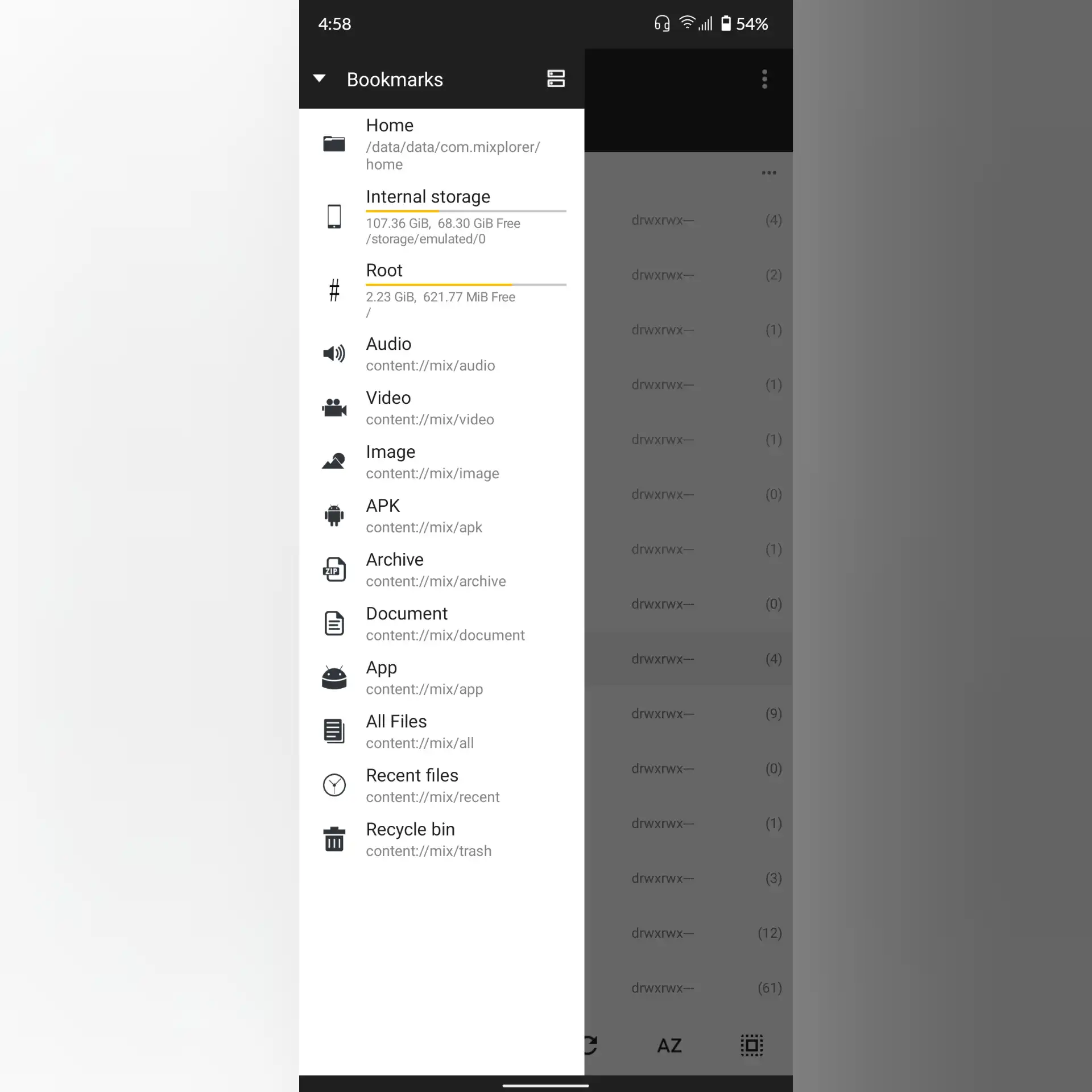 On the top right of the sidebar, there's a disk icon that expands to show five more options. The first one is for adding more storage options to the bookmarks. Like all the different cloud storage, FTP servers, etc that we saw previously. Next, you can divide the menus into different sections.
You can remove every menu from these bookmarks and reset them to default to bring them back. You can export these settings to your storage for future usage. Next, there's an options menu from where you can customize the options for this sidebar. You can enable and disable sections to show here.
Overall MiXplorer has every possible feature needed as a file manager. It has many advanced options which separate it from the rest. It's free to use but also has a Silver Edition to help support the development. Really awesome and one of the best file manager apps for Android, definitely a must-try.
Conclusion
So there it was the detailed guide to the Best File Manager Apps For Android. I tried going into detail explaining what each option does. Hope you learned something new.
Best File Manager Apps For Android:
Files by Google: https://play.google.com/store/apps/details?id=com.google.android.apps.nbu.files&hl=en_IN&gl=US
CX File Explorer: https://play.google.com/store/apps/details?id=com.cxinventor.file.explorer&hl=en_IN&gl=US
MiXplorer: https://www.apkmirror.com/apk/hootan-parsa/mixplorer-hootanparsa/mixplorer-hootanparsa-6-57-1-api26-rc-release/mixplorer-6-57-1-api26-rc-android-apk-download/