Time To Read: 5 Mins
Audiobooks are a great way to listen to our favourite books in audio formats. This enables us to enjoy the books even without a physical copy. Additionally, just like podcasts, Audiobooks are a great way to spend our leisure time like driving, cleaning, etc. Let's take a look at the Best Audiobook Player Apps that are available on the Google Play Store.
Pratilipi FM
Now this audiobook player app doesn't have mainstream books in audio format. However, this has a number of original stories by various creators. Additionally, it features various genres for everyone's taste. One thing to note is most of the content is catered towards Indian listeners. However, as India has a huge English-speaking population, there is tons of English content as well. Apart from books and stories, it also features podcasts like episodes, series and shows as well.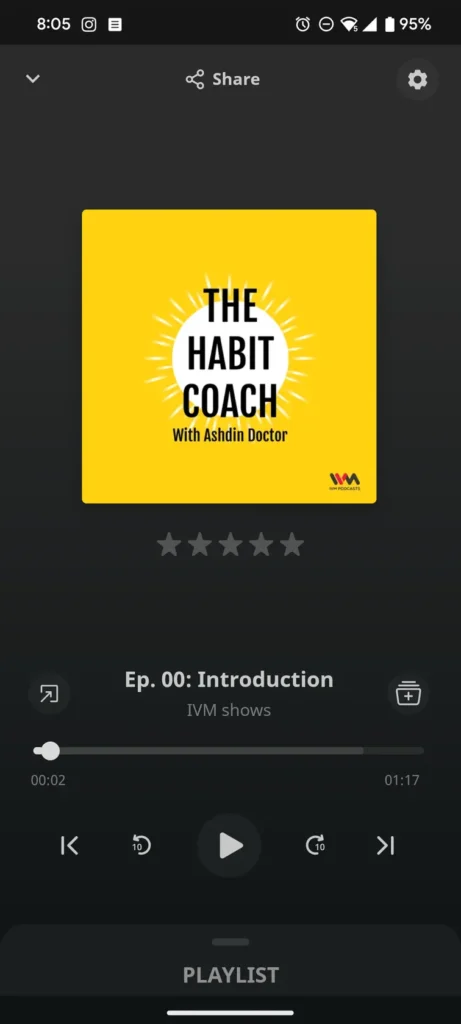 Moreover, this audiobook player app user interface is well-designed and ad-free. The player screen has basic controls with playback speed and a sleep timer. Additionally, we can access the whole audiobook playlist with a swipe-up and even download the upcoming episodes automatically. One surprising thing about Pratilipi FM is that all these features are available free of cost. However, there is a premium subscription for exclusive content too.
Pocket FM – Best Audiobook Player Apps for Android
This audiobook player app is similar to Pratilipi FM as it features a lot of original stories. Additionally, there are multiple genres available for easier access. Also for fantasy story lovers, there is a huge catalogue available. Moreover, the audiobooks have good voiceovers which makes the stories more immersive. One thing to be aware of is that we can only listen to the initial few chapters for free. For the rest, there is a premium coin-based system to read successive chapters.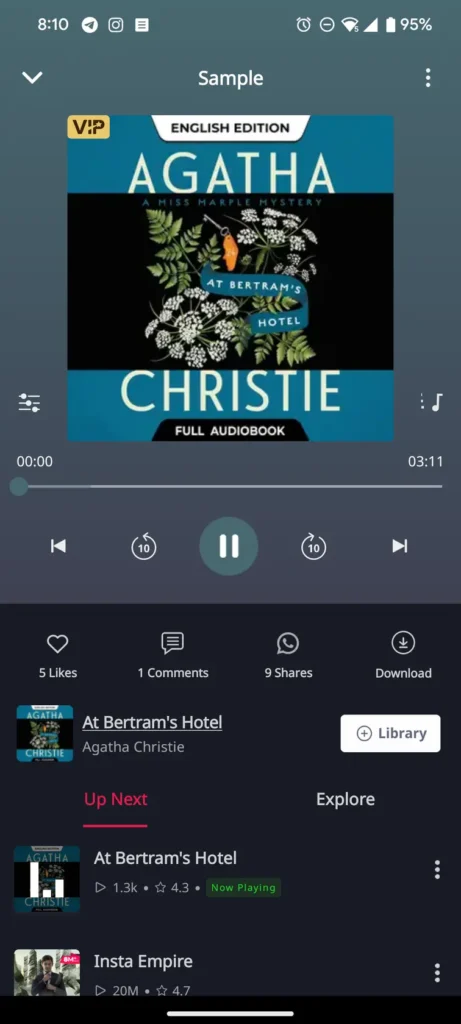 Moreover, to make it easier to select a book there's a top list for certain categories. The player screen consists of the basic controls, sleep timer, playback speed and even comments. Additionally, we can download the audiobook episodes for offline listening. Pocket FM requires an account to use the app and we can even become a writer and upload content. The paid-only content has a huge library with loads of titles from various genres. Overall, for original stories and endless content, this is one of the best audiobook player apps for Android.
Audiobook Player Apps mentioned below will only play the audiobook files stored on your Android smartphone. Therefore, you need to download Audiobooks from websites like Archive, digital book, smashwords, etc.
Sirin Audiobook Player
This is another great offline audiobook player app for Android and is quite similar to the previous one. Additionally, it's much better in terms of design and layout. Firstly, we can manually change the audiobook artwork cover using the built-in tag editor. Additionally, there's an automatic tag extractor that also fills in the book summary and other metadata. For the audiobooks to show up correctly make sure to choose the root folder correctly.  We can split or merge audiobooks and even create custom series to manage audiobooks.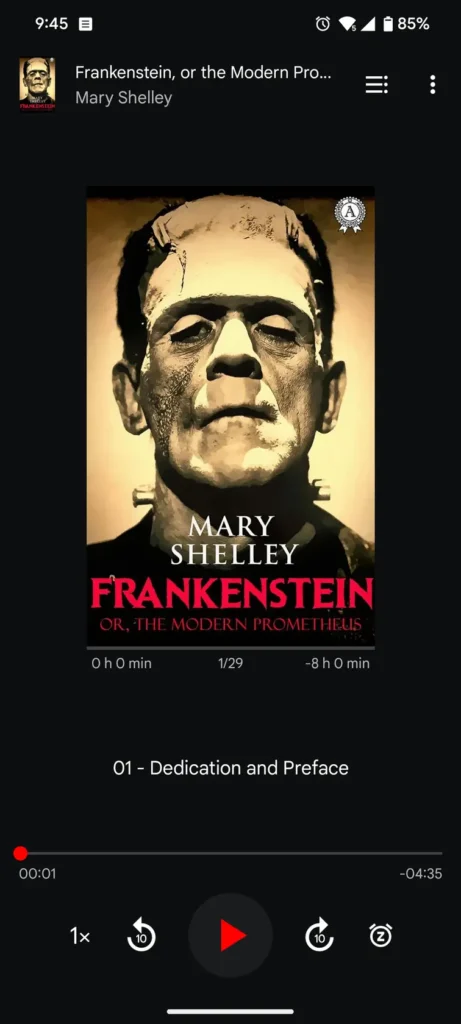 The audiobook player screen looks modern with basic controls and also a sleep timer, playback speed, add notes, etc. The bookmark option also has a note option to easily access any important events later. In the settings, there are advanced options like audio codec, output and player-related options. There's even a premium version that unlocks features like backup, widgets, and audio Equalizer. Moreover, there is a built-in torrent downloader but it has download speed limitations. Overall, a modern-looking audiobook player app for Android.
Smart Audiobook Player – Best Audiobook Player Apps for Android
This offline audiobook player app has a lot of advanced features. Firstly, choose the root folder where you have kept all your downloaded audiobooks. Additionally, make sure all audiobooks are in their own subfolder with proper naming. The app's default page shows all your Audiobooks with separate tabs according to the listening progress (started, finished, etc.). Also, we can manually add an image as the cover for the audiobook if it's blank. You can toggle the view either in the list or grid and also access the playback statistics.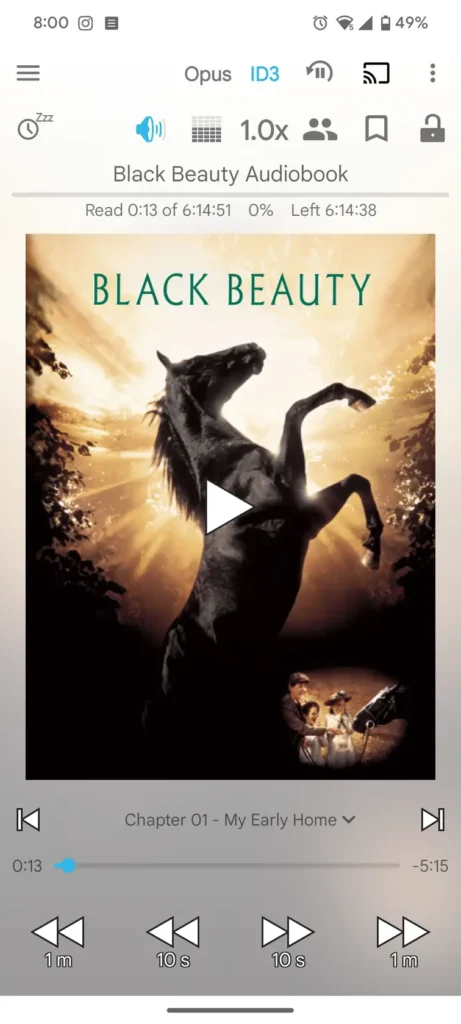 The player screen has a ton of options and features apart from the basic functions. There is a sleep timer, playback speed, and bookmark options. We can even use the cast option to stream using Chromecast-supported devices. Additionally, there is a built-in audio Equalizer and OPUS converter. This helps conserve storage space by converting MP3 audio into a smaller file without losing much quality. Moreover, in the settings, there are some advanced options like shake to wake the device, button layouts, themes and more. Surprisingly all these features are paid in the previous app, which makes it more attractive.
Voice Audiobook Player
Now this Audiobook Player app has the familiar Google's Material You design and changes color dynamically. We can long press on an Audiobook title to access different options like mark as complete, add cover, delete, edit, etc. Also, I found its feature to add an audiobook cover to be the best among all others. Moreover, on the top, we have a book icon from where you need to choose the default audiobook folder.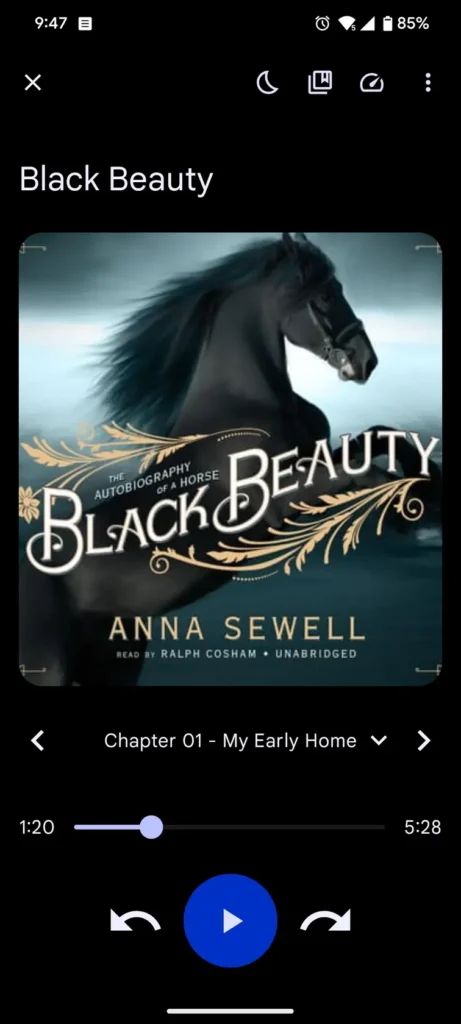 The audiobook player looks minimal and has options like a sleep timer and playback speed. Additionally, we can even boost the audiobook volume and skip the silence part. Navigating between different chapters is easy due to the next and previous buttons and the full chapters list as well. The settings have the option to change the skip and rewind time period. Overall, Voice audiobook player is minimal, easy to use and definitely one of the best audiobook player apps for Android.
Verdict
Audiobook Player Apps make it possible for us to enjoy our favourite books or original stories on the go. For subscription basis usage, apps like Audible, Storytel or Kuku FM are the most popular options. However, apps like Pratilipi FM or Pocket FM consist of many such original stories across all genres for endless entertainment. Additionally, for offline audiobook listeners, we have apps like Smart Audiobook Player or Sirin Audiobook Player that make it easier to listen and manage our audiobook library.