The most important app on our smartphone is probably the web browser. It gives us access to a variety of websites like YouTube, Wikipedia, Facebook, and many more. Additionally, this is where we can search with Google to discover new websites and information. Let us explore some of the Best Web Browsers on Android that are available on the Google Play Store.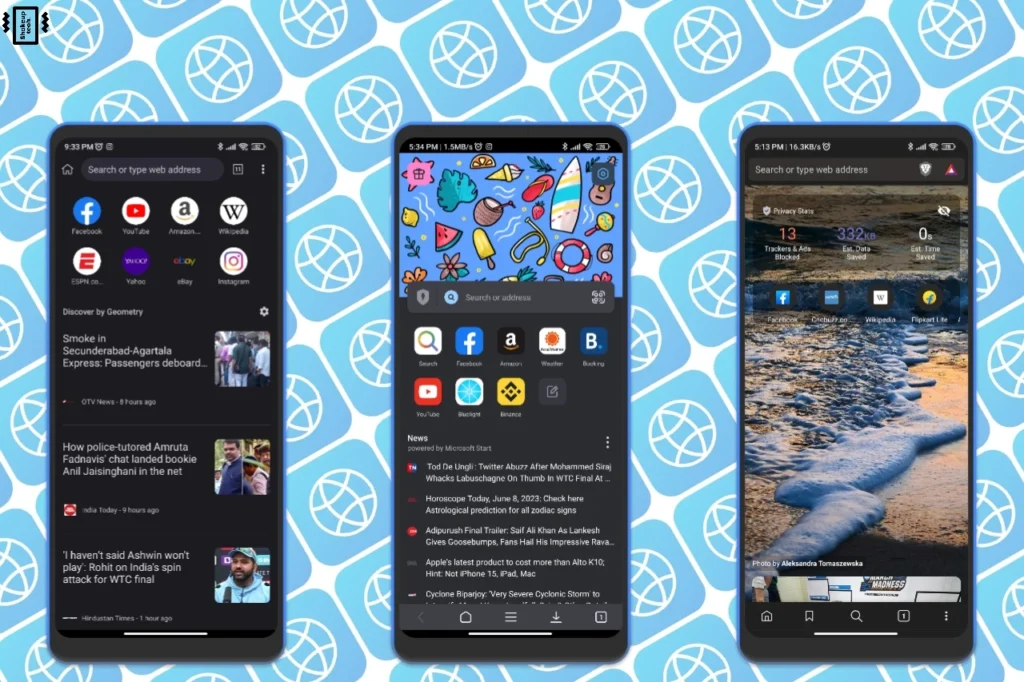 DuckDuckGo Browser
If you're someone who does not trust Google for whatsoever reason then this can be your browser of choice. Firstly, DuckDuckGo is also a search engine just like Google. Additionally, it claims not to use any type of tracker while searching the web. Moreover, it even blocks certain trackers when you visit various websites and this in turn blocks some ads as well. There is even a feature to block trackers for other Android apps as well but it does require VPN access permission.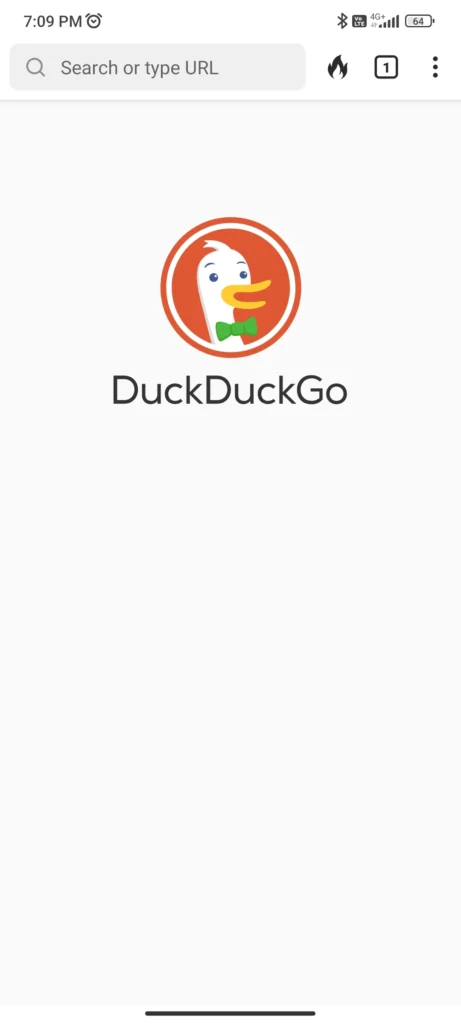 The user interface of the Browser is fairly simple with options for dark mode and different app icons. There is no online syncing feature for bookmarks but we can manually create backups and restore them later. Additionally, we can clear the cookies and trackers with one tap, and that too with a cool animation. Overall DuckDuckGo isn't a typical web browser and is only suitable for those who are extremely concerned about their privacy.
(Download)
Web Tracking is a practice by which some websites collect, store, and share users' online activity. This is mainly used for targeting various ads according to the user's profile.
Kiwi Browser – Best Web Browsers For Android
This web browser for Android has recently gotten a lot of attention. The reason for this is that Kiwi Browser supports Chrome Extensions. Moreover, these Extensions provide a unique way to boost your Browser capabilities. For example, Grammarly is a very popular Chrome Extension and it can help in proofreading your documents. However, not all Extensions will work on the mobile version.
Kiwi Browser is based on Chromium, which is the same as Google Chrome as well. Additionally, we get some unique features and some old ones too which were removed in Chrome. Features like the tab switcher, night modes, toolbar, languages, and more. Most of the other features are very similar to that of Google Chrome, excluding the Google account sync. Overall, Kiwi Browser brings Chrome Extensions to Android phones which can be utilized for better internet browsing.
(Download)
Aloha Browser
While all the other web browsers for Android offered a similar look. This browser is a unique one as its user interface is quite fascinating. Moreover, the home page has a news feed with various categories. Aloha also offers Crypto currency services like a  Crypto Wallet for those interested. Additionally, there's a premium service that includes VPN, themes, parallel downloads, and some file management services.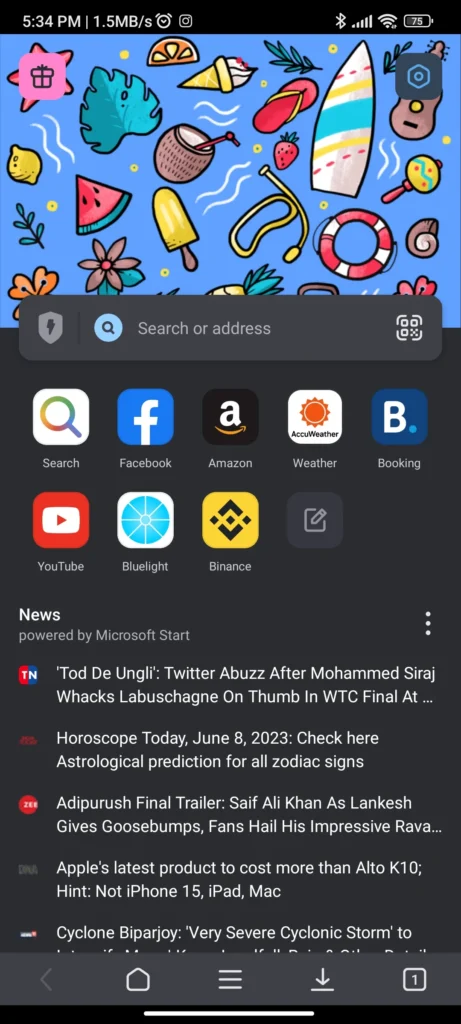 However, for privacy, we get ad-block and password lock features. We can even clear cookies, cache, and history with one tap. I would recommend that you disable the ads and data collection options from the privacy settings. The app's performance is quite smooth and easy to use with nice animations. Additionally, we can sign up with an account to sync our data online. Overall, because of its unique looks and good features, Aloha is definitely one of the Best Web Browsers for Android.
(Download)
Firefox Focus – Best Web Browsers For Android
This browser from Mozilla is specially designed for privacy and productivity. Firefox Focus has a plain user interface with just an address bar. Additionally, in the settings, we can lock the browser with our biometrics. Moreover, there are multiple options to block various trackers and cookies on websites. I'd recommend that you disable the data-sharing option from the Privacy settings.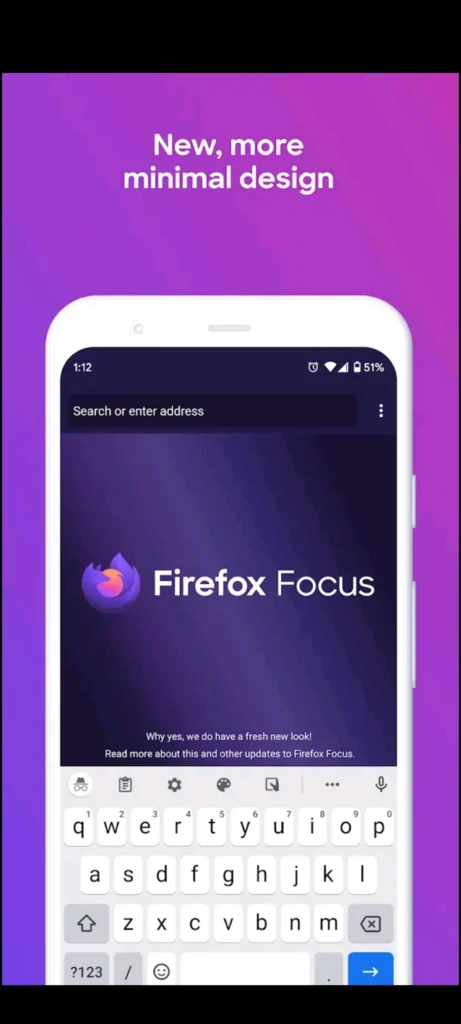 Firefox Focus does not allow to capture screenshots. So I have attached the images from the Google Play Store page.
While browsing a site we can add the shortcut to the home page or even the phone's home screen. We don't see many options as we've seen in the previous web browsers for Android. However, the app is fast and responsive and does what it claims, which is to put your privacy first. Definitely, Firefox Focus is one of the Best Web Browsers for Android.
(Download)
Brave Browser
This is one of the fastest-growing web browsers for Android and Windows as well. Brave Browser is based on Chromium-like Kiwi Browser but the design and layout are vastly different. The browser is mainly popular because of its fast loading times, which it achieves by blocking various ads and trackers. Here we get multiple options related to cryptocurrency, like Brave Rewards and Brave Wallet. Additionally, we have a premium subscription for Brave Firewall and VPN for anonymous browsing.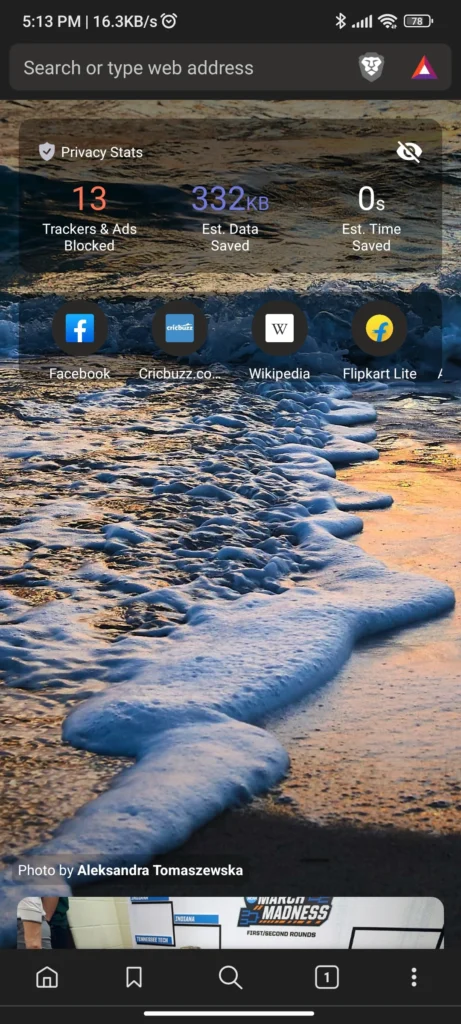 Moreover, there's Brave News which has tons of news topics and interests. All of these News topics will appear on the home page. Additionally, to sync our bookmarks we can use Brave sync but it requires Brave browser installed on another Android or Windows device. We also have some options and features that are similar to Google Chrome. Overall Brave Browser is one of the best alternatives for Google Chrome and also one of the Best Web Browsers for Android.
(Download)
Opera GX Browser
This browser is also called the Opera Gaming Browser as the main focus here is Video Games. On the home page, we get multiple HTML games that we can easily play online. Additionally, we can watch Game trailers and track new video game releases as well. Opera GX has an option called The Flow, which can sync notes, links, and images from your phone to your desktop.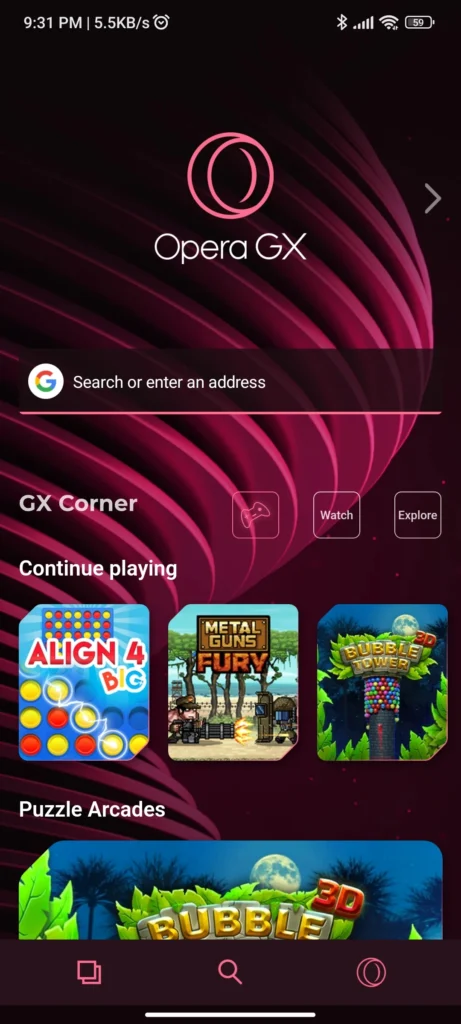 Additionally, there are multiple theme options and we can add our own wallpaper as well. We do get options like ad blocks, crypto mining blocks, and cookies settings. The app's performance is smooth with fluid animations. Additionally, the loading speeds for websites are fast and we can directly save the webpage as PDF. Overall Opera GX offers a unique gaming design with smooth UI and even connects with the PC. Definitely, one of the Best Web Browsers for Android by Opera.
(Download)
Google Chrome – Best Web Browsers For Android
Chrome Browser comes pre-installed on almost all Android smartphones. It's almost like Chrome has become the default browser for Android smartphones. Moreover, it is also based on Chromium and is available on multiple platforms. I also use the Chrome Browser on Android as well as Windows as my browser of choice. Mainly because it uses the Google account to sync all the bookmarks and passwords. This eliminates any use of third-party service for a password manager or manual bookmark syncing.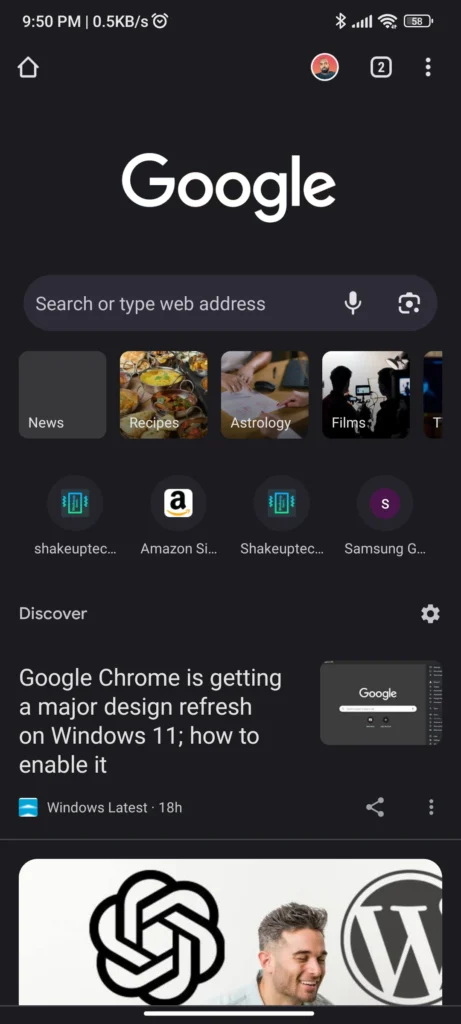 Additionally, it has the Google News Feed and Discover Feed right on the home page and it is catered to our interests by default. Moreover, while signing up on a website, we can easily create a strong password using Chrome's auto-generate option. Google even offers Enhanced security features like Safe browsing, Secure DNS, Privacy sandbox, and more. Additionally, we can easily see our recent tabs for not only our phones but for desktops as well. Overall, if you have no issues with Google, then Google Chrome is definitely one of the Best Web Browsers for Android.
(Download)
Which Best Web Browsers For Android To Choose?
Web browsers are probably the most popular Android apps as they are our window to the world of the Internet. However, this is also the place where we share the most sensitive pieces of information such as passwords and credentials. It is of ultimate importance that we choose the Best Web Browsers For Android for the best experience and security. Google Chrome is by far the most trusted and downloaded Web Browser on the Google Play Store. However, if you don't trust Google or are highly concerned about your privacy then you should consider one of the Web Browsers for Android mentioned above.