Time To Read: 5 Mins
We all have a lot of personal documents that are extremely important to us. It could be our mark sheets, certificates, diplomas, identity cards and so much more. It's always best to keep a digital copy of these documents on our smartphone for emergency purposes. Let's explore some of the best scanner apps for Android that help create digital copies of your documents.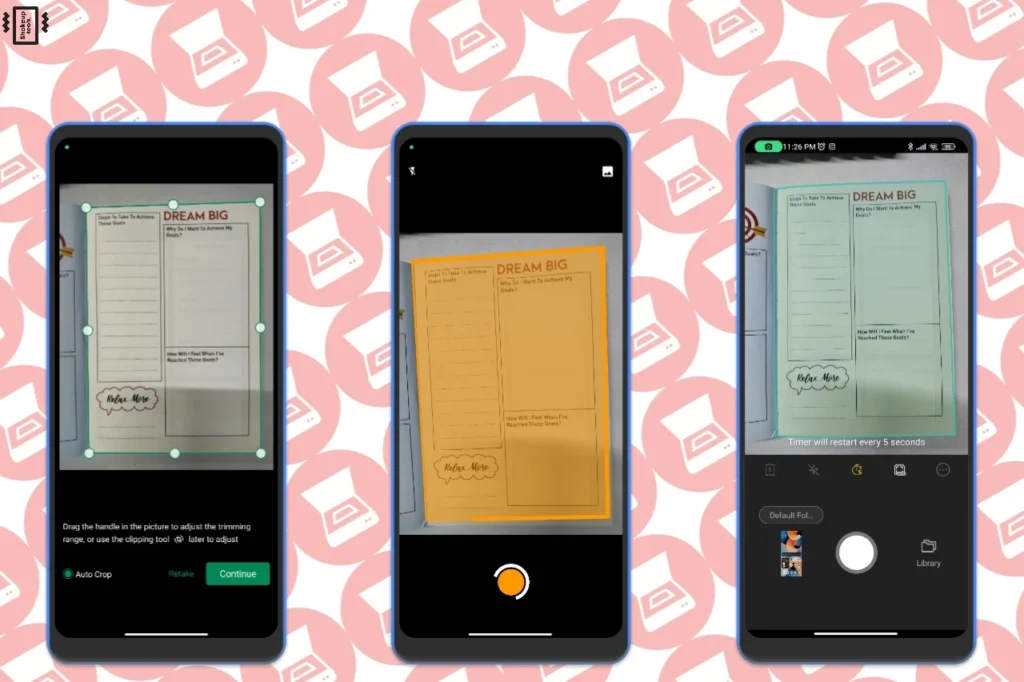 Oken Scanner
This is one of the many similar document scanner apps available on the Google Play Store. There is CamScanner in its name, which was banned in India a while back. Anyways, this app has good scanner features. Although, a lot of the features are behind a paywall. Furthermore, the user interface is ad-free which is appreciated.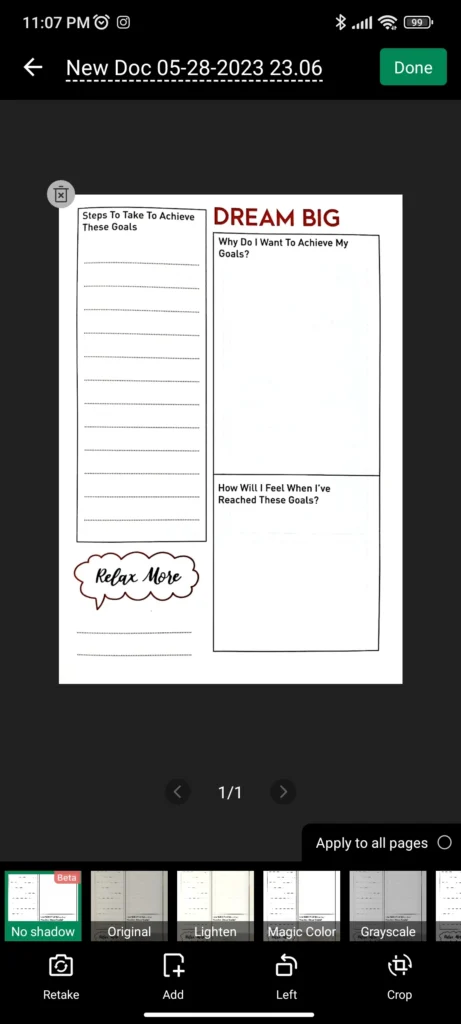 We have the option to scan documents, for which it automatically detects the edges. The scanned copy is clear with no shadow or glare. Additionally, we can scan id cards, both front and back on a single page. Lastly, we can even scan a book or notebook with its dedicated book scan mode. Other than these, all the features are paid and it prompts you to subscribe to the plan. But overall the scanning options are available to use and work well.
(Download)
Adobe Scan – Scanner App For Android
This scanner app needs no introduction and reason as to why it's one of the best scanner apps for Android. The user interface is minimal and easy to understand. Additionally, with an Adobe account, we get 2GB of free cloud storage. So, all our document scans and digital copies are easily accessible everywhere.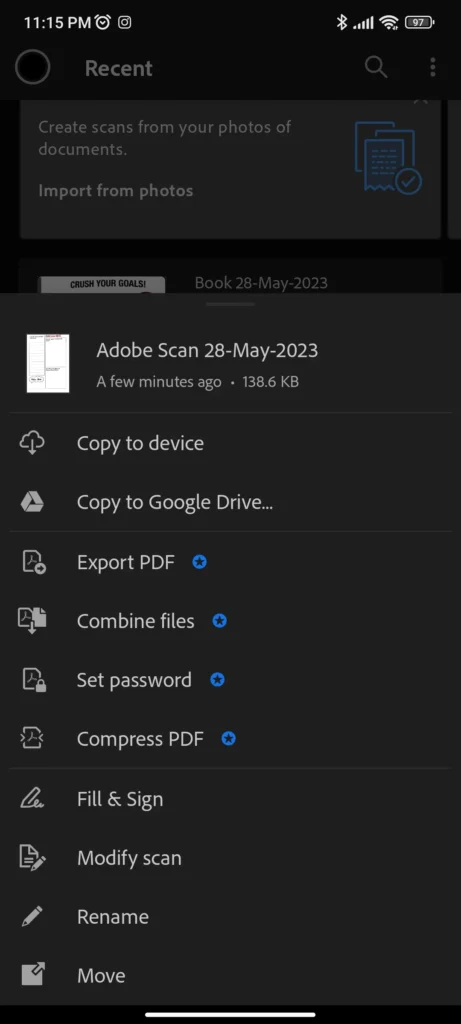 Adobe Scan provides an option to auto-scan documents, id and business cards, books, and even whiteboards. The result scanned copies are very clear and we can even further edit them with the advanced options. Whiteboard scan is useful for students attending lectures and classes. Also, it can look for and scan for QR codes. Additionally, there are no ads in the interface. Overall a great scanner app for Android which is trusted by millions.
(Download)
Microsoft Lens
Microsoft is best known for its Windows and Office software. Their scanner app "Microsoft Lens" is a great feature-packed scanner app for Android. The user interface is similar to the Adobe Scan app. Additionally, we need to sign in with our Microsoft account to take full advantage. We have advanced scan options like extracting tables, contact and even reading aloud the scanned texts. Although the execution of these features is a hit or miss.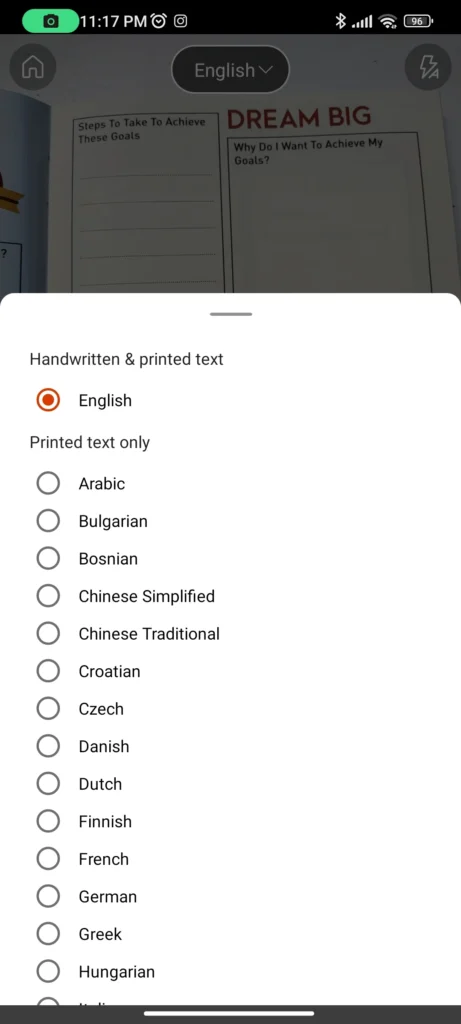 The features of the app include scanning documents, id cards, books, whiteboards, and QR codes. Surprisingly, we can take normal photos as well. There is even an OCR built-in which requires an account to work. This feature is mostly paid for in various scanner apps. Overall, the app offers a combination of features and functionality for free. Definitely one of the best scanner apps for Android.
(Download)
vFlat – Scanner App For Android
This one has become a quite popular scanner app for Android. Mainly, because of the clean, minimal, and ad-free user interface. Moreover, we can create backups to the internal storage. For documents scan, we can scan single or multiple pages.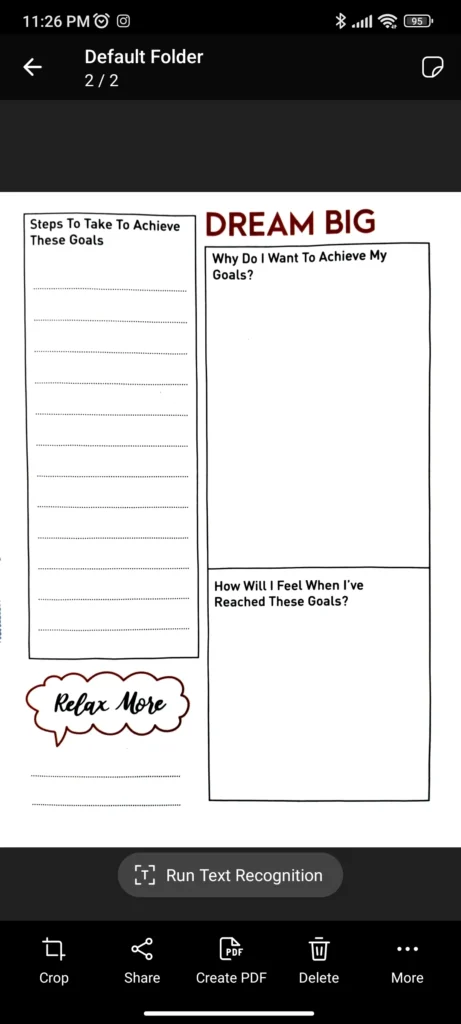 However, we don't see additional modes such as an id card or whiteboard. Additionally, we get smart features like auto-finger removal and enhanced colors. There are options like OCR, create a ZIP file and TXT file but they require a premium version. Overall one of the best scanner apps for Android with a clean and smooth UI.
(Download)
Genius Scan
Honestly, when I first opened this app, it didn't impress me. However, once you put a document in front of it then the app gets to work. Surprisingly, it automatically detects the document and its edges accurately and better than most scanner apps. On top of that it even removes the light glares and the scanned image is clean and clear.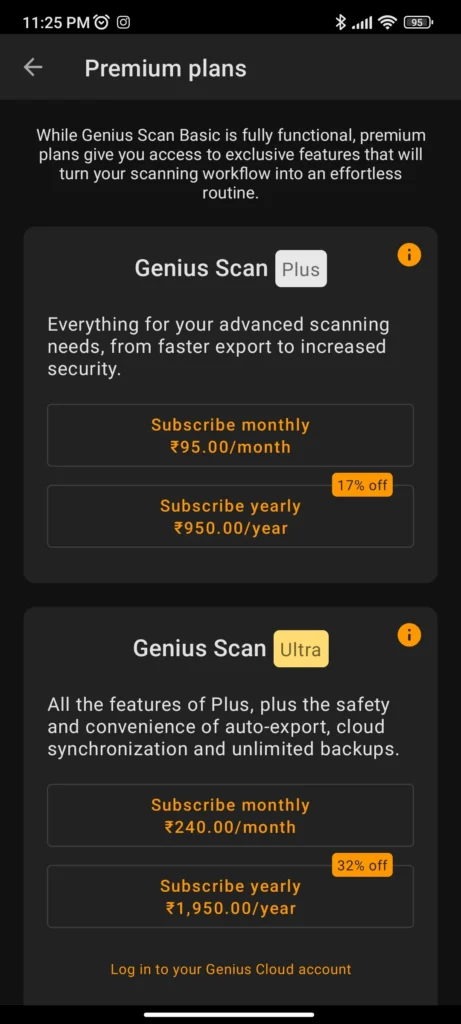 Moreover, we can scan documents of images already stored on our phones. There is also an option to create backups and even online backups. But the online feature requires a paid plan, also for the OCR functionality. Overall Genius Scan provides an ad-free experience for scanning documents. Definitely one of the best scanner apps for Android.
(Download)
(Bonus) Best Scanner Apps for Android
Google Photoscan
This scanner app made by Google is quite popular but not for document scanning. Actually, this app is made to scan older photographs to create a fresh digital copy. It has a glare removal feature which works really well even with a camera flash. Although I wouldn't recommend it, you can use it for scanning documents as well.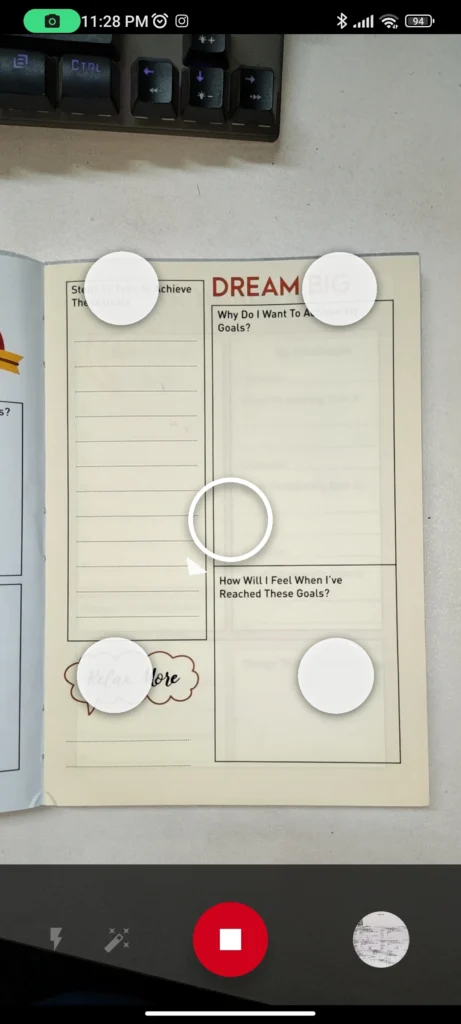 Moreover, It does a great job with the corners of the photo. After clicking the photo, we need to align the edges as shown virtually on the screen. It uses the phone's gyroscope sensor to align and auto-click the photos. Furthermore, we can manually edit the corners later as well. Overall, it is unique and one of the best Photos Scanner Apps for Android.
(Download)
Google Lens
Again, this isn't a typical document scanner app for Android. However, Google Lens can do so much more using its advanced algorithm. Firstly, we can click a picture of a document and easily extract text just like an OCR. Additionally, we can translate texts directly from the viewfinder in real-time which comes in handy while traveling abroad.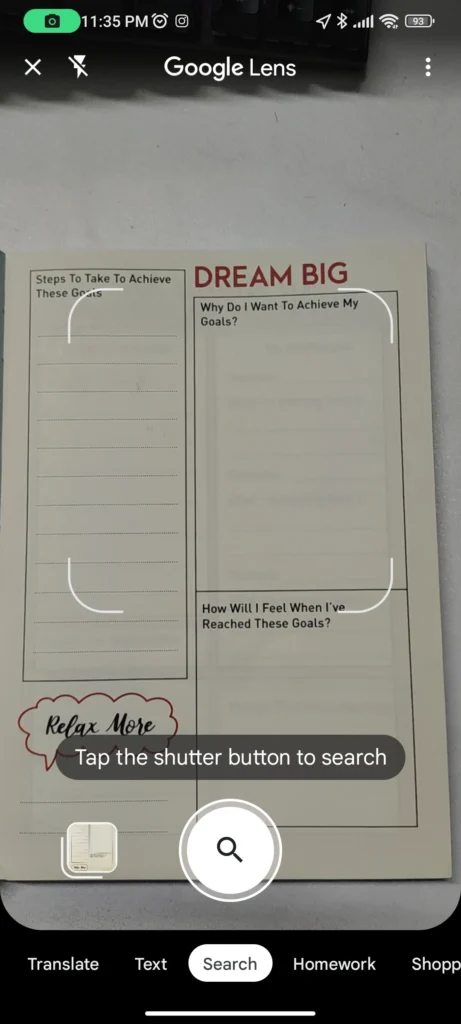 Moreover, it can identify plants, food, places, and more. We can even shop for products by scanning their barcodes or pictures. Another unique feature is how it's able to solve math questions just from a picture. Google Lens comes pre-installed as part of the Google app on almost all Android smartphones. Make sure to use this amazing app as it can help simplify our daily life.
(Download)
Verdict For Best Scanner Apps For Android
So those were my list of best scanner apps for Android. Remember I've tested all of these apps and have included them based on my experiences. Additionally, all the apps are free to use with an optional paid version. Moreover many smartphone brands like Xiaomi, Vivo, etc ship with a document scanner built-in the camera. If that is fulfilling your needs as a document scanner then there is no need to install 3rd party scanner apps from the Google Play Store.
Lastly, I would suggest you choose 3rd party apps carefully and only provide the necessary permissions. If you think an app is asking for unnecessary permissions, then deny it and see if the app works normally or not.