Changing weather is beautiful but it can be scary at times. Change in weather is unpredictable and may have a negative impact on your daily life. It's always a good idea to keep track of the weather around you. Let's check some of the Best Weather Apps for Android available on the Google Play Store.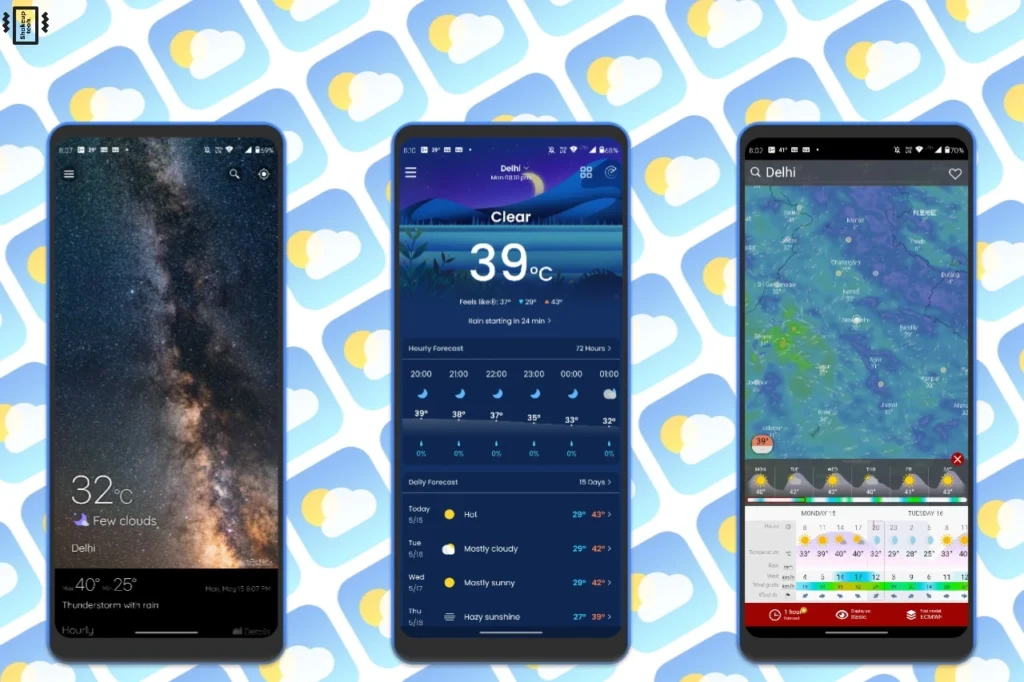 Weather App – Weather Widget for Android
There are a lot of Weather Apps that are quite similar but I've chosen the ones that offer the best features and functions. For example, Weather App has a clean-looking interface. The background image is dynamic and keeps changing according to the weather. Moreover, we also have an animated background option which looks really good. In addition to that we can change the weather icons and the various weather widgets as well.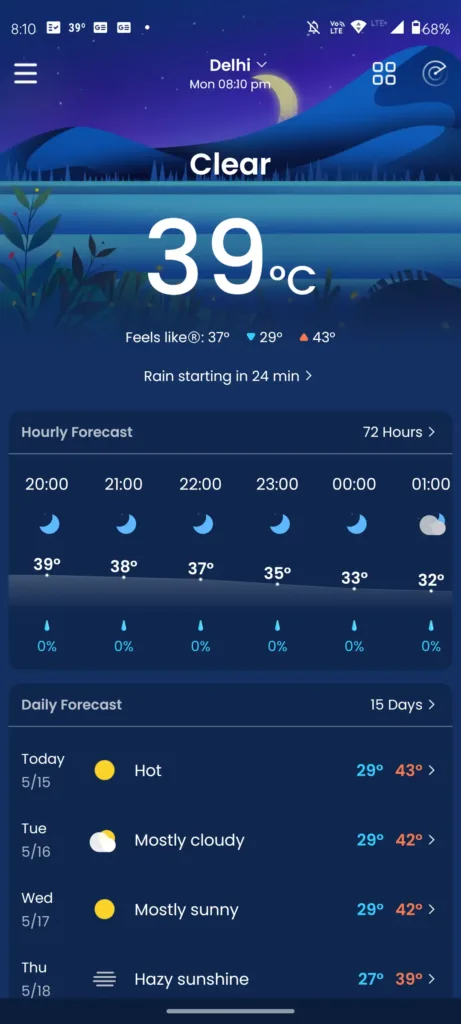 Coming to the Weather information, we can see all the required details about the temperature, air, humidity, sunset and sunrise time, moonrise, and moonset with moon phases. Furthermore, it has a Hurricane tracker and various Radar and Weather Maps as well. In addition, we even see Weather Indices that show the weather summary for different activities. Lastly, it shows the Dust and Dander report for outside.
The Free version contains Ads, with full-screen ads sometimes. We see options for Premium upgrades with added features. Overall a nice and simple Weather App, offering a nice set of features. Definitely one of the Best Weather Apps for Android.
Windy.com App – Weather Forecast for Android
This weather app is not just for simple individuals but also for the professionals like pilots, paragliders, surfers, fishermen, and more. The details and information it provides are unmatched by any other weather app. We can of course see the local weather reports and the basic details about the wind and rain. Additionally, we have more than 50 weather radar maps available of the entire world.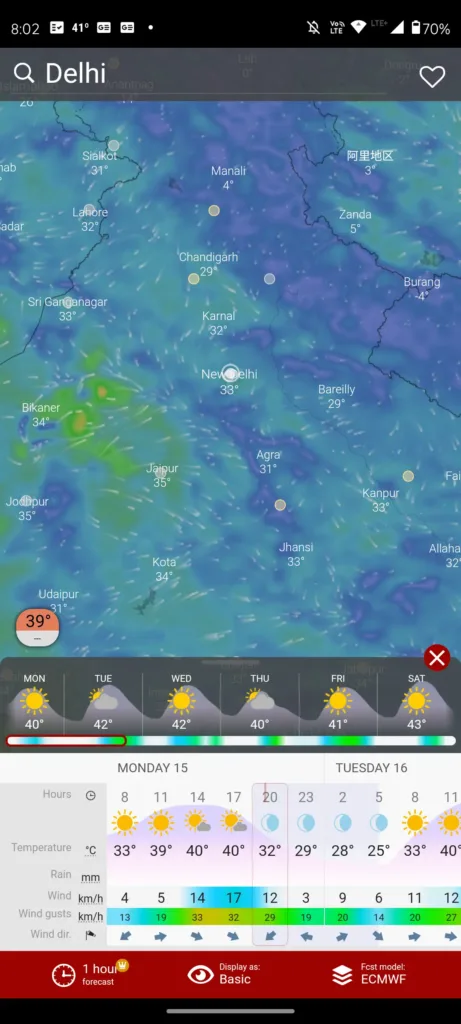 This expands your curiosity about not just your local weather but the whole world. Moreover, we can see the map about the wind, rain, clouds, air quality, waves, and many more. All these maps are animated and highly detailed. In addition, we have a hurricane tracker, which is extremely useful for emergencies. We also get different widgets with radar options as well.
The app has a Premium version with even more features but even the Free version shows no ads and is enough. Windy.com provides accurate information in the most unique way, which makes it one of the best weather apps for Android.
All the Weather Apps mentioned comes with Multiple Home Screen Weather Widget.
Weawow – Weather and Widget App for Android
The name is a little strange but they mentioned that you'll say wow every time you open the app. That is because instead of just texts and information, we see beautiful photos of the sky and nature. Furthermore, these images are updated with the weather around you and are clicked by real people. Additionally, we can even post our pictures on their platform and then it can show up in the app.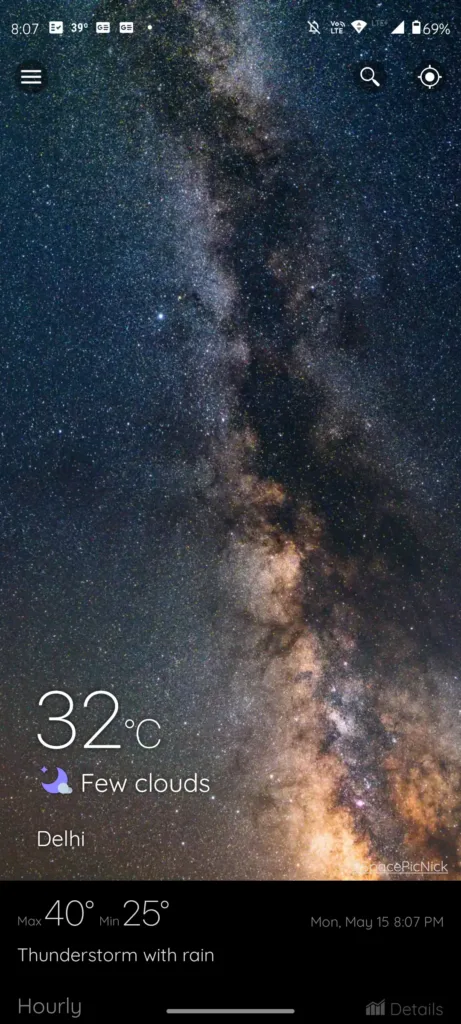 Coming to the weather information, we get to see all the details regarding the temperature, air, rain, sun, and moon timings. In addition, the details are provided in a very simple manner that makes it easy to digest. Additionally, we have a radar weather map with the wind directions. We can even change the Weather Providers if we want more accuracy.
The app is Free to use with No Ads, although they do accept donations from the users. The app also features a variety of Weather widgets to customize the home screen. Overall, the clever design and unique approach make Weawow one of the Best Weather Apps for Android.
What a Weather App for Android
This is definitely one of my favorites on the list. You can know the reason as soon as you open the app. Like Weawow Weather App, the app has beautiful background animation instead of just text. Moreover, the background is interactive and changes from day to night as you swipe across.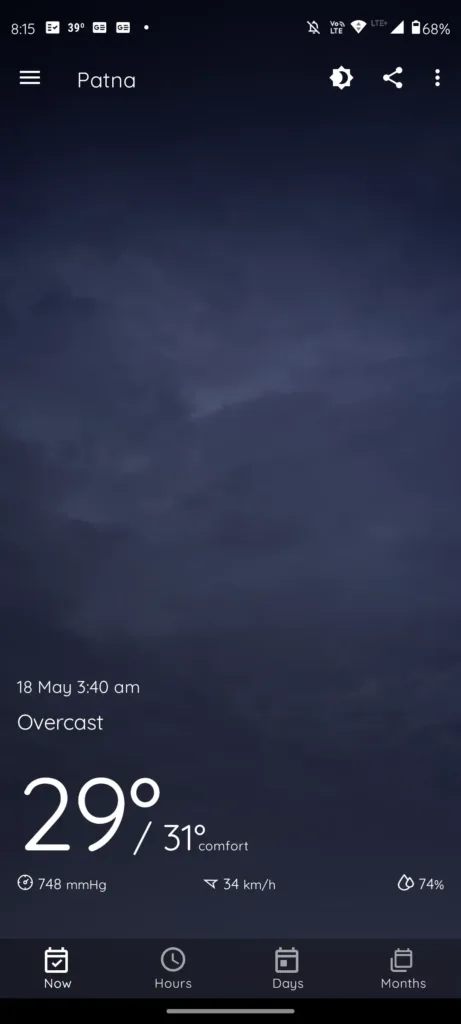 For weather reports, we get minimal information like wind, pressure, and humidity. Additionally, we can switch between hourly, daily, and monthly weather reports. There is a visual and interactive interface for Sunrise and set with Moon phase information. 
The app is Free to use with No Ads in the interface. Overall What a Weather is beautifully designed with great interactive options. Definitely one of the best Weather Apps for Android.
Weather Apps for Best Accuracy
For some of the apps mentioned, we don't see the weather provider name. We do see the option to change the weather provider in some apps but not all. If you want the most accurate weather information then you should try these apps.
AccuWeather App for Android
AccuWeather is a popular weather provider, many apps use it as their information source. Furthermore, even big tech companies use it in their weather apps or services. It also has its own app with a fairly good design. As I mentioned before, if you just want to know the weather with accurate reports then this can be one of your choices.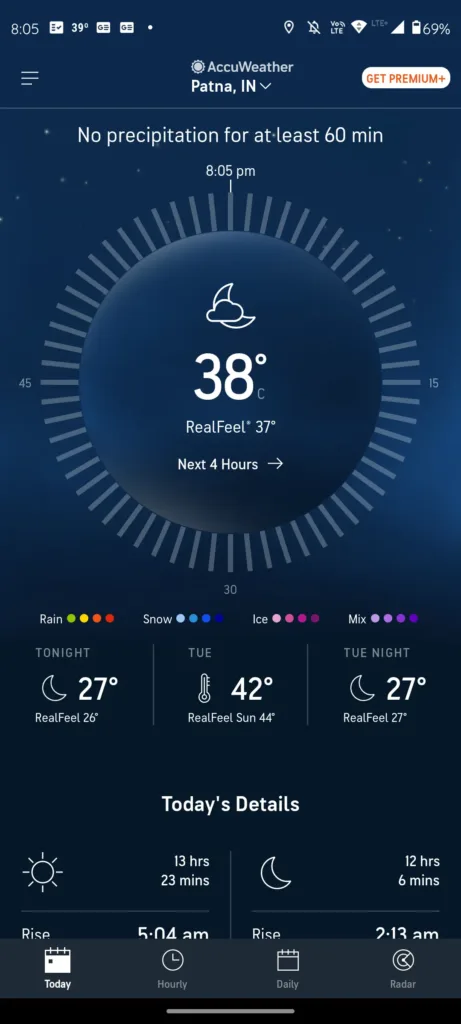 The interface is quite simple showing the temperature, wind, rain, Sunset/Sunrise, and Moonrise/Moonset timings. Additionally, you can check the air quality index and ratings with Dust and Dander reports as well. The app provides weather reports on an hourly or daily basis. Another great feature is the various weather maps and radar. 
The app is Free to use with minimal ads and a Premium upgrade option. Overall because of its trustworthiness and no-ads interface, AccuWeather is definitely one of the Best Weather Apps for Android.
OpenWeather App for Android
This is another trusted source of weather reports by many companies and apps. The user interface of the app is even more simple than that of AccuWeather. From the screenshot, you can see we have only the weather-related information. There are no radar or weather maps or air quality reports. You can add multiple cities to track their weather.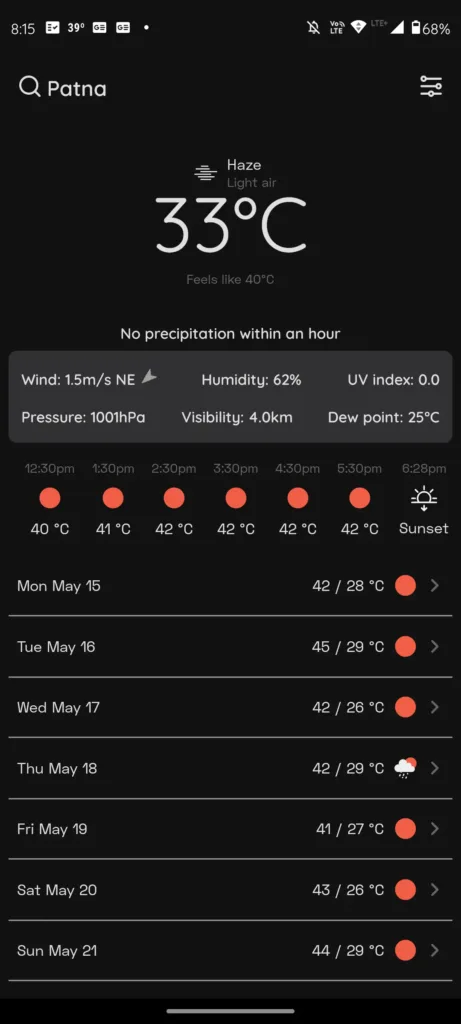 Additionally, the app is Free to use with no ads in the interface. There is no premium plan for more features and functions. OpenWeather is perfect for those who just want simple and accurate weather reports.
Final Thoughts + Bonus App
So there it was the Top Picks for the Best Weather Apps for Android. I would highly recommend choosing an app that fulfills all your needs as keeping multiple of them can slow down your device. on the newer Android version, we already have Google Discover with the Frog Weather. It shows the basic weather information and eliminates the need for an additional Weather App.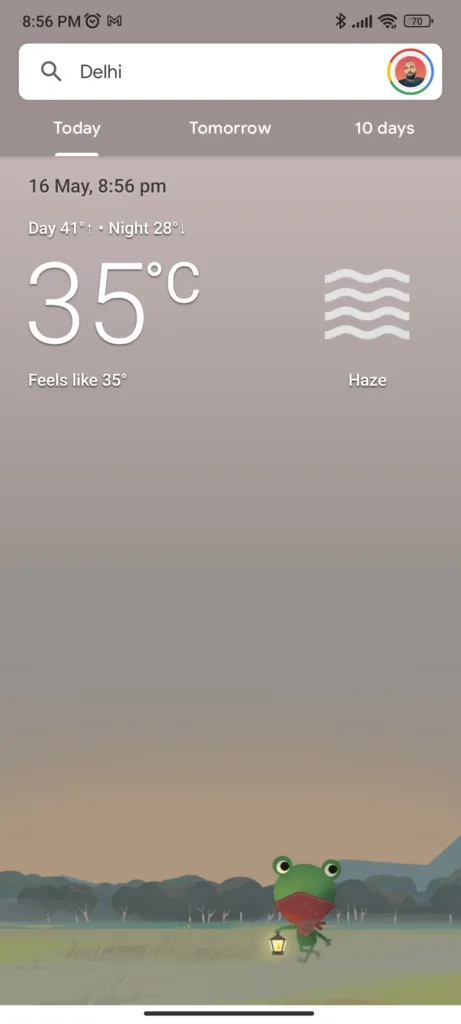 The app's weather provider is weather.com and is fairly accurate. We get multiple days' forecasts with wind, humidity, pressure, and more information. The main highlight of this particular weather service is the mascot called Froggy. It gives a new character to the boring weather apps and is fun to look at. Froggy changes appearance according to the weather and so does the background.