On PC to download various media we have download managers like IDM and Eaglenet. But what if all the features of this software can be found on Android as well. Yes, there is a download manager app that can make it possible. It comes with tons of features and some of them are extremely advanced. Let's start…
Best Download Manager for Android!
IDM For Android
This app was previously called IDM but it was recently rebranded as 1DM for copyright issues. That does not change its core features. It is a highly advanced download manager and torrent client. It supports fast downloads with pause and resumes functionality. Let's dive into the app's interface and features.
When you open the app you will see a blank area with various options on the top panel. The first one is the search option, then there's a sort by option after there is a browser icon which we will talk about later. Then we have a magnet icon for torrents and a three-dot menu. The menu has further options like an Action menu. It comprises actions for downloads like Start, pause, select, remove, etc. These are usually helpful when downloading in batches. We can easily manage all the files from here at once.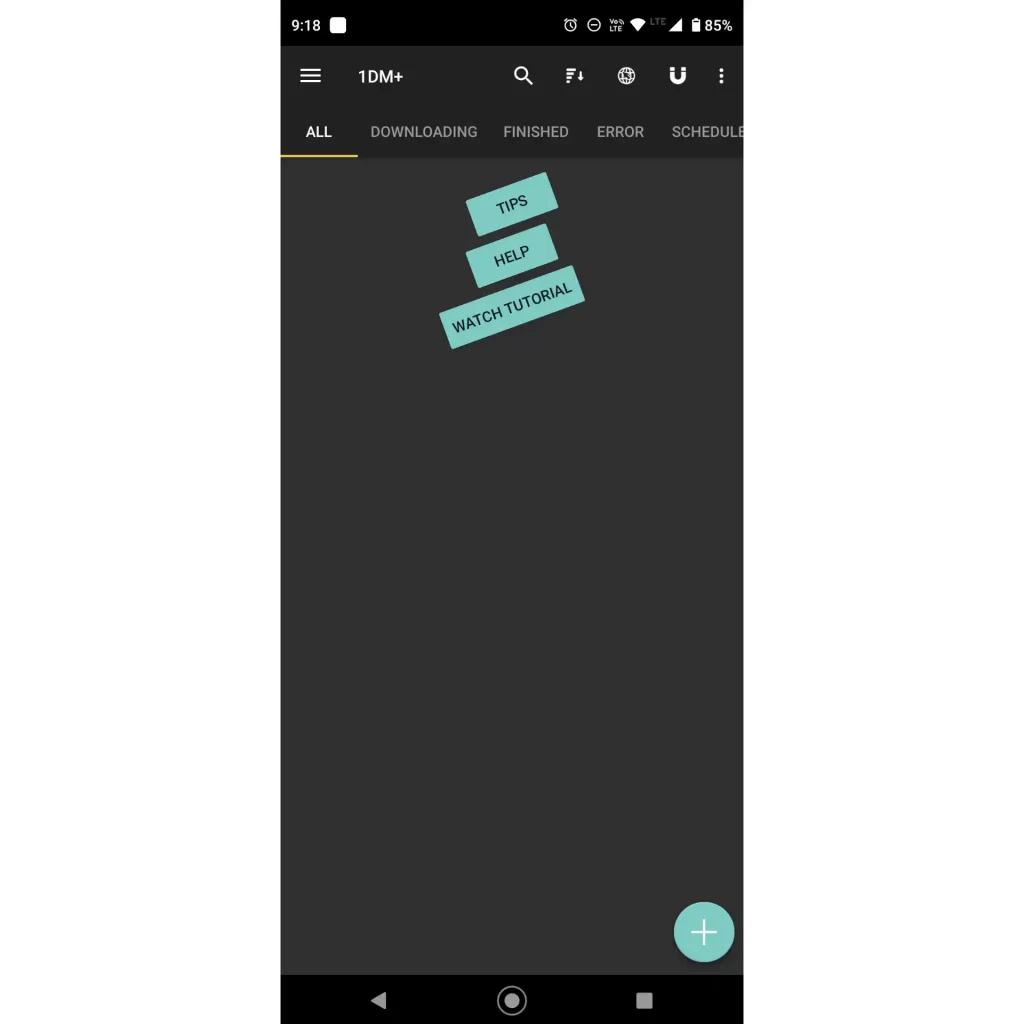 Additional Features
After Actions, we have Other Stuff, which has random features list under it. The first one is the Preview video which can preview a partially downloaded video. Under that we have batch download, from here we can add a website link that contains multiple media files and this will automatically add them to the list of downloads. so we do not need to add them manually every time. Next, we have Export data from here we can export all the app's settings and list to an sd card. Your history, tabs in browsers, bookmarks, passwords, and different complex settings, all are backed up safely. Next is Import data, so if you have a previously backed up 1DM file you can import it from here, so all the settings are applied automatically.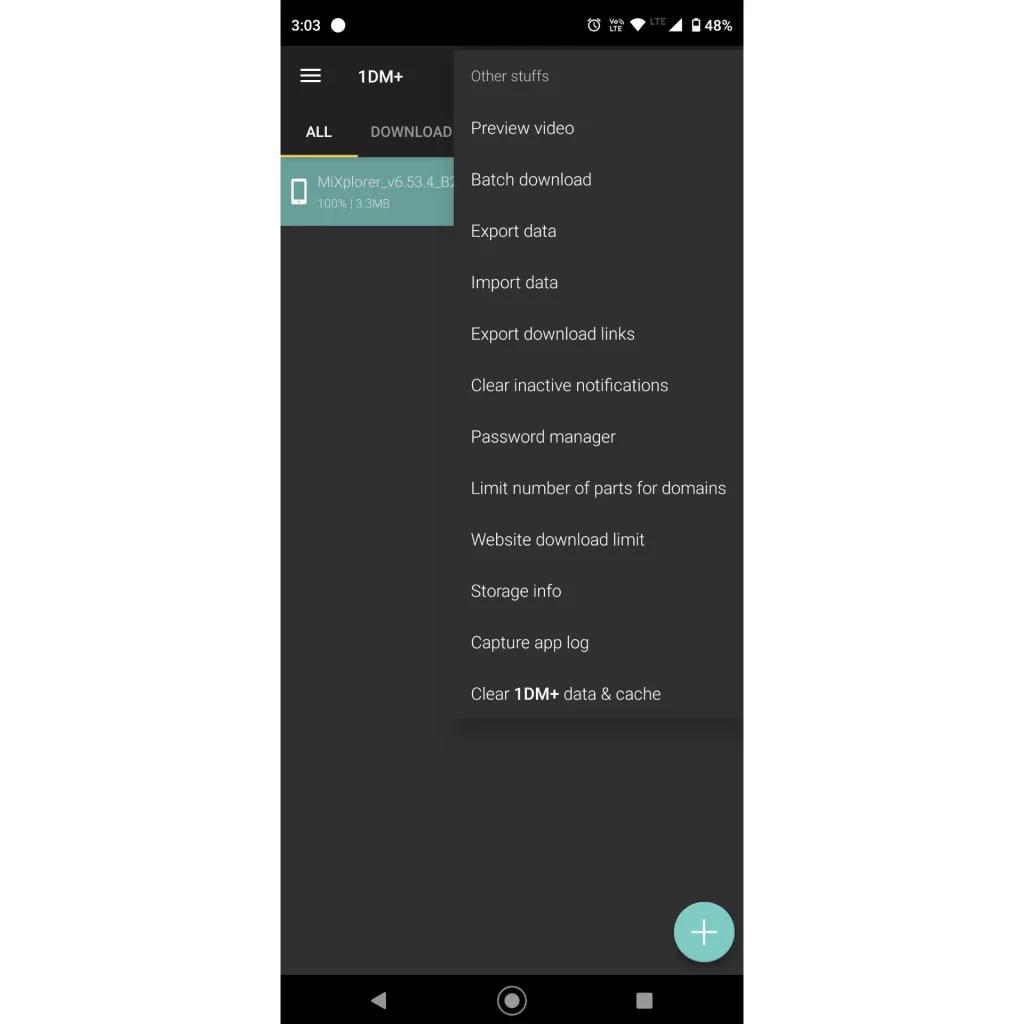 This download manager also features a Password manager. You can save the website address and the username and password for it. It will save this information and can auto-fill them next time you visit those sites. A really helpful feature we use in the Google Chrome Browser. After that, it has a storage info option as well. We can see the internal storage information but along with that it also shows the system space information. Lastly in the Other Stuff, we can delete the 1DM data and cache if we face any crashes or issues.
What makes 1DM the best download manager?
Media Grabber
We can set the location for all the downloads from the three-dot menu. Below that there is a Grabber option. This is a pretty advanced option. It can grab all the media content from a website page. You have to enter the website URL which has any form of media. It will then scan through it all and try to grab every image, song, or video file it can find. Then after it is finished scanning we have the option to manually select the file we want to download. Or we can select it all and download it at once. This is very helpful if we want to download a lot of images from a particular website. We can also uncheck the type of file we don't want to grab. So it will only scan and grab those files of specified extension or type.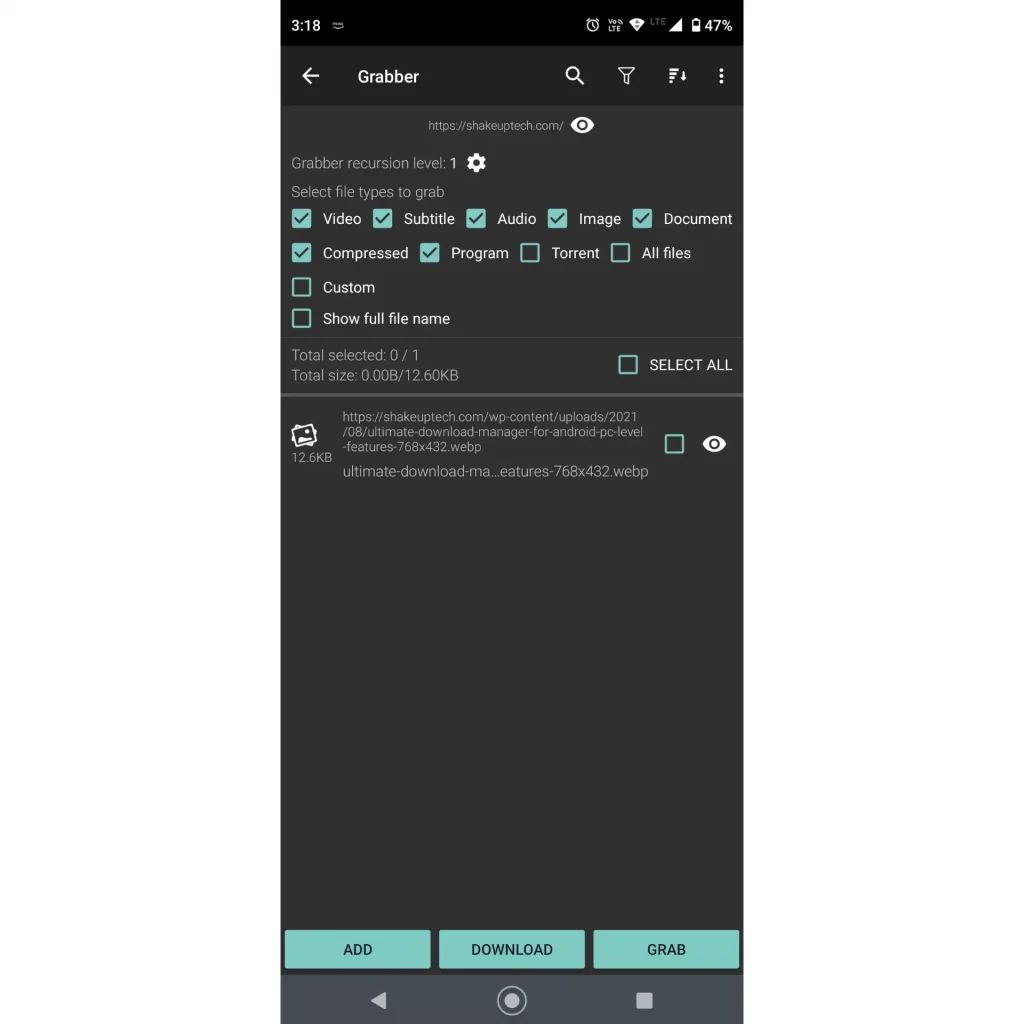 Torrent Client
1DM has a torrent client built-in the download manager. It can download using torrent files to magnet links. You can open the magnet link and this will auto recognize the link and show the metadata of the file. You can view the download location and size of the file. This makes it very easy to manage all your downloads as there is no need for a separate torrent downloader.
App Settings
When we swipe from the left we can see the sidebar menu. This has a lot of settings and other features. The first one is Type and it has all the downloads categorized in different groups. Like Torrents, Compressed, Documents, Music, Videos, Photos, and Others. It makes it easier to browse the different files we have downloaded.
Download settings
In this option, we can set the download location. We can set the number of simultaneous downloads. You can have up to 30 files downloaded at once. Next, we can set the number of parts for download. 1DM splits the file into parts to speed up the download. By default, the downloads are split into 8 parts and can be increased up to 32 parts. Beware that increasing the parts can affect the battery life and can cause heating.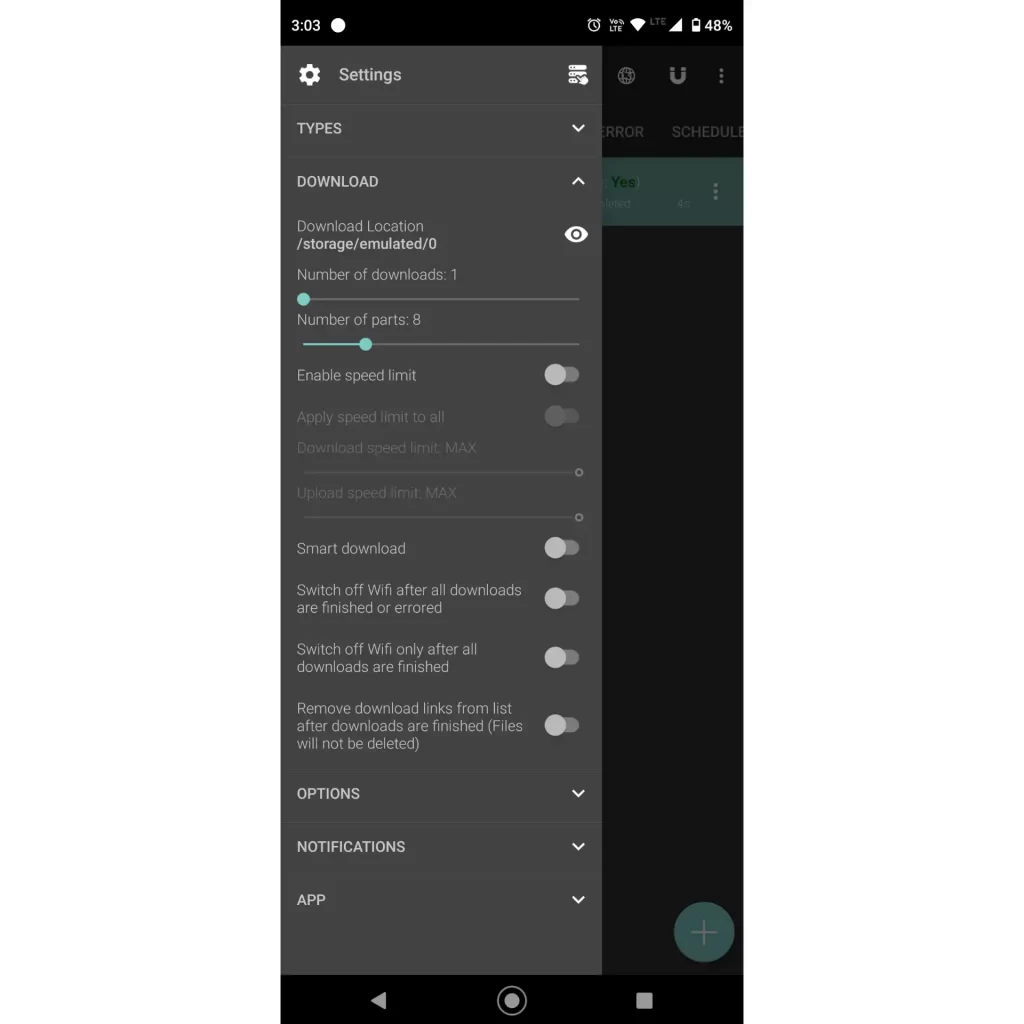 If you have a limited speed data plan speed then you can enable the speed limit from the settings. We can set the upper-speed limit for download and upload at up to 10 MB/s, after that it goes to maximum. Similarly, we can set the lower limit for download speed at 8 KB and upload speed at 1 KB. After that, we can enable the smart download toggle. This automatically captures the download link from the device's clipboard and opens the download pop-up window itself.
There is a toggle to automatically shut down the wifi after the download has finished. This can help to save up the battery. We can also enable the option to delete the downloaded links from the list to clear the interface. This will not delete the actual files.
Best Download Manager for Android!
Various Options
Here we can configure various settings related to Torrent downloading. We can enable toggle to seed torrent or enable the sequential download. We can even disable the torrent feature completely. There is an option to stop the downloads if the battery goes below a specified percentage. We can enable proxy to download and enable the option to retry automatically if a download fails. The last two options are related to wake lock. This wake lock will enable 1DM to keep the download service alive even if the phone goes to deep sleep.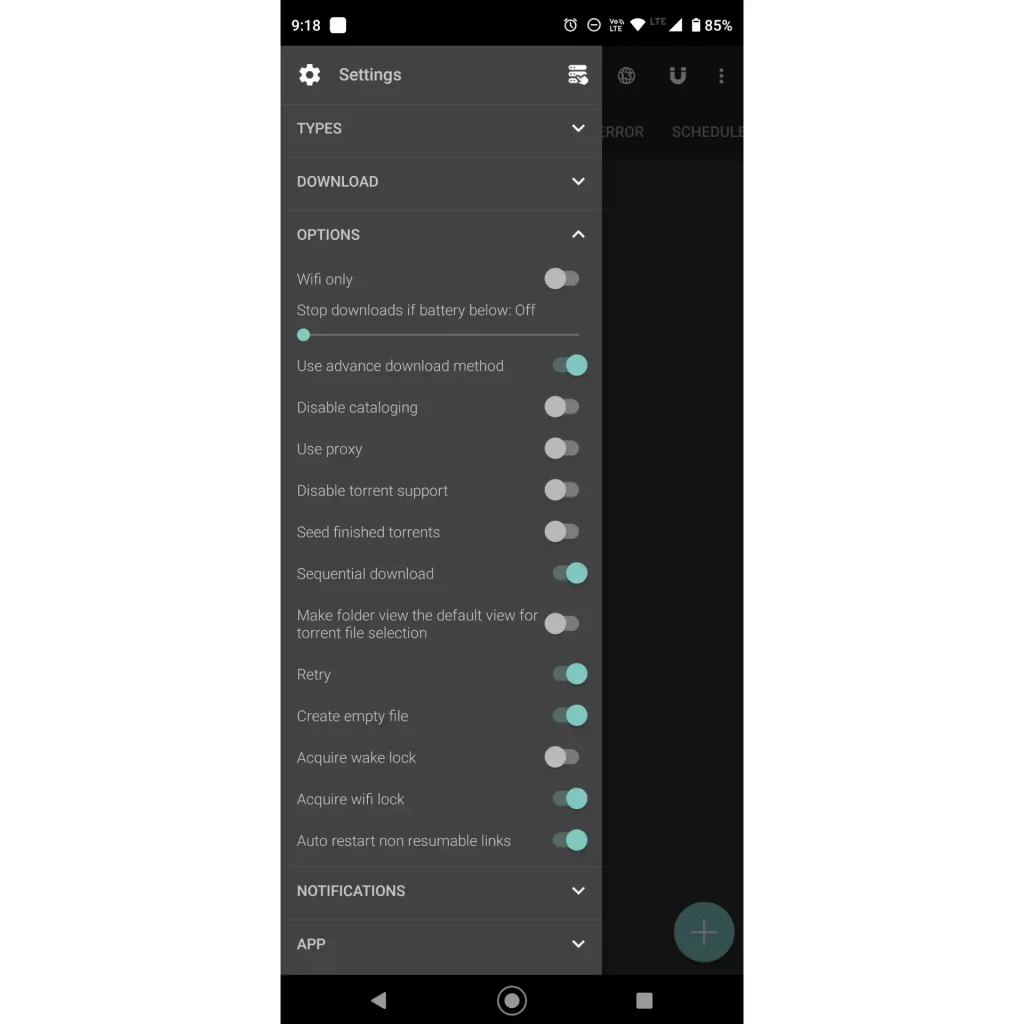 Notifications and Interface
We can choose to enable or disable notifications for our download processes. There is also an option to play a sound and vibrate when the download is complete. Below that we can set the app theme to light or dark mode. Furthermore, we can change the app's language from here as well.
Best Download Manager Browser
The browser integrated with this download manager is featured packed. It is not just another browser that we see in other apps. It has a lot of features that separate it from the likes of all the Chromium-based Browsers.
The top panel has a tab switcher, URL input bar, download icon, and a three-dot menu. The download bar is a Video grabber. It can grab any video file that is available as streaming content. It even provides the option to download it in various qualities. This feature alone is quite advanced and not seen in many.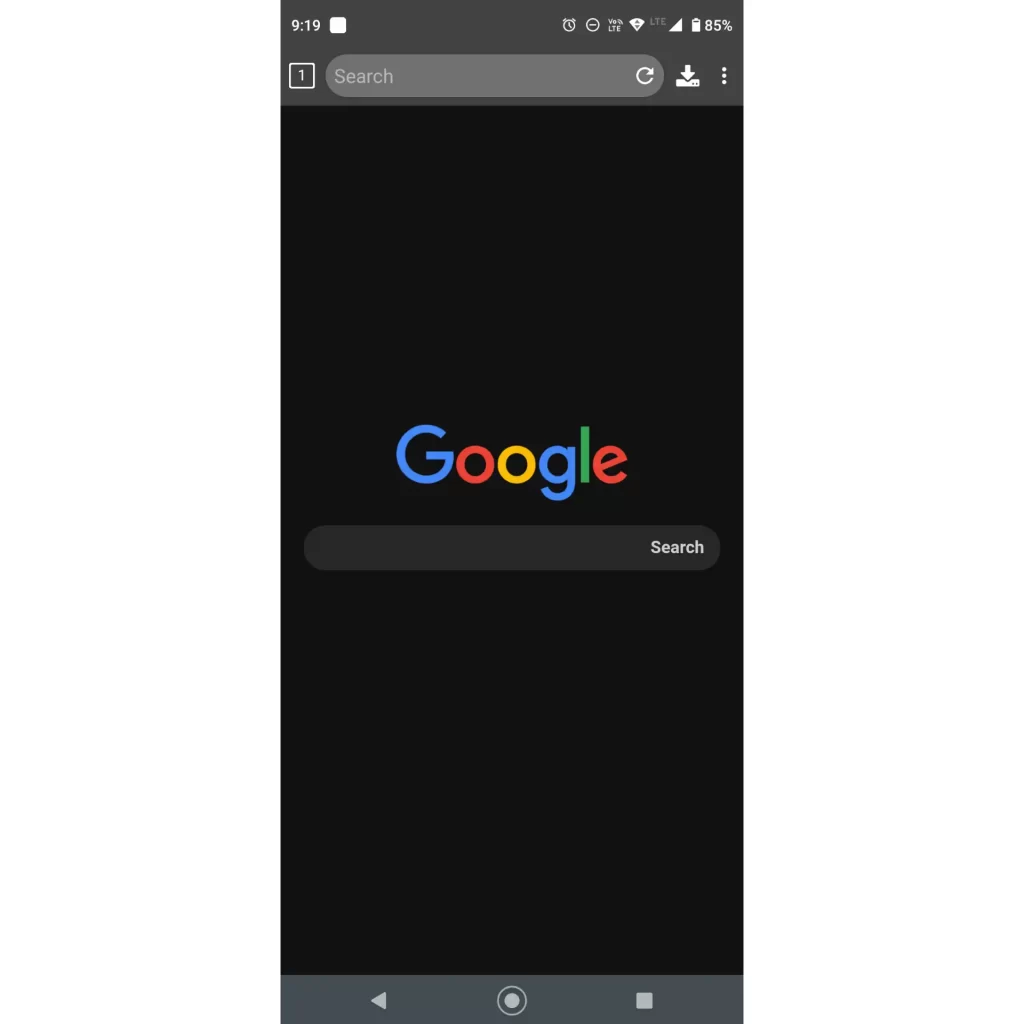 Next, the three-dot menu has numerous features and options to use. We can add a new tab and switch to incognito mode. There is an option to remember the tabs when we close the browser. So we can get back to our websites when we return. We can enable or disable the audio-video capture for downloading. There is a couple of advanced options like view page resources and page sources. These give the HTML source of the page which can be a great assist for web developers. We can create multiple clone tabs of the current web page. Then we have the grabber option to grab all the media content on the website. we can then download them all or choose a specific one.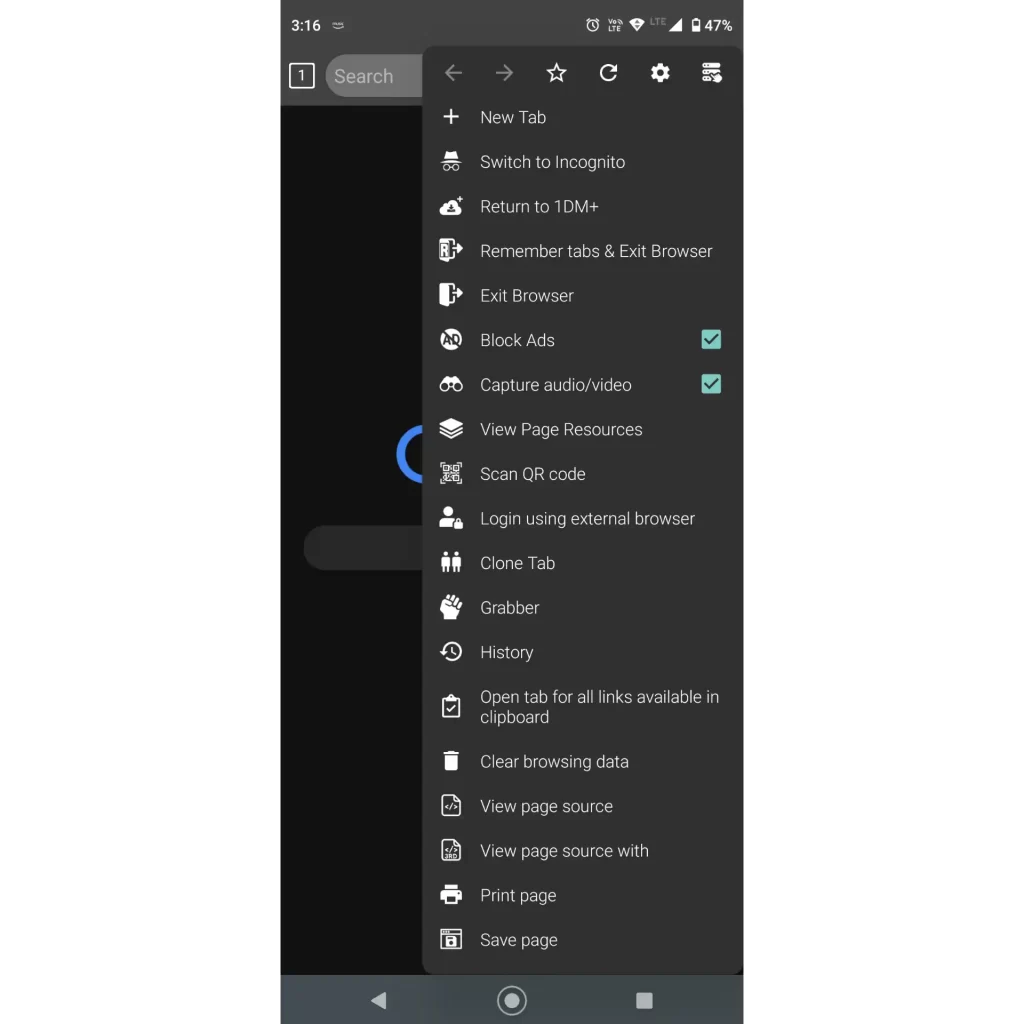 Check out the best file managers for android. Read here.
Best download manager feature in built!
AdBlock Hosts and Filters
Then there's a typical browser option like bookmarks and a share link. We can also add the shortcut to the home screen and enable reader mode for ease. The most favorite feature of the 1DM browser is the AdBlock functionality. It has tons of AdBlock hosts and filters pre-built for extreme AdBlocking. It is by far the best AdBlocking browser in my opinion. I tried ublock origin Chrome extension and this one even surpasses that. Because it has the ublock AdBlock hosts but also additional hosts and filters that make it even more effective. We can add even more filters by clicking the three-dot menu and clicking add. We can whitelist websites we don't want the AdBlock to be enabled on. There is an option to refresh the filters to maintain the AdBlocking integrity.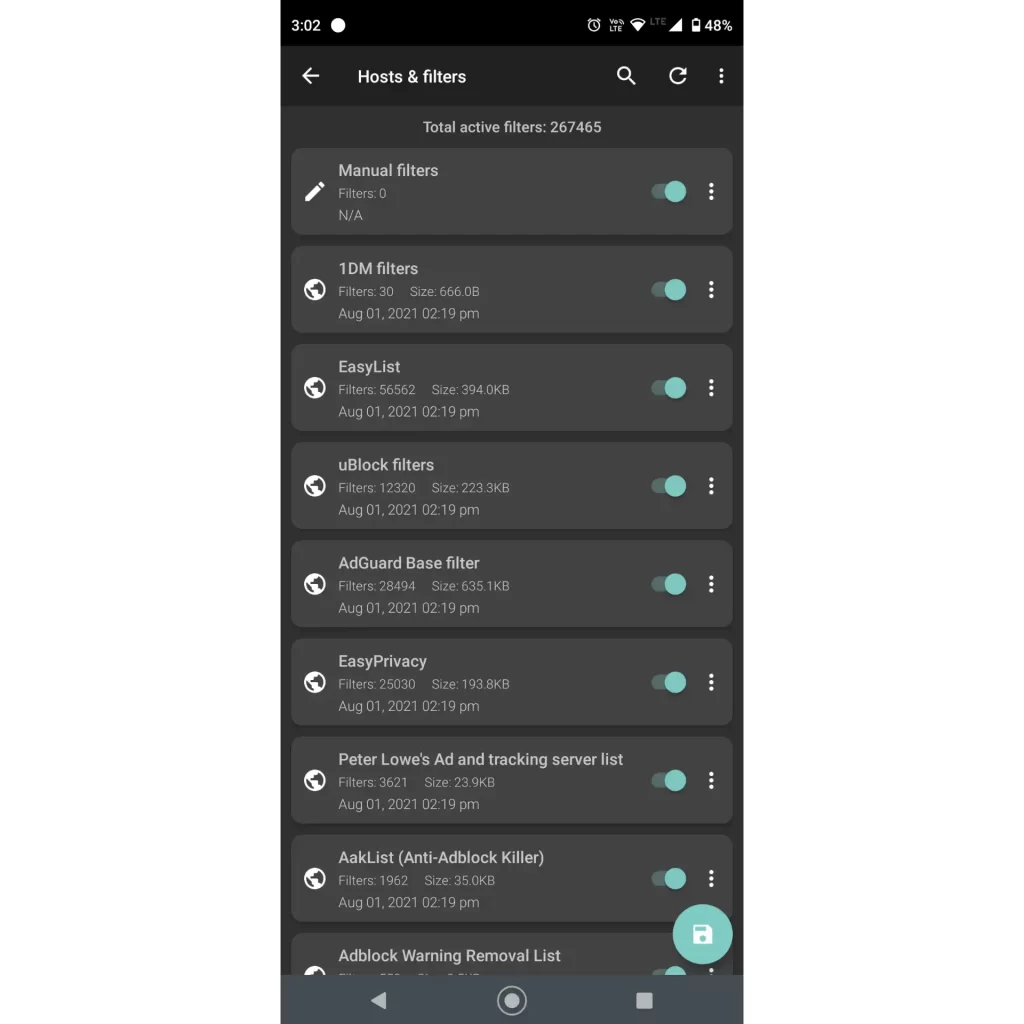 Conclusion
1DM Download Manager is a great all-in-one download manager and torrent client. The built-in browser is feature-rich and the AdBlocling is next level. There is a paid version called 1DM+ for ₹100 or about $1.5 and it is a value for money for all the various app offerings.
Do you think 1DM is the Best Download Manager for Android? Tell us in the comments.
Google Play Store