Windows 11 update brought a lot of changes to the user experience. These updates are in Dev and Beta stage, so when it comes to performance, it's still not as optimized. On a lower-end system like mine, even Windows 10 was somewhat sluggish. I have done some tweaking with settings and the performance has improved multiple times. So let me share those tips with you that won't affect your daily activities. But they could potentially speed up Windows 11 performance on your laptop.
Speed Up Your Windows 11 Laptop!
Performance Mode
You may be aware that Windows in order to save battery juggles between performance and battery efficiency. It tries to give maximum backup but that could affect the performance of your PC. In battery mode, it's usually balanced mode, and performance when plugged in. Make sure it's set to performance. It usually helps instantly to speed up your Windows 11 laptop in browsing and other stuff. You can right-click on the start menu and choose the mobility option. From here you can enable the performance mode as well.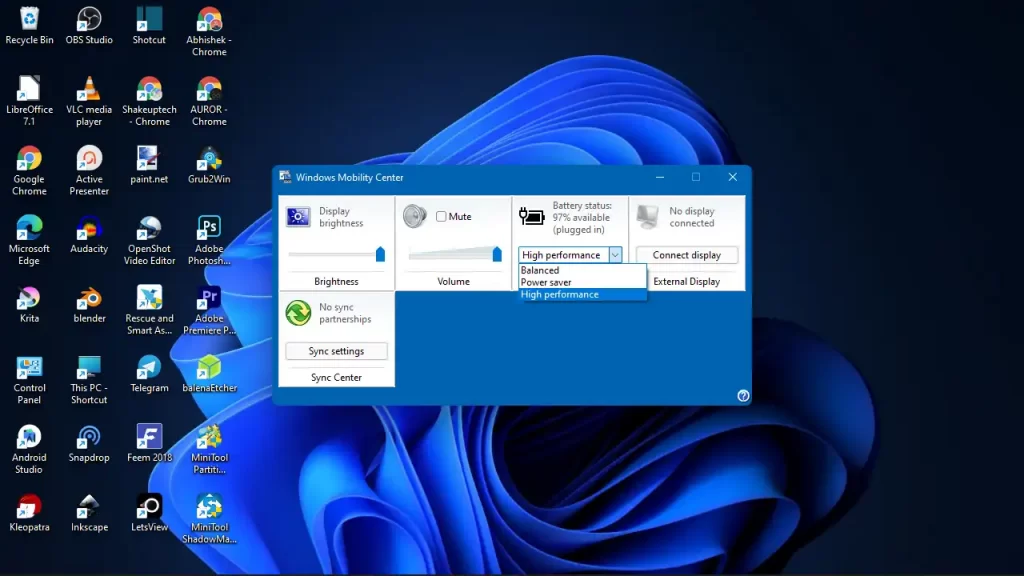 Battery Usage
When you scroll down in the Power and Battery options of Settings, you will see a menu named Battery usage, expand it and you'll see battery stats. These stats are about battery usage by different apps. Try to analyze it to find which of the apps are unnecessary to you. I saw Your Phone taking up some battery (9%) even though I never used it. There were options to terminate the app process, reset it or uninstall it completely. I uninstalled it and it was immediately deleted. Other processes and programs were pretty ordinary. Try uninstalling them that are unnecessary and consume more battery as it does affect the overall performance.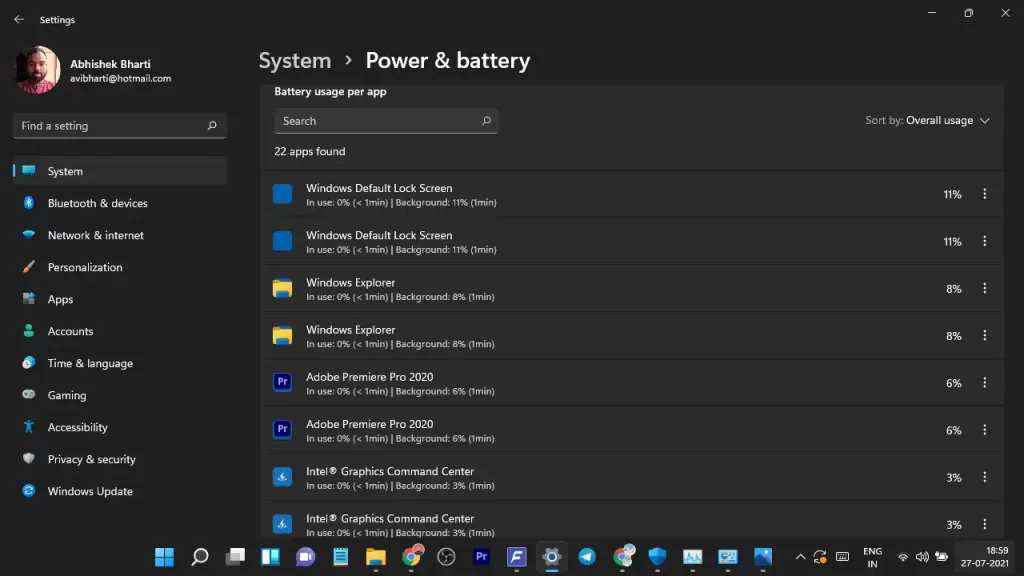 Privacy and Security Settings
I never noticed how many extra permissions I had allowed my PC to share with Microsoft. I've been enrolled in the Insider Program so I had to use a Microsoft account. Otherwise, I prefer a Local account, it keeps the syncing and background activities to a minimum.
Disable data sharing settings to speed up Windows 11!
General
So in the Privacy settings open the General settings under Windows Permissions. You will see four options with some being enabled. All these settings are not necessary and just bog down your system. There's a personalized ads option that creates an ad profile for you to view more personalized ads. The second option accesses your local language to provide local ads and results. The third option tracks your application usage to improve results. The fourth option shows suggested apps in the start menu. These all allow Microsoft to access data on your computer. This could seriously slow down your PC and it's not good from a privacy perspective as well. It's up to you but you shouldn't allow companies to use your personal data in any way. All these privacy settings turned off could help speed up Windows 11 on your system.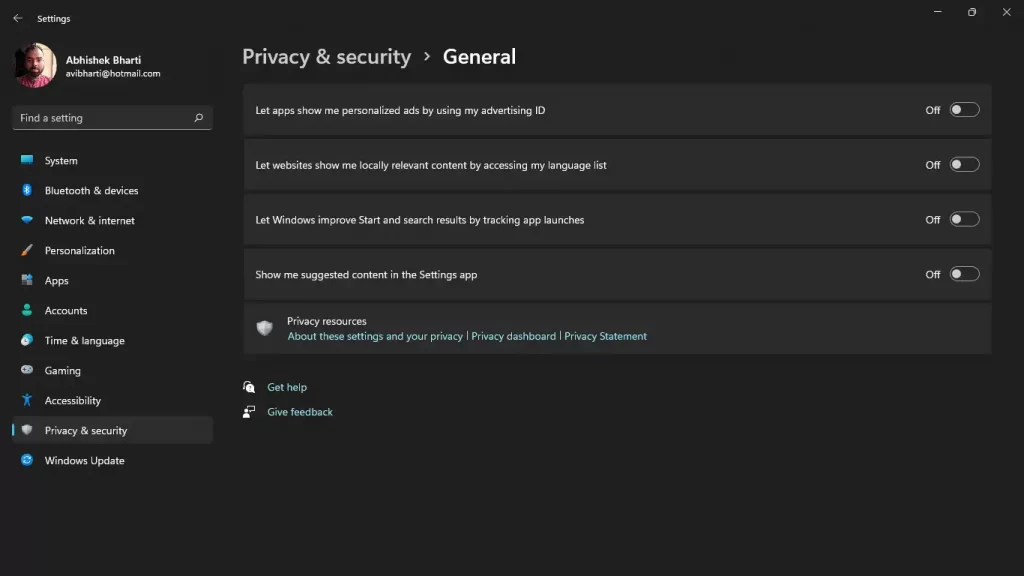 Below General there's a Speech menu, enter it and disable the Windows offline speech recognition service. It tries to recognize your voice when you do a voice search and stuff. Most people rarely use this feature so better turn this off. Who knows how many resources it takes up unnecessarily. Now below this, you get Inking and Typing Personalization, go and disable the Personal Inking and Typing dictionary. It uses your typing history to create a personal dictionary. I don't know what advantages it provides as we use our keyboards anyways. In Gboard we can use our most used words or add new words and it auto appears for us to use. But on the physical keyboard, we won't get that bar with all the words. So better keep it disabled.
Diagnostic and Feedback
In this menu which is below the inking option, you will see four options. The first one is diagnostic data which is enabled and turning it off will stop you from getting future Insider updates. For now, I'll keep it enabled but will disable it as soon I receive a stable build. Other options below it, disable them all. The First will be sharing inking and typing diagnostic to Microsoft, second is tailored experiences. The third is the option to view your diagnostic data, it takes up to 1 GB of hard disk storage which isn't necessary.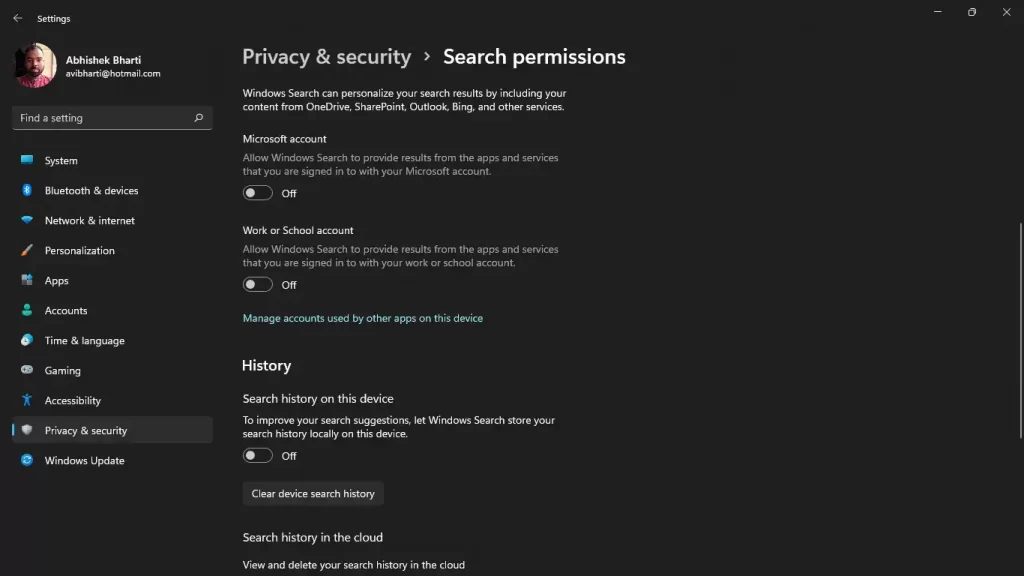 Read Windows 11: Download and Install on Any Laptop!
Activity History
Now in this option turn off the store my activity history. It stores all the websites you browse and apps you use on the device. It takes up space and also uses resources in the background. Disable it to speed up your PC or Laptop. Every small step matters. You can also clear any previously stored data from here. Below this we get the Search permissions option, here you get the Safe search option and Cloud content search. In the Cloud content option turn off the Microsoft account and Work or school account option. They sync your data from apps and programs in your system and try to provide automated results when you go online next time. I'm surprised how much data Microsoft collects in the background. There's a search history below it but it stores the data locally, so it's up to you to keep it enable or disable.
Notifications
Disabling certain notifications can speed up your Windows 11 laptop
In System > notifications, you'll see notifications enabled for all the apps. Scroll down and choose the apps that send unnecessary notifications and disable them. Notifications slow down your workflow as they pop up anytime. I have disabled it for Autoplay, Feedback hub, and Startup App notification. These settings seem minute but they help speed up the performance of your laptop. In the Focus Assist option if you use it daily then enable it otherwise keep it disabled. Focus Assist as I've noticed runs in the background and takes up resources.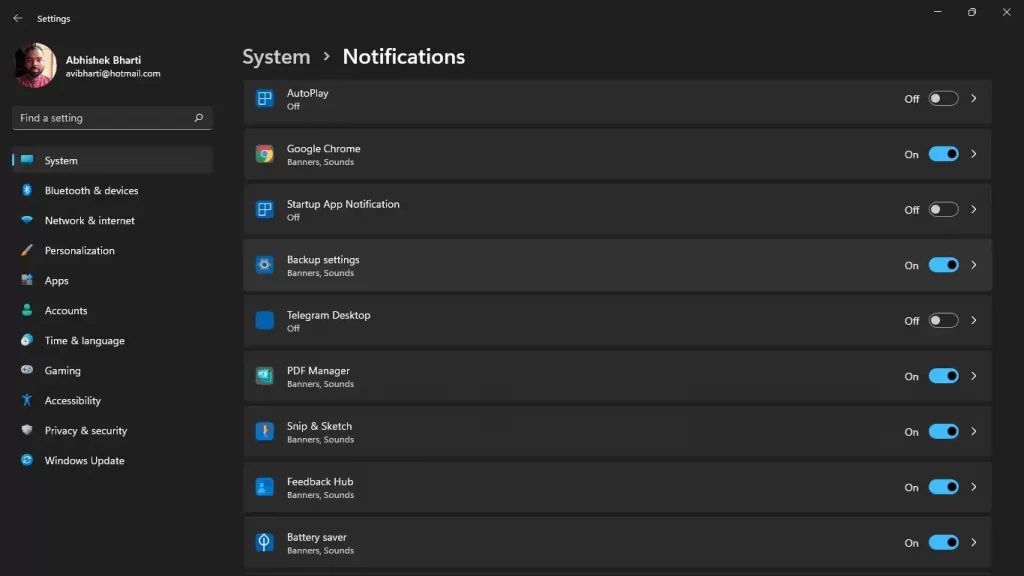 Storage
In the Storage option, you can see the space taken by different files on your system. It shows the temporary files, apps and features, videos, and other categories. In the apps and features, you can uninstall the apps that are unnecessary. The Temporary files option is quite useful, it lists down all the files that are extra and can be cleared off. Do not delete the Downloads folder as it contains all the files downloaded from your browser. You can delete the files in Recycle Bin and all the other options. These are log files, dump files, thumbnails, clean–up files extra internet files. You can select them all together and click remove to get rid of them at once. This sure will speed up the Windows 11 performance of your laptop to some degree.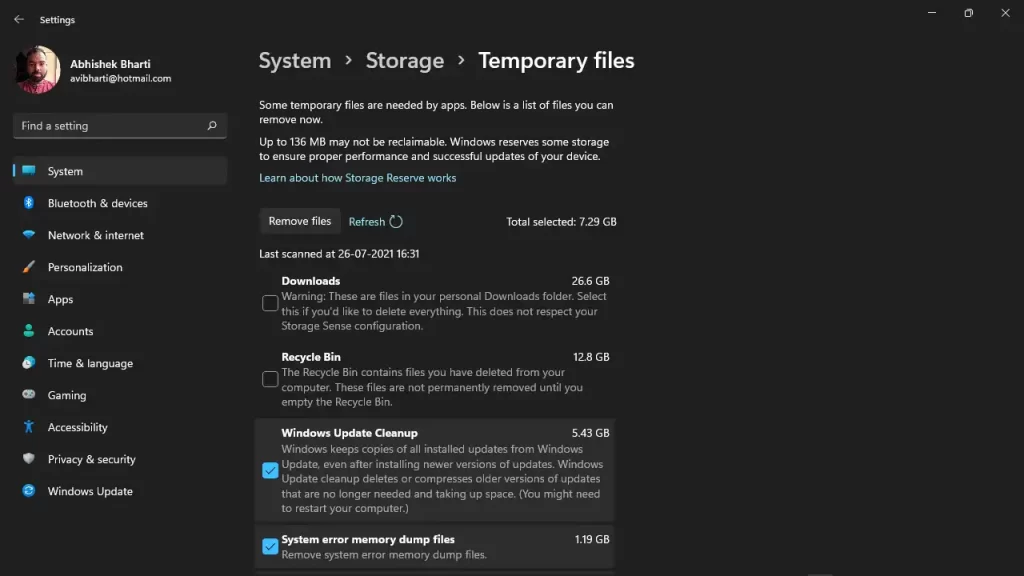 You can type %temp% in the Run command and execute it to find all the temporary files. Select them all and delete them. Make sure you press shift and delete to permanently delete them. As they will be stored in the Recycle Bin. You can right-click on the Recycle Bin icon on the desktop and Empty it as well.
Alternatively, you can use Storage Sense to find the temporary files and delete them automatically.
Read How To Run Windows 10/11 on Android Phone with Chrome!
Clearing temporary files and junks speed up Windows 11 laptop
Personalization
In the Colors option of Personalization, disable the transparency effects to optimize performance. In the Lock Screen option uncheck the "get facts and tips and tricks on the lock screen". This makes logging into the system easier as the lock screen will appear and perform smoother. Scroll to the bottom and you'll see the Device Usage option, in this, there are six options that you can choose to get personalized ads accordingly. In my opinion, keep them all disabled for best performance.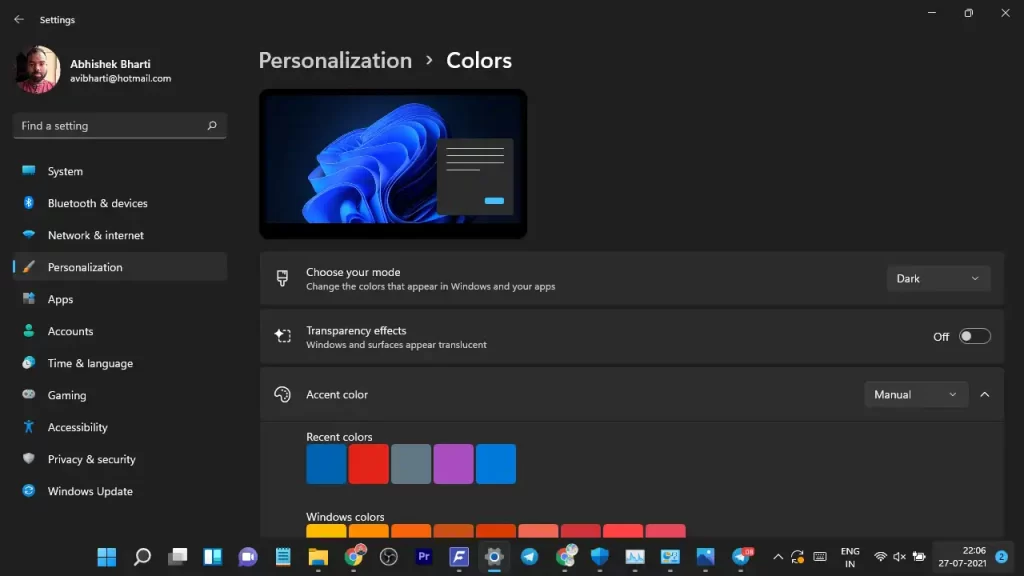 Try to keep the Bluetooth and Location Services disable when not using. They draw a lot of power and resources in the background.
Gaming
In the Gaming option, disable the Xbox game bar as most of us usually use programs like OBS studio or MSI app to record games. Enable the Game mode to turn off background apps while gaming. This can help speed up Windows 11 gaming performance on your laptop.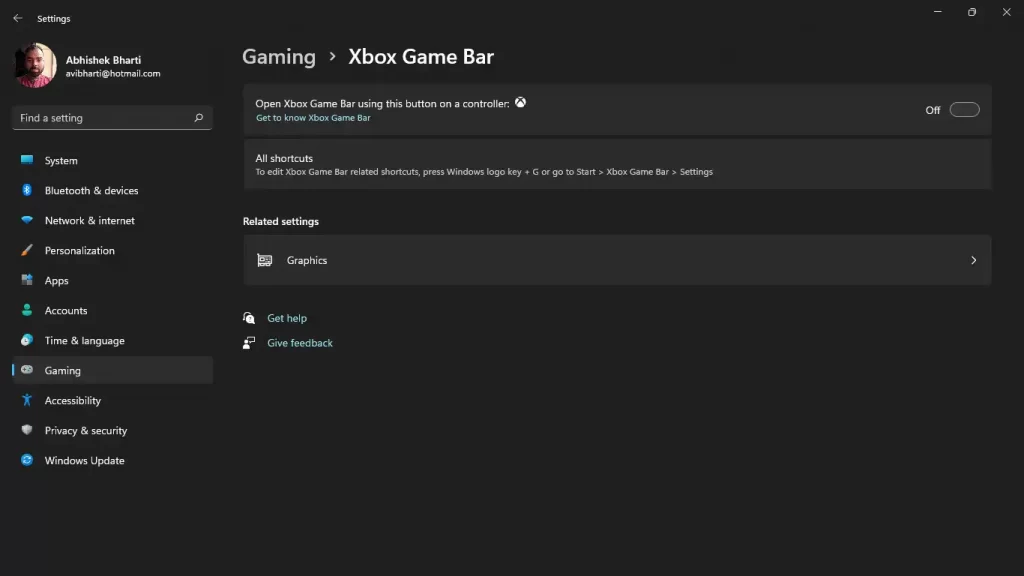 Accessibility
This option is for the visual and hearing impaired. But there are a couple of options here we can customize. In the Effects option, you can disable the transparency effects to speed up the performance. As transparency effects take a toll on your processor. Also, make sure to turn off the animations as well while you are there. Turning off the animations speeds up Windows 11 by a huge margin, a must for lower-end systems.
Disabling certain Start-up programs can help speed up Windows 11
Task Bar
Right-click on the Start menu and choose Task Bar, here you can see all the different processes running on your computer at the moment. You can analyze this data to see if some app is taking too many resources. You can then take action against it accordingly. In the Startup tab of Task Bar, you can see all the apps that start as soon the PC boots up, Make sure to turn it off for apps like Skype, Cortana, etc. This makes the lag we usually get when booting up the system to the minimum.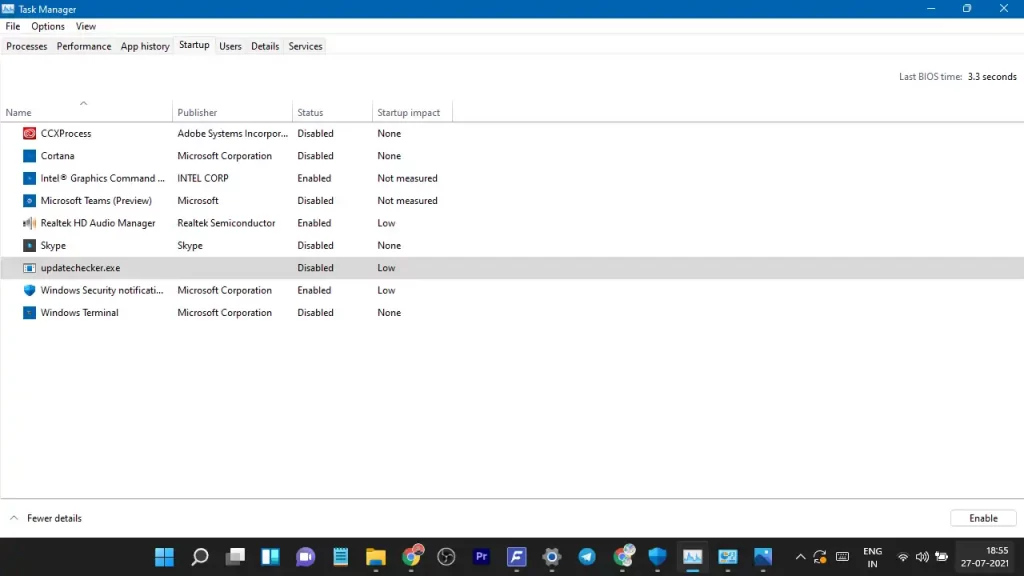 Windows Update
Make sure your system is up to date with the latest Windows 11 and Security updates. Because all these updates improve the performance and speed up the system. In the Windows Update option, keep the option to receive the updates for other Microsoft products disabled. Do this only if you are not a Microsoft office subscriber or any of their other services. In the Additional updates, option make sure you do not update the optional drivers or anything. Most probably it's not of any use currently. I installed an old driver update and had to reset my laptop to make it alright.
Speed up Windows 11 with the latest updates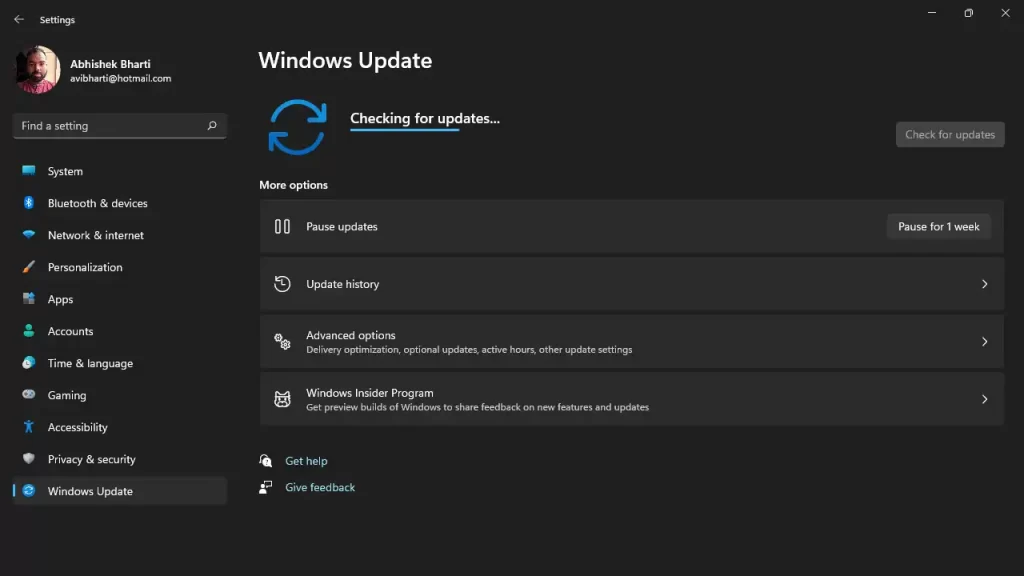 Conclusion
So there it was, some tweaks and settings to speed up Windows 11 computer. These settings should not affect your daily activities on your laptop. On a lower-end system, this could impact a lot on the performance aspect. Hope this guide helps you in a good way and makes your work easier and lag-free.