Custom PC builds are gaining popularity more than ever. This could be the effect of crypto and Cryptocurrency mining. And now that the prices of PC components are getting stable, people are interested in them more than ever. In India, Budget PC Builds are the most popular category. Let's take a look at the best Ryzen 5600G PC Build that can be made on a budget of 40000 or even 30000.
I have built this pc build under 40000 for my personal use and it's performing quite well. So, we will start with the processor and then move along with the rest of the important components. I will also include some alternatives and cheaper options, which will help buyers on a strict budget.
The processor
The main and most expensive part of the pc build is the CPU. I decided to go with an APU, as it has a powerful graphics card built-in. The best value for money available comes from AMD. It's the Ryzen 5600G, with 6 cores and 12 threads it is quite a performer for both gaming and editing.
Base Clock: 3.9 GHz, Max Boost Clock: up to 4.4 GHz. Virtualization Support: Yes
Memory Support: DDR4 3200 MHz, Memory Channels: 2, TDP: 65W
AMD Ryzen 5600G is a powerhouse for the price it sells for. With 6 cores and 12 threads, it can easily handle basic to medium levels of video editing. And even run some modern titles at low graphics at 50-60 fps. On a budget of 30000 to 40000, Ryzen 5600g is easily the best processor currently in the market.
BEST RYZEN 5600G PC Build For Gaming & Editing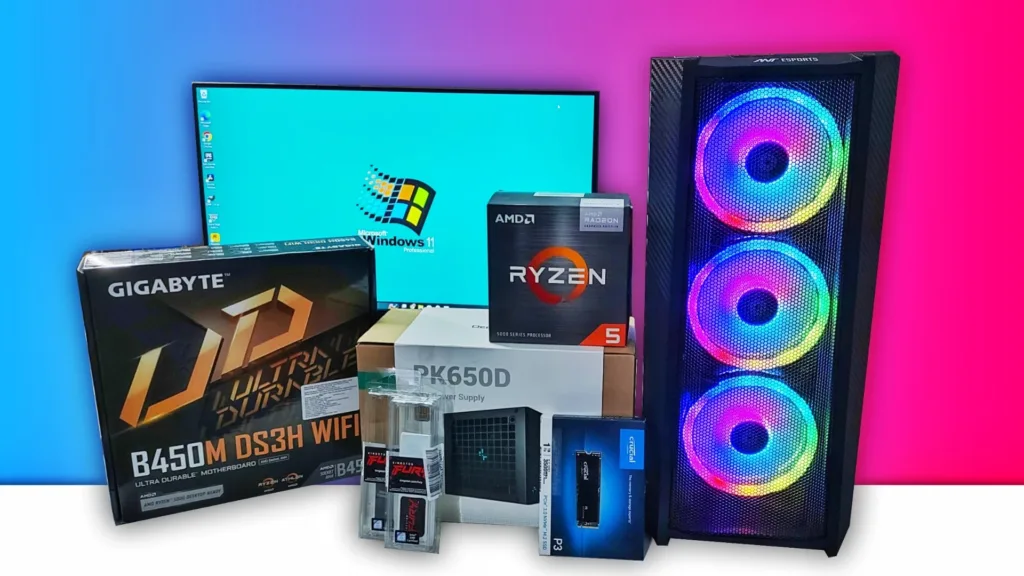 The Motherboard
For the motherboard, I went with a Gigabyte B450M DS3H Wi-Fi edition motherboard. This motherboard from Gigabyte goes really well with Ryzen APUs and CPUs. It is Ryzen 5000 series ready, so no need for a BIOS update. For people on a budget of 30000 to 40000, this can be a great motherboard for the Best Ryzen 5600G PC build.
It has 4 DDR4 RAM slots and one PCI 3.0 slot for NVMe M.2 SSD storage. The built-in Wi-Fi and Bluetooth provide easy access to the internet and data sharing options. It is rated ultra-durable by the company, so we can expect longer run times for years to come.
The Storage
For storing the operating system and all the programs and games. I decided to go with a 1 TB NVMe SSD from Crucial. It's called the Crucial P3 1TB PCIe 3.0 3D NAND NVMe M.2 SSD. It supports a max transfer speed of 3500MB/S, there are faster options available as well.
The motherboard we used also supports this speed, so we can take full advantage of the storage. Using an NVMe storage is always recommended for faster apps and programs opening. Mainly the Windows OS works the best on NVMe SSD. Definitely, a must for the best Ryzen 5600G PC build under 30000 or 40000.
BEST RYZEN 5600G PC Build For Gaming & Editing
The RAM
APU's performance is highly dependent on a good RAM stick. Also, the RAM should always be in dual channel configuration for best results. I bought a slightly higher frequency RAM called Kingston FURY 8GB 3600MHz DDR4 CL17 DIMM.
I bought two of them to pair them in the dual-channel configuration. We need to enable the XMP profile in the BIOS to utilize the maximum 3600MHz frequency. I definitely noticed faster operations and better performance when increasing the RAM frequency.
For people on a strict budget of 30000 to 40000, you can choose the 3200MHz RAM from XPG or Kingston. You will still get a great performance. So, higher frequency RAM and in dual channel are a must for the best Ryzen 5600G PC build.
The Power Supply
For the PSU, I went a little overboard and got a Deepcool PK650D, 650 Watt, 80 Plus Bronze Certified Power Supply. I plan on upgrading to a powerful GPU in the future which is why I bought it in advance. Ryzen 5600G runs on a max 65 Watt so you can choose much lower if you have no plan to upgrade.
As the newer gen graphics card requires a lot of power. You can go for a 450 or 550-watt PSU as well but remember to check for the GPU power consumption before buying. But for the best Ryzen 5600G PC build, always choose a good and at least 80-plus bronze-certified power supply.
BEST RYZEN 5600G PC Build For Gaming & Editing
The Cabinet
The PC cabinet can play a major role in keeping your new pc build under 40000 cool and ventilated. I decided to go with Ant Esports ICE-311MT Mid-Tower ATX Computer Case. it has 4 120mm Fans included, 3 in the front (ARGB) and 1 in the back.
The cabinet is well and sturdily built with a side tempered glass panel. It also has a top magnetic dust filter mesh and front grills protecting the fans. Overall nice for long gaming sessions as it helps in keeping the temperatures under control.
The cabinet is completely up to your preferences and budget. However, a well-ventilated cabinet will always give you better and more stable performance in the long run. You can choose a smaller cabinet and use a liquid cooler. But on a budget of 30000 to 40000, normal cabinets will do the job for the best Ryzen 5600G PC build.