Motorola has finally announced its new My UX based on Android 12. My UX is inspired by Google's stock android and does not interfere heavily with intrusive ads and bloatware. Motorola has also released images of the new Android 12 My UX design. Motorola's Android 12 Update will be coming to a number of devices. Let's see what's new in this update.
New in Motorola's My UX Android 12  
Material You on Motorola Smartphones

We all know by this point about Google's Material You approach with Android 12 introduction. Material You allows users to add personalized touches to their devices by not just changing the wallpaper. it allows changing the entire color palette of the device itself. Motorola smartphones on android 12 update can now automatically pick colors from the wallpaper and then create a custom combination to use throughout the device.

And not just wallpapers and colors we can now change font style, icon shapes, sizes, device sound, and layout from the Personalized option present from the home screen menu. There are even some presets themes built-in the settings to choose from and apply.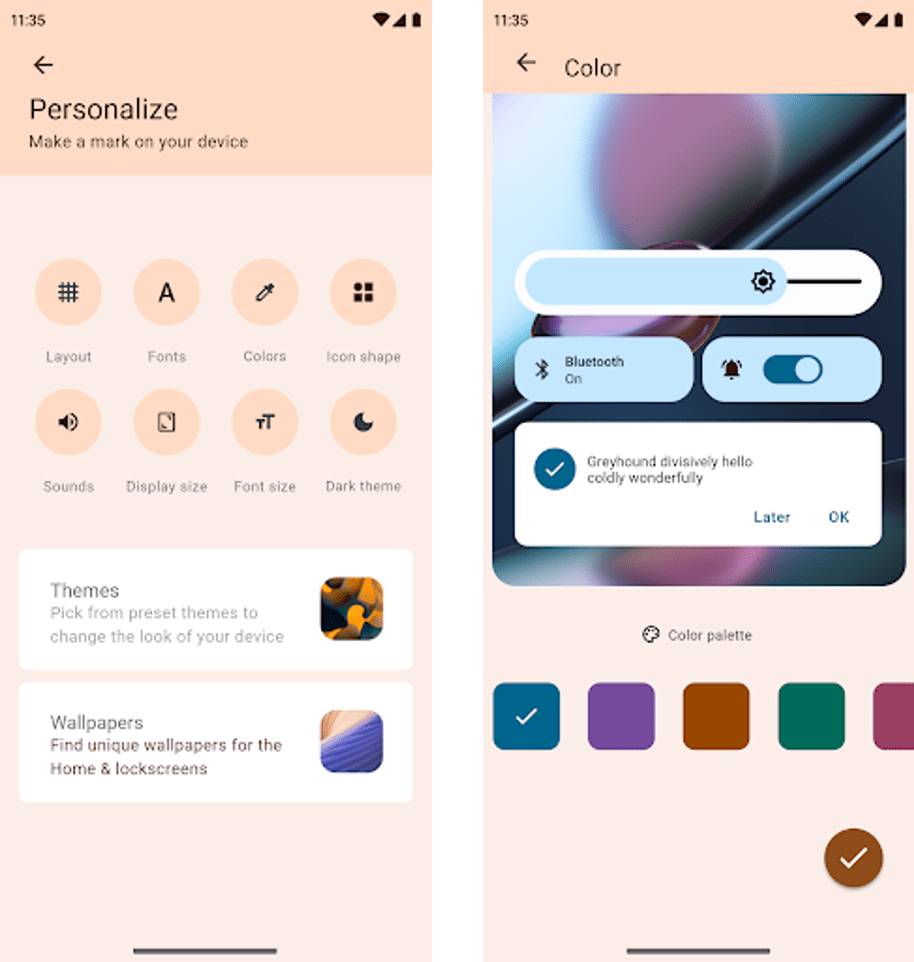 Accessibility Settings Add-ons
Android 12 added some new improvements to the Accessibility settings and Motorola's My UX on Android 12 does the same. There are four noticeable changes as mentioned by the company.
Extra Dim allows you to decrease the brightness of the display even further below the brightness slider limit. It helps to use the device in dark rooms and at night where we think the lowest brightness is still too bright as our eyes adjust to the surroundings.
Grayscale will now help us to adjust the saturation level of our display, to decrease the saturation until it becomes monochrome.
Area Magnification help us to magnify a smaller part of the page in a window format like a magnifying glass. We do ot need to zoom in the entire page and lose context of where were we.
Bold Text will change the font style of the entire device to Bold to help better see the display.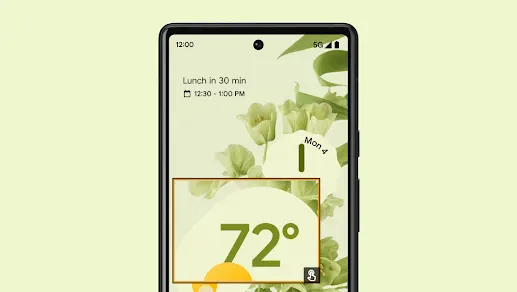 Conversation Widgets
In the Android 12 Update of Motorola's My UX, there is a new Conversation widget that will show all the messages from your important contacts right there in front of you. We can view missed calls, birthdays, and more with a glance at the Conversation widget.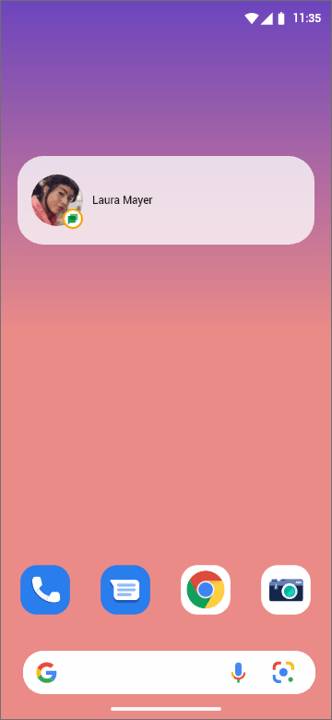 New Privacy Options in Motorola Android 12
Motorola's My UX Android 12 places an indicator on the status bar which indicates us if an app is using the device's camera or microphone. It helps to keep our privacy secure and there's even a toggle in the quick settings to disable the camera and microphone sensors completely just by switching the toggle.
There's even a new Privacy Dashboard that gives a comprehensive idea of the different apps accessing our device's location, camera, or microphone over a period of 24hrs. Then we can control and manage the settings for these privacy settings from the app itself.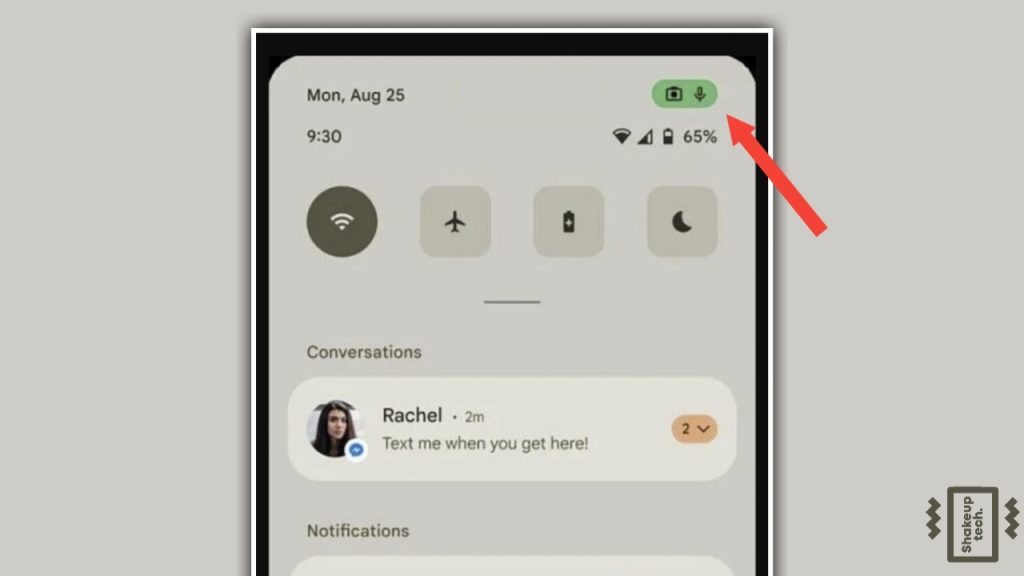 Lots of newer Motorola devices will have ThinkShield protection which is a secure business-grade security comprising several secure certifications for our Motorola device.
Allow Limited Location Access
Apps like Google Maps or some food delivery apps need our precise locations and we have to provide access to it. But now we have control over which app will have the access to our exact location. Some apps that do not require our pinpoint location can simply access our Approximate Location in the new Android 12 My UX update.
Android 12 Instant Gaming!
Android 12 allows us to play a certain game before it has fully downloaded. We do not have to wait a long time before being able to play our favorite games and can straight jump in once a fraction of it get's downloaded. Motorola's Moto Gametime allows us to access controls for screen recording, screenshot, block calls and notifications, etc with a simple toolbar overlay on the screen.
Switch Phones Stress-Free
With the new Android 12 update, we can switch to a new Android device without worrying about our old device's data. We can transfer data from our old device easily with the help of a cable or just by connecting both the devices to the same WiFi network. The good thing is that the transfer will still work even if we are switching from an Apple iPhone.
Motorola My UX + Android 12 Supported Devices
Apart from all the above new changes, Motorola said that they are adding even more features and changes to their Android 12 version of My UX. There will be new Moto Camera features, Moto's Desktop experience known as "Ready For". They said they are still working on the update and will start the Android 12 Soak test very soon for the Beta users through Motorola feedback Network. Click here to see how to join the program.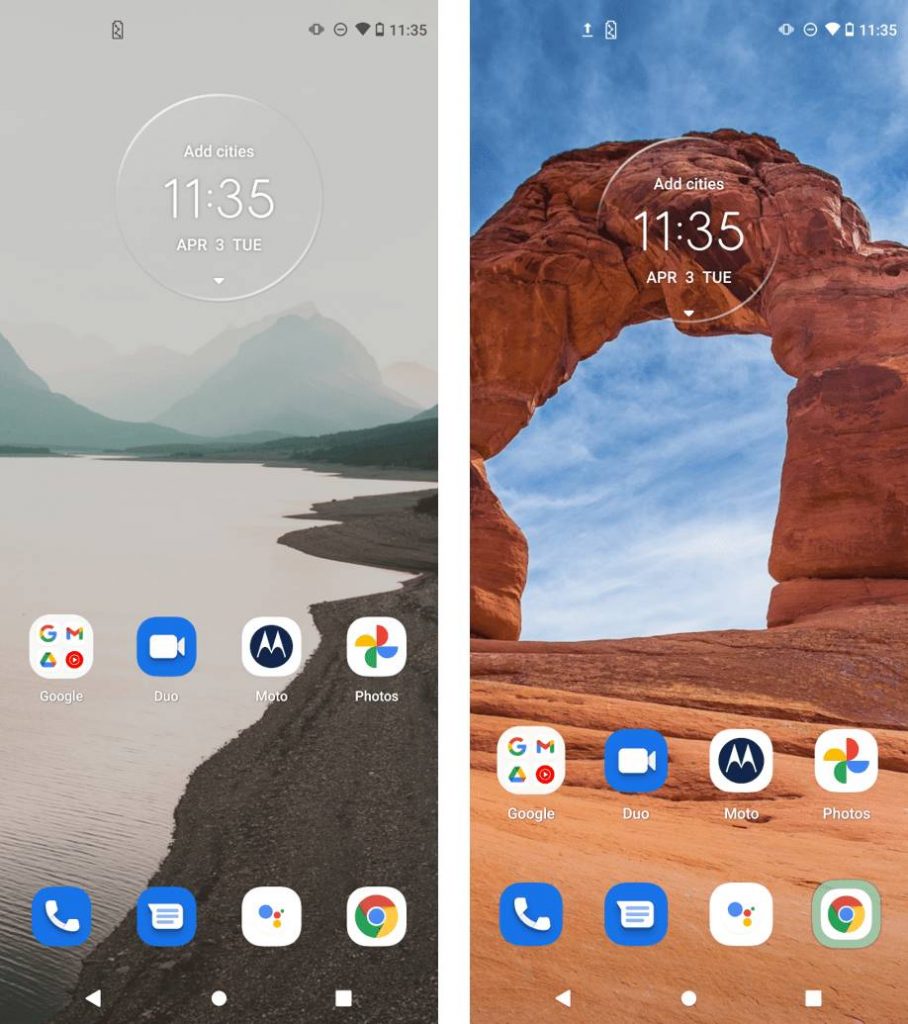 Here is the list of devices released by Motorola that will get the new Android 12 + my UX update. The Official update is scheduled to arrive in the latter part of February 2022.
razr 5G
razr 2020 
motorola edge 20 pro 
motorola edge 20 
motorola edge 20 lite 
motorola edge 20 fusion 
motorola edge (2021) 
motorola edge 5G UW 
motorola edge plus 
motorola one 5G ace (moto g 5G) 
motorola one 5G UW ace 
moto g200 5G 
moto g71 5G 
moto g51 5G 
moto g41 
moto g31 
moto g100 
moto g60s 
moto g60 
moto g50 / moto g50 5G 
moto g40 fusion 
moto g30 
moto g power (2022) 
moto g pure 
moto g stylus 5G 

Business Edition phones 
moto g pro 
motorola edge (2021) 
motorola edge 20 
motorola edge 20 lite 
motorola edge 20 fusion